...though upset buyers only get about 70 characters to voice their opinions. Hello fellow e-Bayers! I got the same idea as another e-Bayer as I was looking through the computer and the watches section. Very different sections, with VERY similar problems. I'll cover two issues today: stock photographs, and Photoshopping your product pictures.
First, Stock photos - yes, that's the whole reason for this guide. There's really no need for stock photos anymore except as additional photos for your buyers. These days, digital cameras are a dime a dozen, and even the most computer illiterate can get their hands on at least a cheap one, or have a friend take the pictures for them. Stock photos are good for showing the item in it's original, brand new, untouched, virgin condition, IN COMPARISON TO your own item up for sale.
But first! What's a stock photograph? Some people may not have had the great fortune to have run across these master pictures of pristine-ness. A stock photo looks something like this: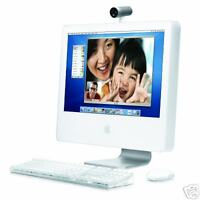 That is a stock photograph of an iMac G5 computer, linked to this search:
iMac G5 computers
. The problem? How am I, as a buyer, supposed to know what the item being sold on eBay actually looks like from the stock photograph? That's where THIS sort of photograph comes in: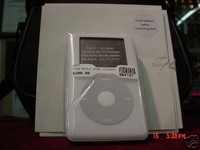 This
, my friends, is a photograph of a brand new Apple iPod we (my workplace) sold through eBay a little less than a year ago. Now, compare the two photographs; which would you rather buy? The stock photo, relying only on the seller's description of the item, or the actual item photographed and placed before your very eyes? Personally, I'd rather buy something that I've seen at least photographs of, and not have to rely on the seller's word that the item really is "brand new in box".
This leads us to the second issue: the ethics involved in photoshopping your photgraphs before you place them on eBay. This is a much-debated issue considering there are many people who believe some minor fixing of pictures is allowable, and others who abhor the whole idea of altering pictures and are thereby called "purists". Many eBayers these days believe that minor touchups to remove a spot that may have inadvertently entered the photograph from a separate source, or to get rid of a nasty lens flare, is acceptable when listing items. Typically this is more than widely accepted, as background photographic 'noise' takes away from the actual picture of the item itself.
There are those who use photoshop and other picture editing programs to edit the item itself, and I personally find this both morally and ethically wrong. If you're using photoshop to delete blemishes and imperfections on your item that
aren't
due to camera error or camera OPERATOR error, then you're violating the "rules of engagement" as I like to put them. Once you engage in placing your item up for bid, you are attesting to the unequivocal fact that everything in your listing is accurate. If you alter your photograph in order to make it more "picturesque" or photogenic, then you're violating these rules, because your picture IS NOT ACCURATE!
Then there are the purists. Purists generally believe that the use of any photo editing software, even if it's just to clean up a lens flare in the background, or remove a random person from the background, goes against the code of ethics and represents digital misrepresentation of the item. I won't get into it with them - it's generally better not to argue with anyone once their minds are set on something, and on some level they're probably right.
Of course, this entire time we've been assuming that the person creating the listing is using pictures to represent their items. To me, the worst sort of eBayer is the one who creates a listing and decides they're not going to use any pictures whatsoever. They basically allow the buyers to take wild guesses at what the "brand new in box WonderThing" looks like. Let me tell you, I've gone on some wild flights of fancy on some of these listings.
The whole point? 'Tis better to say it with pictures than words, so let's recap:
use real photographs in your listings instead of stock photographs
don't photoshop blemishes or scratches off of your items, as this is blatantly misrepresenting your item's integrity (SHAME!)
getting rid of a lens flare or random person is OK; getting rid of a nasty acoutrement to the item is not...
above all....USE PICTURES! Don't leave your poor buyers guessing at what their item looks like until it arrives in the mail. I guarantee - whatever they thought it looked like, it won't be anywhere close, and they're going to get upset. Consequences generally range from mild netural feedback to absolutely raging negatives and sometimes complaints to eBay.
So I hope this has brought out some of the pros of using REAL photographs instead of stockshots, and maybe we'll all learn to get along with pictures like the world was meant to be!
- Photographic Friend!