Make your own korker hairbows!
Korker hairbows are the cutest thing to finish off your little girls hair style....but they can also be pretty expensive if you try and match them to all the outfits...why not try making them? Its cheaper, its fun and you can say "I made them" when the compliments roll in.
First go shopping..eBay is a great place to shop for premade korker ribbon, hairclips and even guides if you want to progress to the next step of hairbow maing
For a small korker bow you will need:
Approx 20 2.5 inch pieces of korker ribbon
1 Alligator clip
Some ribbon to match your korker
A hot glue gun
some string or elastic
Getting started on a simple korker bow
Place your string / elastic on a flat surface - I have used about 12 inches for this example.
Lay out your ribbon - you can use one color, or a whole bunch of colors mixed in a random way to get whatever effect you need. in this example red and black are mixed randomly
Wrap your string around the top of the korker ribbon and form a lose knot - note that I am only using a light color to demonstrate...you will want to make sure your string / elastic matches somewhat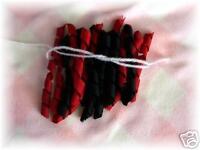 Pull the knot tight at the center of your bow - I would know twice for added security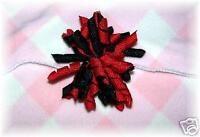 Wrap a piece of ribbon that is in the same color as your korker bow around the bow...this will hide the string and give a more professional finish
finally it is time to add your clip....I have used an alligator clip, and I glued in on to the ribbon that I used above to hide the elastic - use a hot glue gun for best results then I wrapped the ribbon around my korker one more time so it covered the top of the alligator clip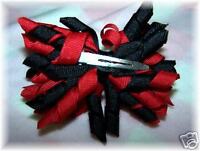 You can also cover your alligator clip in ribbon before adding it to your bow...this does add a more professional finish.....only it makes it rather hard to use the bow in an infants hair!
You can use eBay to buy guides that take my guide a stage deeper adding more layers to your bows for bigger effects
Good Luck!