Hello fellow eBayers,
Do you find yourself reading ebay auctions on lingerie items and do not understand what some of the terms used mean? Do you find yourself within a lingerie store or section in a department store and when speaking to the associate, misunderstanding there description of an article? Well, here you go. I have taken the liberty of listing many lingerie terms and explaining them, so that you will be a more educated and savy lingerie shopper.
Please do not hesitate to visit my ebay lingerie store at Naughty and Nice Lingerie. If you have any questions, please feel free to ask! Hope this information helps. Thanks again and have a great day!
Guide to Lingerie Terms
Applique: A technique of decoration made by applying pieces of one fabric onto a secondary foundation fabric.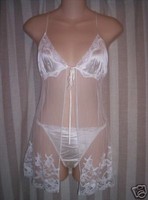 Babydoll: A sleeveless, loose fitting top or a bra with an attached loose-fitting skirt, made of sheer fabric, that comes down to anywhere between the navel and the hips (usually six-inches above the knee). They usually have matching panties and are trimmed with ornaments. Named after the nightwear worn by Carol Baker in 1956 movie of the same name.
Back seams: The seams in the back of nylon stockings or pantyhose.
Basque: A bodice that is closely fitted by seaming, from the shoulder to the waist, with or without a short, skirt-like continuation. A combination of the bra and garter belt, and which may provide shaping of the waist. Sometimes worn visibly. Also refers to the style of waistline that drops 2 inches below the natural waist and often dips into a point in the center. Some styles include the merry widow, corselette, tosolette, and waist cincher.
Bodice: The fitted part of a dress that extends from the waist to the shoulder. Can also be a woman's wide, sleeveless laced outer garment, worn over a blouse, usually low-cut.
Boning: Strips of plastic or other material sewn into undergarments to provide extra support and shape, creating a defined waistline and shapely torso. Actual whale bones were originally used - giving it the name.

Boy leg brief: A brief whose waistline sits low on the hips and the leg extends to the top of the thigh. Back coverage is full. Great to wear under short skirts and low-rise pants.
Bralette: An unlined, soft cup bra, which resembles a crop top. Best for small chested women, which may be paired with your favorite bottom for sleepwear.
Brazilian Back: A panty style that covers more of the "bottom" than a thong, but less than a traditional full back panty.
Brocatelle: A heavy fabric with highly raised designs which is created by warp threads in a satin weave.
Bra Types: Demi (aka Balconette) A bra with a contoured underwire design, with a large portion of the upper half of the cup cut away to expose the top portion of the breasts. Used with low necklines.
Half Bra: (aka Shelf Bra) Covers only the underside of the breasts usually exposing the nipples.
Push-up bra: Lifts the breasts to create cleavage.
Underwire bra: A bra with inserted metal wires in the lower edges of the bra cups to support the bust.
End of bra types
Burn-out: A brocade-like pattern production created through the application of a chemical that destroys the fiber and creates a hole in the fabric in a specific design, where the chemical comes in contact with the fabric. The fabric may then be over-printed with a simulated embroidery stitch to create the eyelet effect.
Bustiers: The bustier is a type of bra that extends to the waist. A bustier provides bust support, and may also function to smooth or shape the waist. Often worn with garters and stockings.

Cami: A camisole worn as an undergarment.
Camisole: A woman's sleeveless undergarment, now usually worn under a blouse.
Catsuit: A full body stocking, generally made of stretch material. Made popular in the 1960's in a television series.
Chemise: The name given to the first undergarment ever worn by women. It is also called a smock or shift. Originally designed to protect the body from rough garments or to protect the clothing from sweat and bodily oils, it was later used for sleepwear. It is a loose-hanging short slip that has no waistline still worn for bedtime or as a lining under clothes. In the middle ages, men worn chemises under their clothing aswell. This article for men may be the ancestor of todays male shirts. However, the shirt is now an outergarment and is now protected by a t-shirt! Today's women's fashions have brought this item out of hiding to be worn as an evening or summer dress - or over pants for a funkier look. Chemises are especially popular as gifts since they are easy to fit and flattering to most figures.
Chantilly Lace: A floral pattern, sewn with thread and ribbon, on a net backround. It's named after the northern French town of Chantilly.
Charmeuse: A satin finished silk fabric.
Chenille: Fuzzy fabric, with "caterpillar" appearance.
Chiffon: A fabric of silk or rayon.
Cookie: The removable padding or "wedge" found in certain types of bras.
Corselet : (AKA Corselette) An undergarment that combines a girdle with a bra. Similar to a traditional corset.
Crushed Velvet: Velvet with a "crinkly" look, not shiny.
Denier: A unit or fineness for rayon, nylon, and silk fibers, based on a standard fiber mass per length.
Embroidery: Ornamentation on fabric achieved with needlework.
Empire Waist: A high waistline that cuts horizontally across the body, just below the bust. This waistline gives a long, slender look and excellent fabric drape in the skirt.
Faille: A glossy, soft, finely-ribbed silk-like woven fabric made from cotton, silk, or manufactured fibers.
Faux Leather: Fake leather
Flocked: A technique where a fabric, usually a cloth of wool, cotton, silk or rayon, is pulverized to form velvety patterns.
French Knickers: Long version of boy pants or bloomers, usually made of silk.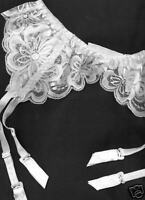 Garter Belt: A belt-like construction used with stockings. It is worn around the waist and clipped to the top of stockings to keep the stockings in place. It should be matched in color and design with stockings and panties.
Georgette: Sheer crepe woven from hard twisted yarns/threads to produce a dull yet delicate pebbly surface. The pebbly weave of georgette gives transparency but has slightly more coverage than chiffon.
Gown: An article of clothing used for night or lounge wear. Often made of silk, cotton, or polyester, and sometimes includes adjustable shoulder straps and a matching outer robe. Types of gowns include: babydolls, negligees, nightdresses, and peignoirs.
Guipure: A lace construction produced by embroidering a thread pattern onto a fabric. The bottom fabric is then removed by chemical or other means to leave a heavy open work lace.
Gusset: The lining found in the crotch area of a panty, often made of cotton.
Habotai: A lightweight silk fabric commonly used for linings and underwear.
Halter: An article of clothing for women that ties behind the neck and across the back, leaving the arms, shoulders, and back bare.
Hosiery Types: Control Top pantyhose - Provides shaping support in the panty section. Fishnet hose - Generally a diamond pattern in a loose weave. French or lace pantyhose - A lace panty is sewn into the pantyhose. Lace top stocking - A lace band that is found at the top of the stocking. Suspender hose - A section of the hose is cut out to stimulate the look of stockings and a garter belt, and often worn with panties. Stay ups - Stockings that have a rubber grip inside the top portion in order to stop them from slipping down the leg. Pantyhose is an American term for tights.
Jacquard: A fabric with an intricately woven pattern.
Jaspe: A fabric characterized by a subtle striped effect.
Keyhole: A tear-drop like hole purposely constructed within an article of lingerie. It is usually found near the top seam of a piece.
Kimono: A loose women's robe.
Lurex: A trademark name used for a yarn made of plastic-coated aluminum filaments.
Lycra: A trademark name used for a brand of spandex.
Marabou: The down from the tail of the marabou that is soft, fluffy and feathery, used for trimming.
Molding vs Padding: (Bras) Molding - Light padding used to shape a bra and give a natural, flattering look, versus padding, which is used to add size, shape, and cleavage in bras.
Negligee: A nightgown or undergarment made of thin, usually sheer fabric.
Panty (underwear) types: Bikini - Top of the panty is below the waist. Briefs - Top of the panty is at the waist. French-cut - Leg opening extends higher than normal. G-string - The rear panel is very small though usually larger than a thong. String Bikini: A narrow strip of fabric or elastic joints the front and rear panels. Tap Pants - Shorts with loose fitting legs, generally rides higher on the sides. Thong - Minimal coverage on the rear, usually a string or a narrow band of material or elastic. Tights - Panties made of stretch fabric, may include attached leg. Thong boy - A panty style which is a cross between a thong and a boy brief. It offers more, but not total, coverage in the back and along the sides, while the cheeks peek through the bottom. Very flattering.
Panne: A fabric similar to velvet, that has been flattened to achieve the desired look.
Peau de Soie: A medium to heavy drapeable fabric with a satin weave and de-lustered finish. It is used for bridal gowns and evening wear, as the dull luster is more flattering to the body.
Peignoir: Informal dress.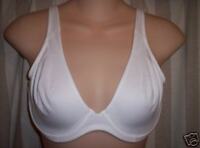 Plunge: (AKA Decollete) A style of bra that is cut superlow to give the appearance of cleavage.
Polyester: A synthetic fabric with an ability to stretch and resist wrinkling. Traps heat against the body, but is used in a weave that allows air to circulate. Its ability has made this fabric a popular choice in lingerie styles.
Pongee: A lustrous lightweight plain-weave fabric, originally woven in silk.
Princess line: A style of a clothing article that is made of several pieces contoured to fit the body.
Provencal: Small stylised printed floral patterns.
Rayon: A synthetic silk-like fabric that does not trap heat against the body, and absorbs moisture.
Ruching: A French word that means to plait. Ancient sewing technique where a strip of fabric is gathered in a repeat pattern and as the gathering pattern is drawn up, the strip forms scallops or petals. Throughout history, ruching has been an embellishment or a trim on women's clothing, often seen on a neckline, sleeve, hem or bonnet. It has been used to create three dimensional floral designs.
Satin: A smooth fabric, such as silk or rayon, woven with a glossy face and a dull back.
Scallop: A Border of a fabric or lace that is curved. Ornamental.
Scoop: U-shaped curve found at the neckline. May be a variety of sizes or depths.
Shirring: Material that is gathered and sewn into the seam, creating flowing lines, for decorative effect.
Slip: An undergarment usually constructed of nylon or silk, which may be decorated with lace. Half slips are elasticized waste fitting short slips worn under a skirt. Slips have made it back onto the fashion scene as erotic nightwear!
Spandex: A synthetic fiber or fabric made from polymer containing polyurethane.
Stretch lace: A construction of lace which stretches.
Surplice: A long, loose flowing garment, such as a robe or nightgown.
Sweetheart: A series of side and lower front curves that meet in the center, usually found at the neckline of bridal gowns.

Teddy: Combination of camisole and panties in one piece. May be fitted to the body , or loose. A variety of styles include: body briefer - a fitted teddy which may also provide smoothing and shaping or teddiette - a teddy with detachable garters.
Tricot or Satin Tricot: A soft fabirc that is resistant to runs. Often porous knit. Satin tricot has a lustrous finish.
Velvet: A soft fabric, such as silk, rayon, or nylon having a smooth, dense pile and plain underside.
Wide away: A style of bra with straps that are cut extra-wide to accomodate certain dress styles.
Wings: Bra side panels, (usually found in larger cup sizes, but not limited to) that provide support in the side bust area and under the arms.