The purpose of our guide is to inform and educate the reader about the rewards of collecting and playing vintage golf clubs.
If you have ever hit more than 2 golf balls in a row and one of them turned out to be a great shot - at that moment you knew - you were hooked, you could feel it in your bones!
The same can be said for collecting and playing vintage Golf clubs. The first time you find that really rare set of clubs, sitting in the back of a garage - and the lady says those magic words - "Oh, those old things - I've been meaning to get rid of those for years. I 'll give them all to you for ……$10.!!!"
Well, let me tell you, it's a great addiction - your spouse may not thinks so - but it really is loads of fun. But remember I said it was addictive! - You've been warned. I say this because it's true. Once you get started it's hard to stop.
Deals are all around you. Estate sales, thrift stores, garage sales, online sales, conventions, and private dealers.When you get the hang of it - don't be surprise if you find yourself spending the afternoon going to you favorite spot to check out the new selection.
Why ? It is simple..... It's always changing, new items are always arriving. Why is it so addictive? Well, there are a couple of reasons. First, what most folks do, as soon as they find a great set or club, is head out to the driving range or practice green.With new High Tech putters going for $200.00 plus, and wedges as high as $150.00. It's no wonder the guy next to you gives you a weird look when he can't sink his 5 foot putt with a $245.00 putter and - you drain them suckers from 10 feet with a 60 year old putter. Or he is spraying balls all over the range with his $500 Driver. While you pop balls down the middle with a vinatge set Sam Snead Signature clubs that are old than he is... Brother it drives them nuts!!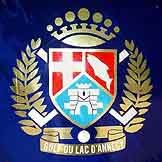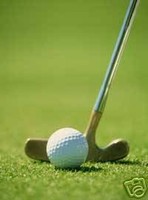 Second reason is the trill of the hunt. Most of the trill comes from finding the unusual clubs, or the rare putter, nice vintage bag, or wedge. But be careful - one day you might look around and you will have 3 or 4 sets of golf clubs, or more!
But there is another benefit. Soon you'll start to realize a difference, …and the change starts to happen. You find yourself playing better golf and hitting better shots, but you can't seem to figure it out why - then it hits you like a ton of golf balls
Just like Lee Trevino said " It ain't the arrows - its' the Indian"
You stop and think for a minute - you got better because, you where forced to- by continually hitting those old clubs. You see the new clubs have this design aspect where they help to compensate for your bad swing habits. The old clubs don't! It is like never taking you training wheels off of your bike.
How can you get full control using those? These older vintage clubs are harder to hit at first - but, they are actually better for your game than the new clubs because of this single issue.
The old clubs force you to tighten up your poor swing habits, and once you do your swing improves! You start to learn how to fade and draw the ball. You no longer just hit the ball and try to make it go straight. You can now begin to shape your shots and drift towards your natural swing characteristic of fading or drawing the ball, with ease!
As you play these older clubs you will notice that you are starting to hit your ranges more constantly. You begin to hit your way from the wedges through your short irons, then long irons , woods and then the driver.
Wow! This is cool! - you have control of the ball!
The first time you are able to take a vintage set of muscle back clubs and run them up and down your yardage card at the driving range - Fading and Drawing the balls at will - the light will then suddenly come on - Not only can you hit your ranges better, but you are now able to hit different types of trajectory shots.You may ask yourself is this all happening because you are hitting old clubs?
Well, not really - here's the thing.You are now hitting the ball with clubs that give you more feed back, and more control. Muscle backs, Blades, Forged clubs, can all give you this same affect. But rather than spending $600 - $800 on a new set of clubs - you got an older set for much less.
These older clubs can be set up for you just like any other new club set. Angles, length, and grip, can all be fit to your needs, and you should do this if you plan to seriously play a set of vintage clubs. Any golf pro shop can do this for you. - keep in mind they will try to sell you a new set of clubs!
So, you did this - improved your swing - by getting a set of older clubs - something as simple as a set of Sam Snead blue ridge irons or woods. Sure they were less forgiving at first, but now you have the hang of this stuff, and you can shape your shots, and put the ball where you want it. As you practice, you find yourself focusing in on the type of shot you need to play the game, Fade or Draw, high or low….YOU ARE NOT THINKING ABOUT HITTING THE BALL STRAIGHT ANY MORE - THOSE DAYS ARE OVER.!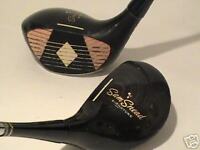 Since you are focused on other aspects of the game…such as...not screwing up the shot… it comes naturally to you now - because the clubs have forced you to give them what they want - a smooth easy swing, on plane and in tempo.
They in turn, give you the shot you need -- here's the big secret - ready........ YOU ARE NOW LETTING THE CLUBS DO THE WORK….
Gone are the days of swinging like a mad man and trying to punch it out of the park! You now know how these simple golfing tips really work.
This application of playing older clubs saves you money and time, its that simple.
The next point is scoring.
Here is the big secret - consistency - consistency in all things, your balls, tees, gloves, grips, tuning, shafts, clothes, socks, shoes, diet and game preparation.
Lower scores will now depend on how much time you have put in practicing your short game.
Vintage clubs work well here also.
Just remember - you can not buy this game of Golf - you earn it through smart applications, and practice.
So, save your money, get some vintage clubs and practice!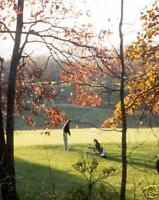 Things to keep in mind when selecting a Vintage set or club.
Condition of the grips must be reviewed - it is dangerous to play or practice with clubs that have poor grips. You must be able to hang on to the club!

The grips need to fit your hand - about 1/4 inch gap between you finger tip and your palm when holding the Club.

Condition of shaft to the club head - no Rust! No cracks!

If plated - no peeling of the chrome - this can be just like a razor - be careful!

Screws, plates, faces, seams, must all be smooth.

Avoid water and woods if the finish is missing - use a sealer, or retire the club.
It is my hope that after you have read this guide, you will find a vintage club and take me up on this challenge. Find a vintage 5 or 7 iron, take it to the driving range and for the next month give it a try. See if you can catch the fever of playing with these great clubs.
Just today, I found a full set of Northwestern Tom Weiskopf Pro Master Blades. I got them for a great price, took them to the range and was absolutely amazed. These are great clubs, with excellent weight and full control.
Last week I found a Matching set of woods for this same set! You could not get a better deal!So there you have it, a simple guide to start you on your way to a great adventure.
Stop by the store and take a look at our collection of vintage golf clubs.!
Best wishes,
Mr. B