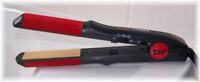 A guide to Chi Turbo Hair Straighteners
Life can be funny sometimes as we strive to get what we do not already have! Take hair for example...those to have straight hair often wish for curls.....and those of us who have curly covert straight hair! Hence the plethora of products on the market to help us achieve our desires...rollers, curling tongs, straighteners, lotions, potions and then some!
I fall into the curly hair category...or make that wavy...not quite curls, not quite straight. Growing up I would have friends and family say "I wish I had natural curls like you"....only there I was with straighteners, hair serum, wonder lotions that promise to make your hair straight, sleek and shiny!!
Trust me, my quest for straight hair has run the gammit!
In my quest to achieve the almost impossible....I have made my way through multiple hair straighteners, from my teenage starter pair - cheap and simple, to the top of the market gizmo which promises the world! Some were pretty poor, some okay, some did the job for a while but nothing made me say - yes, this is it, this is the one I am sticking to!
Until now: Bring on - the Chi Turbo Hair Straightener! My wonder machine that really does achieve the impossible!
Why Chi?
The advantages :
This device heats up in SECONDS!!
If you are familiar with hair straighteners, you will know that many take their sweet old time to get hot...and heat is the key to a sleek straight style! It heats quickly this while using an energy saving 20-25 watts! And the ceramic plates are the ONLY thing that heat up...with many straighteners I find that after a while , the whole thing starts to get hot, which makes it very uncomfortable to use - not this machine!!
They use CERAMIC technology!
Ceramic hair straighteners are the best at producing consistent heat - the main advantage is that the temperature remains consistant at all times, so you get even results; and ceramic technology produces negative ions. These work by sealing your hair cuticle quickly, which locks out the effects of heat and humidity on your hair and helps you maintain the straight style.
It has MULTIPLE heat settings.
The Chi Turbo has more heat settings that most other hair straighteners on the market. This makes it very adaptable to different hair and different uses. It ranges from 175f - 356f, making it suitable for use on the finest hair - to the coarsest of hair types. You can also choose to adjust the heat for different uses - I use this primarily as a straightening iron, howver you can also use it to flip you your hair or even as a tong to produce curls.
Straightening your hair takes time...after blow drying and then straightening, your hands can get quite fatigued. I found most straighteners to be bulky, awkward and not user friendly. This is easy to grip with an ergonomic design emplying felt at the tip for comfort and ease of gripping the machine. It is lightweight and works so much quicker than its competition that achieving the results you want is a breeze! It also has a 10 foot cord which makes it easier to use.
It is available in DIFFERENT MODELS to suit your needs.
The Chi turbo is available in 7/10 of an inch, 1 inch and 2 inch plates to suit your needs, the smaller plates will b emroe useful for you if you also want to use the straightener to achieve curls and flips.
In summary
If you are looking for a hair straightener that it easy to use and most importantly does what it should do, then this is the model for you. Finally I can have that straight, shiny hair was always looking to achieve - and it remains like this. If you are a long time user of hair straighteners, you will know that often you cna achieve straight hair, only to have the effects disappear shortly thereafter. This works to the point where your hair will stay straight and it is a tough match for the effects of heat and humidity!
You canfind your Chi at many local and online beauty retailers - or purchase, usually at much reduced cost from eBay. Your Chi comes with a one year manufacturers warranty...but I have never had to use this! It is a great buy and highly recommended!