A Complete Guide to Buying a Violin on Ebay
(or how to buy from description and pictures only without being able to try it out)
Buying a violin "sight-unseen" from Ebay can be a tough decision, especially if the market is flooded and you have to wade through pages and pages of instruments that seem to all look the same.
I have played a viola for around 30 years and taught violin lessons to children for 4 years. Their parents very wisely rented an instrument for the first year to make sure their interest continued before making the leap into purchasing an instrument. However, the poor quality of the rental instruments I saw (and heard) was what caused the student to get discouraged and quit. I even tried playing their rented violin to see if I could make a better sound. But alas! I could not produce a better sound out of the instrument. The poor quality was in the violin and not the student!
When buying, you need to make sure the instrument can be easily played and has a good sound, even if it is a rental. Many make a 'scratching' sound when played, or sound 'tinny'. It may not be the hours of practice involved that makes a child give up, but the instrument itself.
That being said, how do you choose a violin for either yourself or your child? I've had many parents ask me about buying on Ebay, but there are also too many poor instruments. Unfortunately, the price they desire to pay can only purchase a cheap instrument. Only very rarely can you get a good instrument with little money. (It takes much persistence and patience.) I have bought 2 instruments from Ebay. One was a great choice and has become 'my baby'. The other was a bad choice. I ended up reselling it. So lets go on to the specifics of what to look for, or what I look for.
Description of the instrument:
I first briefly read through the description to see how the seller describes it. If he gives what I call a 'car sales pitch', about how wonderful it is, that it has good sound, great for a beginner or intermediate student, then I usually pass over it and go on to the next. (Also, if you look at the other violins, they have for sale, you'll see they say the same thing about each one - not a good sign!) I look in more detail at the instrument itself when the description includes various details about the violin, how it was made, the wood used, any special features or distinguishing characteristics, such as scratches or repaired cracks. These are things that make you feel the person knows this instrument and is not just trying to 'get a sale'.
Next I look at the pictures of the instrument. Following are the specifics of what I look for.
Wood:
Stringed instruments are all made of spruce for the top and maple for the back and sides. It is the quality of wood used that makes or breaks a violin. I always look at the maple on the back. It needs to have what is called "tiger stripes". The more dense and pronounced the stripes are, the better quality of sound the instrument will have. I refuse to consider any violin that does not have these. They will always sound like a tin box.) Maple wood which has stripes comes from a tree that was grown in harsh condition, as in the mountains. The tree has to grow very slowly and very dense in order to survive. Hence, this wood is hard and produces a very good sound. Trees grown in very favorable conditions are more porous and will muffle the sound of the instrument, no enhance it. I consider this to be the most important detail to look for. (Note the 2 pictures below: these are pictures of two of my instruments. The left one has the tiger stripes and has become 'my baby'. The right one has no stripes and is the one I later resold.)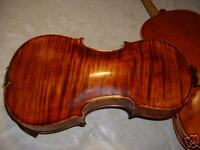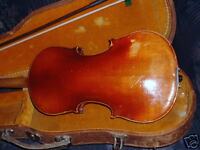 Varnish:
The varnish used is the next most important aspect. Sprayed on polyurethane or shellac 'seal' the wood and doesn't allow it to breathe or expand and contract with hanger in temperature or humidity. Thus, cracks will easily form. The better violins have hand applied varnish that contains a high degree of rosin and additives such as walnut shell. The wood not only needs to be protected, but it also needs to have the ability to resonate. The hand applied varnish does this and also results in a deep looking finish and not just a surface shine.
Fingerboard:
This needs to be made of ebony wood, as it is a hard wood that can take years of finger use. IF it is dark on the top but light underneath, then it is of cheaper wood that has been painted dark. This will not hold up over time.
Tail, pegs and endpin:
These should be made of ebony, sandalwood or mahogany. Cheaper instruments have plastic or wood painted dark.
Purfling:
The purfling is wood that is inlaid around the outside edge of the top of the instrument. Having inlaid purfling is very important. This serves to stop any cracks which may begin at the edge of the instrument from going inwards. Cheaper instruments fool you by having it painted on and not having the wood truly inlaid. If you can see the grain of the wood continue on through the purfling, then it is inlaid.
Strings:
There are various types of strings available and each type produces a different sound. How you choose them depends on the sound you are looking for. Some are dark and mellow, others are bright and strong. Some respond immediately and others have a delay in the sound. My personal favorite is Thomastik Dominant, which has a strong, brilliant sound. It is also very easy to play. this is the set of strings a parent should have for their child's violin. My other favorite is Evah Pirazzi, which is a softer, more gentle sound. Better quality instruments will have the better strings on them Poorer quality will have the lesser strings. I personally like it when the seller tells you it has Thomastik Dominant strings. I know it will be a decent instrument (especially if it has the tiger stripes on the back).
Bow:
Many violins come with fiberglass bows. Though these are very popular, I typically see them as inferior bows that do not play as well on the instrument. the better bows are made of either brazilwood or pernambuco wood. Brazilwood is the lesser expensive wood for a bow and holds up very well. It makes for a great practice bow. Pernambuco wood is the best wood for a bow and the more expensive. However, it is a more flexible wood that moves with the person as he/she uses it. To make an analogy: say you want to ice skate, should you buy hockey skates or figure skates? that depends on what you want to do on the ice. Hockey skates are for games, and general hard skating. However, to do the fancy 'tricks' on the ice, you would want figure skates. In my opinion, it is the same with the bow and violin. If you do mainly ensemble playing (orchestral), then brazilwood is your best choice. However, if you want to do solo or more expressive work, I would recommend the pernambuco. I personally own both types of both and love them both. Which one I use depends on what music I am playing. Also, look for real horse hair on the hair, not synthetic hair. Synthetic hair does not bring out the true sound of the instrument.
A couple more things to note:
Older instruments will have their full sound. What you hear when you recieve it is what it will be like. New instruments will take time for the sound to develop as it is played. The wood is not fully cured yet, and the more you play it the first few months, the better it will develop its sound.
Also, buy from a seller who allow at least a 3 day trial period. That way if it does sound horrible, you can return it. Only be sure to notify the buyer within the time frame.
Happy bidding!