I am not a great fan of plate-signed offset lithographs.
The plate-signed offset lithograph is just a photographic image with a facsimile signature. They are very cheap to produce and hundreds can be printed in the time it takes to make one serigraph.
These posters are fine for decorating a bedroom or a rumpus room; however they are not really very collectable. They are disposable art; soul-less and sterile.
Beauty and Beau 8/10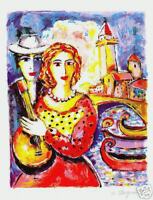 Of course there is always an exception and one seriolithograph that I suggest as an introduction for new collectors is "Beauty and Beau". For less than $10, it is a very small investment for a decorative piece that is romantic and moving.
Zamy produced over 100,000 signed serigraphs during his life time and I am always surprised to see people buy unsigned offsets when for a few dollars more they can buy signed serigraphs and original lithographs.
My best intention is to buy what I like; however we all outgrow certain pieces or run out of wall space and it is nice to know that when you sell you are likely to get your money back.
Always ask the vendor who list a Zamy lithograph for sale whether it is a genuine lithograph or an offset.
Genuine lithographs requires effort, time and talent from the artist and are priced accordingly.
If you are not sure whether your piece is a genuine or an offset lithograph; an easy test is to look at a small section of the print with a magnifying glass.
The image of an offset lithograph is composed of thousands of minute dots just like the pixels of your television screen.
Mother's Love 7/10 Three Women 7/10 Jaffa 7/10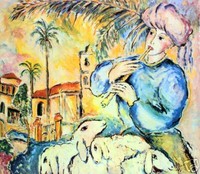 Thankfully, Zamy did not produce too many offsets when he was alive as the offset lithography of the 1980s was pretty average.
The most popular of these offsets are "Mother's Love", "Jaffa" and "Three Women".
These offsets are hand-signed and was produced in a limited edition of 700 copies
A few of these offsets was hand embellished by Zamy and such pieces has sold for as much as $450 because of their rarity
"Three Women" is a very beautiful poster and it is a pity that Zamy did not reproduce this image on a large serigraph. However he did produced an excellent version on a postcard size serigraph.
Zamy produced a remarkable series of 7 lithographs in the early 1980s.
The Judaic Heritage Society praised it highly and I have taken the liberty to reprint their words.
"Celebration of Life" is the title of this remarkable folio of original Steynovitz lithographs. And how appropriate the title is. For Steynovitz celebrates not just life, but eternal living, marked by the qualities that set all humans apart - love, spirituality, beauty and artistic awareness.
The very essence of life springs forth from each magnificent painting.. In each there is the misty, ethereal quality of morning; the sharply detailed luminescence of high noon; the dark, lengthening shadows of evening. And always there is movement. The movement of hands, of birds, of music. There are patterns and designs from a world we may never know again.
In each Steynovitz painting there is the link with ancient Jewish traditions - the joy, the sadness, the bittersweet memories of a Biblical people alive in a world as modern as tomorrow. As long as civilized man survives, Zamy Steynovitz will speak to him in poetic whispers and the thunder of immortal artistic achievement.

Dreams 10/10


One remarkable gem from that series is titled "Dreams".
The love, romance and affection Zamy captured in this piece is unsurpassed; even by Marc Chagall .
Rating
10..... Masterpiece
9........Excellent
8........Very Good
7........Good
6........Average
* I have given a rating for each serigraph based on my opinion of their appeal.
Please note that there are some pieces that I would rate as below average (5 or lower) however my aim in all these guides is to promote, educate and high-light the best pieces to collect.
If you share my enthusiasm or have any questions, I would like to hear from you.