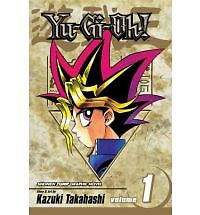 Enter a world of mythical fun, populated with an amazing array of creatures. Whether youre just getting starting with your first stack of Yu-Gi-Oh cards or want to improve your Yu-Gi-Oh game with strategic cards, youll find everything you need to compete here on eBay, your super source for Yu-Gi-Oh.
Discover Yu-Gi-Oh
Based on a Japanese comic book and cartoon series, Yu-Gi-Oh now reigns as one of the most popular trading card games in the world.
The Yu-Gi-Oh story
The Yu-Gi-Oh story revolves around a boy named Yugi, who receives an ancient Egyptian artifact called the "Millennium Puzzle." When Yugi unlocks the secret of the puzzle, he gains powers to defend the world. Yugi and his friends play a card game called "Duel Monsters," where monsters on the cards magically come to life.
The Yu-Gi-Oh game
The Yu-Gi-Oh card game takes players to a mythical world of combat where creatures vie against one another in duels on a battlefield filled with traps and magical pitfalls. A Yu-Gi-Oh card game player wins a duel by damaging an opponent to the tune of 8,000 life points, forcing the opponent to run out of cards, or by getting a combination of Yu-Gi-Oh cards in hand that includes Right and Left Leg of the Forbidden One, Right and Left Arm of the Forbidden One, and Exodia the Forbidden One.
A Yu-Gi-Oh match consists of 3 duels. When the battle concludes; that is, one player wins two duels, or has one win and two draws, the player earns the right to become Yu-Gi-Oh, king of games.
Collect Yu-Gi-Oh Cards & Merchandise
You can buy hundreds of Yu-Gi-Oh cards or just one (though youll need 40 to play). A serious Yu-Gi-Oh player perpetually improves his card collection.
Get started with new
Yu-Gi-Oh cards Equip the beginning Yu-Gi-Oh player with a Yu-Gi-Oh starter set (or Yu-Gi-Oh starter deck) which contains 50 Yu-Gi-Oh cards, including all the Yu-Gi-Oh cards, needed to take on an opponent, and a rulebook. Choose Yugi, Kaiba, or the more popular Yu-Gi-Oh decks, Joey and Pegasus.
Improve your Yu-Gi-Oh card deck
Yu-Gi-Oh players need plenty of monster cards to compete successfully. Make your Yu-Gi-Oh deck more formidable by adding Yu-Gi-Oh cards to your collection with Yu-Gi-Oh booster packs. Also, consider expanding your Yu-Gi-Oh collection.
Collect strategic Yu-Gi-Oh cards
The ambitious Yu-Gi-Oh player will continuously expand his or her Yu-Gi-Oh collection by acquiring individual Yu-Gi-Oh cards. Popular Yu-Gi-Oh card choices include magic cards (also know as spell cards) and trap cards. Shop eBay to add strategic Yu-Gi-Oh cards to your collection.
Jinzo: Jinzo is a holofoil Yu-Gi-Oh card from the Joey series.
Mirror Force: Mirror Force is a valuable Yu-Gi-Oh card from the Dark Beginning 2 set.
Collect Yu-Gi-Oh merchandise
The appeal of Yu-Gi-Oh extends beyond the game itself.
Promotional Yu-Gi-Oh cards: Expand your Yu-Gi-Oh card collection with limited edition promotional cards issued in collaboration with movie release, games, and other promotions.
Other Yu-Gi-Oh items : Delight a youngster with a Yu-Gi-Oh costume, Yu-Gi-Oh figure, Yu-Gi-Oh movie on VHS or DVD, and Yu-Gi-Oh video game.
Find Yu-Gi-Oh Cards on eBay
Once you know what type of Yu-Gi-Oh cards or merchandise you want, go to the Toys & Hobbies portal, click Yu-Gi-Oh under Trading Card Games and start searching for items on eBay.
Categories: The Categories list on the left side of each page will help you narrow down your listings by item type. You'll find links for Boxes, Individual Cards, Packs, Mixed Lots, and more. As you dig deeper into the site you'll also be able to narrow down your choice by brand.
Keyword search: Search eBay listing titles for specific words. For example, if you want to find the Joey starter deck to play Yu-Gi-Oh, type "Yu-Gi-Oh Joey starter" (without quotation marks) into the Search box. Click "Search title and description" to expand your results. Visit eBay's Search Tips page for more tips on searching with keywords.
If you can't find exactly what you want, try shopping eBay Stores, tell the eBay Community what you want by creating a post on Want It Now, or save a search on My eBay and eBay will email you when a match becomes available.
The eBay Toy Finder can also help you find hot and award-winning toys appropriate for kids ofany age.
Buy Yu-Gi-Oh Cards With Confidence
Before making your purchase, make sure you know exactly what you're buying, research your seller, and understand how eBay and PayPal protect you.
Know your purchase
Carefully read the details in item listings.
Figure delivery costs into your final price. If you spend a lot of money, make sure the seller will insure the item when it ships.
If you want more information, ask by clicking the "Ask seller a question" link under the seller's profile.
Always make sure to complete your transaction on eBay (with a bid, Buy It Now, or Best Offer). Transactions conducted outside of eBay are not covered by eBay protection programs.
Never pay for your eBay item using instant cash wire transfer services through Western Union or MoneyGram. These payment methods are unsafe when paying someone you do not know.
Know your seller
Research your seller so you feel positive and secure about every transaction.
What is the seller's Feedback rating? How many transactions have they completed? What percentage of positive responses do they have?
What do buyers say in their Feedback? Did the seller receive praise?
Most top eBay sellers operate like retail stores and have return policies. Do they offer a money-back guarantee? What are the terms and conditions?
Buyer protection
In the unlikely event that you don't receive your item or it is not as described, eBay Buyer Protection will cover your purchase price plus original shipping. Learn more.