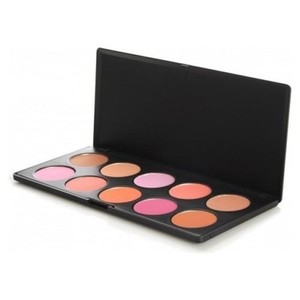 Blush is used to add a healthy glow to facial complexions and comes in a variety of shades and types which are suitable for different wearers. To pick the best blush, wearers should understand a little bit about their skin types and which type of blush is most appropriate for their skin. Blush colors should be chosen to match a wearer's natural skin tone, so an unnatural or obvious use of blush is not apparent. With so many conditions imposed on finding the perfect blush, buyers are fortunate that a wide assortment of blushes and brands are available, both in stores and on online marketplaces like eBay.
Determining Skin Type
To determine a wearer's skin type for blush, it is necessary to focus on the skin of the cheeks. This is because many wearers have a combination skin type where their forehead, nose, and chin are oilier than their cheeks. Since blush is worn primarily on the cheekbones, this is the most relevant area.
Oily Skin
Oily skin is noteworthy because it is prone to blemishes and has a shiny appearance. Large pores are often visible which can be made even more apparent when covered with makeup. Blush wearers with oily skin need to be very careful when choosing their blush type to avoid exacerbating any skin problems and increasing the appearance of pores.
Dry Skin
Dry skin is prone to flaking and the development of fine lines because this skin type does not maintain enough of the skin's essential oils. The wrong type of blush can add a drying effect to this fragile skin type, so care should be taken to make sure that blushes can provide some needed moisture. Additionally, dry skin is highly susceptible to sun damage, so it is best to use makeup on this skin type that provides some UV protection, if possible.
Normal Skin
Normal skin retains a proper balance of oil to combat dryness. The pores of this skin type are not noticeable except during close inspection and the skin has a good amount of elasticity which helps to prevent the formation of wrinkles. Blush wearers with normal skin have the most flexibility when choosing blush types.
Seasonal Considerations
If a buyer lives in a climate that experiences a wide range of temperatures and humidity levels throughout the year, one specific blush might not be enough to cope with the changing environment. Cold temperatures tend to dry out all skin types, while warm temperatures and humidity will increase oiliness, even for people with dry skin. Blush buyers should think about how their skin typically changes throughout the seasons and consider purchasing two types of blush that can be used as the need arises to deal with seasonal variations.
Types of Blush
Because blush wearers often have different skin types, blush manufacturers have responded by developing a number of blush types which are best suited for certain skin types.
| Skin type | Blush type |
| --- | --- |
| Oily skin | Powder, gel, tint, or liquid blush |
| Dry skin | Cream blush |
| Normal skin | Gel, liquid, or tint blush |
| All types | Shimmers |
Buyers should try their hardest to stick with the blush type that is best for their skin, but are often swayed to use a different blush type because they find the color of that blush very attractive. Manufacturers often use the same colors for multiple types of blush, so before purchasing the wrong type and the right color, buyers should check to see if the manufacturer also offers the color in a variety of blush types.
Powder
Powder blush is appropriate for oily skin because its chemical composition does not add any more moisture to the skin. Powders can be very light and will not get caught in large pores, which helps to manage the appearance. To apply powder blush, wearers should use specifically designed blush brushes and use a circular motion as they add the blush to the skin.
Cream
Cream blush helps to add a protective layer and a moisturizing surface to dry skin types. This moisturizing effect will diminish the likelihood of flaking, which is a common problem for dry skin. Additionally, cream blushes provide the most longevity of wear because their chemical composition is designed to stick to dry skin, whereas other blush types provide more sheer coverage. To apply cream blush, wearers can use their fingertips or a makeup sponge and tap the blush across the cheekbones to blend the blush into the skin. Lightly tapping the blush on is an important step in applying cream blush, because using a wiping motion will create an unnatural look.
Liquid, Gel, and Tint
Liquid, gel, and tint blushes provide a sheer layer of blush that is appropriate for both normal and oily skin types. Their chemical composition provides a little more adhesion than powder blushes, but still won't add the heaviness that cream blushes will when applied to normal and oily skin. To apply liquid, gel, and tint blushes, wearers can use their fingertips or a makeup sponge to quickly add the blush to their cheek area. Working quickly is tantamount to applying these blushes successfully, because these blushes are fast-drying and can streak if they begin to dry before they are blended well into the skin.
Shimmers
Shimmers are adaptable to all types of skin because they are designed to be used sparingly to create glittery highlights along the top of the cheekbone. Applying shimmers requires a light touch, so wearers should add just a little shimmer to their fingertips and pat it on the uppermost arch of their cheekbone.
Choosing Blush
Blush buyers can use several approaches, singularly or in combination, to help make their blush purchasing decisions. Finding the perfect color in one step in the process, as is choosing blush based on a favorite makeup brand.
Blush Colors
Blush is best used to enhance the natural color of the wearer's skin tone and is often labeled "warm," "cool," or "neutral" to help users choose which would be the best tone for their skin. Wearers can easily check for their skin tone by holding a white sheet of paper under their jaw line and seeing if the resulting reflection on the paper has red/blue or yellow/beige tones. Red/blue shades will be produced by cool skin tones, while yellow/beige shades will be produced by warm skin tones. Once the skin tone is determined, buyers can look for indicators on blush packages which will specify if the blush is a warm, cool, or neutral tone. Manufacturers have developed their own system of marking the tone classifications, and might replace the words warm, cool, and neutral with "W," "C," and "N."
Popular Brands
Makeup wearers are very loyal to their favorite brands and will often choose their makeup exclusively from a certain brand's product lines. Inexpensive manufacturers that provide a wide range of blush colors and types include makeup manufacturers like CoverGirl or NYC, while luxury brands like Christian Dior and Givenchy offer a multitude of styles at a premium price. Buyers should of course determine how much they could spend on their blush and buy accordingly.
Buying Blush
Buyers have a range of options available to purchase blush depending on their geographical location and the blush brand's market reach. While mass-market brands, like Maybelline, can be found in the makeup aisles of drugstores and mass retailers, some companies, like Avon, use independent sales representatives which can limit their availability. Boutique brands, like M.A.C ., often have specialty stores in large cities. Fine department stores can carry premium brands, like Lancome, or luxury brands, like Chanel. Online marketplaces like eBay can provide a wide variety of options for buyers which transcend the limitations of regional and national borders.
Blushes Available on eBay
To browse the selection of blushes available on eBay, go to eBay's Blush Makeup category to get started. From there, buyers can filter their searches to limit results based on brand or shade. Conversely, if buyers know exactly what they are looking for, they could conduct a keyword search that lists a blush's brand, shade, and type. eBay has global selections of brands of every price category available, from affordable brands like Revlon and L'Oreal, to mid-range brands like Bobbi Brown, Clinique, Sephora, Laura Geller, and Shiseido, to luxury brands like Cle de Peau Beaute and Shu Uemura.
Becoming an eBay User
To get set up with a user ID and password , create an account with eBay and then begin shopping. When a potential purchase is found, use eBay's Feedback Rating System to research the seller's past performance. Placing a bid is easy, but if a buyer has any questions about a purchase that are not explained in the product listing, they should contact the seller before placing a bid and wait for any clarification before going forward.
Using eBay Safely
The eBay Customer Support Center is a great place to start to find out all the information that is needed to use eBay safely. eBay has how - to support videos available that explain the eBay process, as well as links to contact eBay directly. Additionally, eBay's Buyer Protection page provides a wealth of information and links that eBay users will find valuable if there is a problem with their purchase.
Conclusion
Finding the perfect blush relies on many factors, including the wearer's skin type, skin tone, location, and access to suppliers. With so many options available, buyers should put a little research into finding a blush that balances all their needs in one convenient package. Looking on the packaging for signifiers helps in choosing the right shade, and often makeup wearers will purchase brands that they have had success with in the past. Regardless of the factors that might seemingly limit a buyer's choices, using online marketplaces like eBay significantly increases the likelihood of finding the right blush for the wearer.