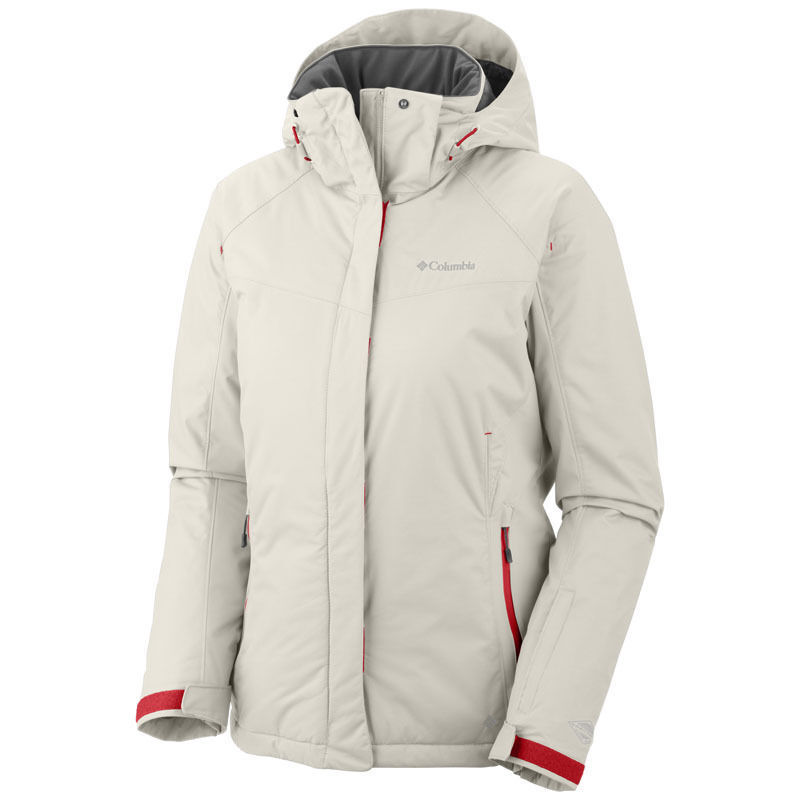 Your Columbia ski jacket does more than keep you warm and dry as you speed down the hills; your jacket is a fashion statement. It is a way for friends to recognize you from a distance. Navigate the process of picking out the right jacket by keeping in mind the variety of styles and special features you have to choose from. However, none of the special features do you any good if the jacket is not a proper fit. The wrong ski jacket might leave you one black jacket in a crowd, or it might leave you shivering in a snow bank with snow down your trousers. Shop for a woman's Columbia ski jacket on eBay and stay both stylish and warm as you shoot down the hills.
Choosing a Style of Columbia Ski Jacket
You want a women's jacket that flatters your figure and comes down over your butt to keep it dry when you inevitably take a fall. Before you hit the slopes, make sure that you have a ski jacket that keeps you warm on the snowy hills, but not too warm. Choose from a shell jacket to pair with fleece liners and insulated jackets in down or a synthetic fiber.
Shell Jacket
If you worry about overheating, opt for a shell jacket to protect you from wind, rain, and the ever-present snow. Pair it with one or more fleece jackets to find the perfect temperature balance. Unfortunately, if you run cold constantly, you might find yourself straining at the seams with the number of fleece liners you put on in an effort to stay warm.
Insulated Jacket
If you choose not to go with a shell jacket, then consider an insulated jacket. These ski jackets offer the same wind and waterproofing as shells, but with a layer of insulation. Choose whether you want natural down filling or a synthetic insulation.
Picking a Color for Your Ski Jacket
The color of your jacket is not as important as the style of jacket, but it has its purposes. The color is more than just a fashion choice you make. Friends you make on the slopes learn to identify you by your jacket, so you want a color that makes you stand out from the crowd. Avoid blues, greens, and reds in shades worn by skiing instructors. Opt for bright colors and patterns that make you visible and unique. However, do not forego a Columbia ski jacket that meets all your other requirements simply because the color is less than ideal. Nor should the sole deciding factor in your ski jacket be its color.
Special Features of Ski Jackets
Not all ski jackets are equal, and this comes to the forefront when comparing special features. Look for a jacket made from a breathable material, such as GORE-TEX or Polartec, and that has armpit vents to let out excess heat and offer better ventilation. A powder or snow skirt keeps snow from sneaking up your jacket and into your pants. Look for a jacket that has a detachable skirt if you find it restricting. Consider if you want to trade the potential for leaks and extra bulk of detachable and rollaway hoods for a regular hood.
Finding the Right Size of Ski Jacket
Your ski jacket is an investment, so choose one that fits comfortably without restricting movement and without being bulky or unsightly. To do this, you need to take your measurements while wearing a minimum of your base layers, but preferably, all the layers you plan to wear under the jacket. Shell jackets worn by themselves look sleeker than insulated jackets do, but they may require a larger size to accommodate the additional layers.
| | | | | | | |
| --- | --- | --- | --- | --- | --- | --- |
| In Inches | XS | S | M | L | XL | 2XL |
| Chest | 32–33 | 34–36 | 36–38 | 39–41 | 42–44 | 43–45 |
| Waist | 23–24 | 25–27 | 27–29 | 30–32 | 33–35 | 35–37 |
| Sleeve Length | 30 | 31 | 32 | 33 | 34 | 33 |
| Hip | 33–34 | 35–37 | 37–40 | 40–43 | 43–46 | 45–47 |
Have someone measure your chest, waist, sleeve length, and hips. Write down the measurements and check them a second time for accuracy. The sizing charts may also indicate neck or inseam measurements. If you fall between sizes, always err on the side of caution and go up a size.
How to Buy a Woman's Columbia Ski Jacket on eBay
Searching on eBay for a new ski jacket gives you the option of looking at styles from past years.
Type "Columbia Ski Jacket" into the eBay search bar on any page and use the navigational links to filter to women's jackets; or, type in the name of a specific jacket style. Modify your search to include a specific size, color, or style. Opt for a multi-purpose shell jacket if you are prone to overheating, or bundle up in a heavy-duty insulated coat if you have problems staying warm. Take a break from looking at insulation and investigate whether the jacket has all the special features you require.