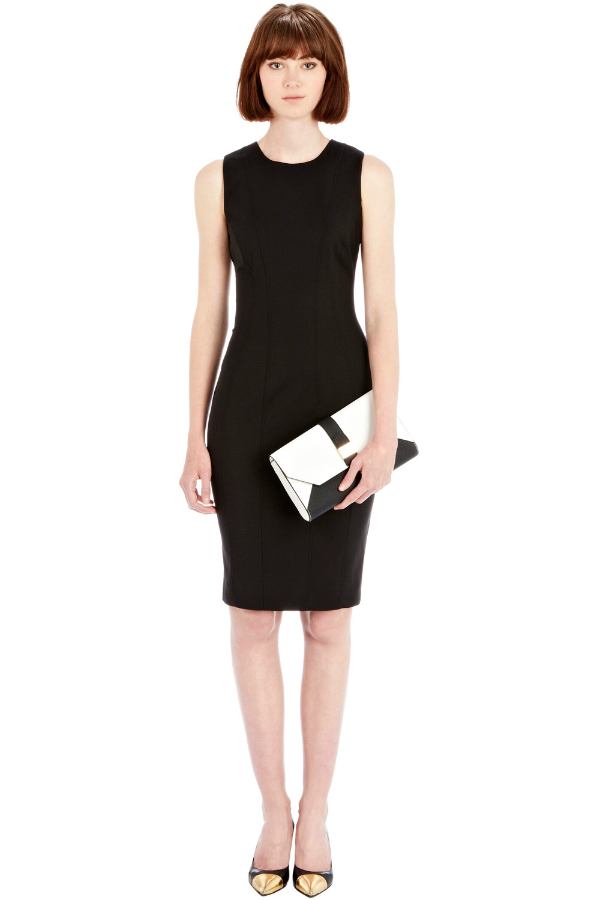 The ease and comfortable fit of the traditional pencil dress makes it a popular choice for office wear. With the flattering lines, wide variety of available fabrics and colors, the pencil dress is a good choice for women of all body types. From thin and tall to short and curvy, the pencil dress flatters all body types, heights, and curves. From long sleeves to shorts sleeves and even sleeveless, the pencil dress is one design that women wear in all seasons.
Whether you purchase your dress at a traditional clothing retailer or online at sites such as eBay many options are available. Understanding your office culture, size labels, fabric types, and cleaning instructions gives you the information needed to narrow the many pencil dress choices to the one that is just right for you to wear to the office.
Pencil Dresses for Different Office Settings
Christian Dior first designed the pencil dress, an iconic style in fashion, in the 1940s. The dress style is recognizable by it long, clean lines showing a slight narrowing at the waist, to mimic the horizontal line in the letter H. Also notable for a lack of poufy sleeves or large collars, pencil dresses should have a sleek and clean look that makes it a great choice for office wear.
When shopping for a pencil dress for the office, there are several things to keep in mind. The most important is the culture of the office. A more conservative office culture means you should choose a pencil dress with more conservative designs, including those in traditional suit colors such as blue and gray. A more relaxed office culture may mean you can wear a wider variety of pencil dress styles with different fabrics and patterns. Be sure to consider the length of the skirt and the amount of exposed skin when choosing a pencil dress for offices that are more conservative.
Measuring for the Perfect Fit
To ensure a perfect and comfortable fit, it is important to determine your exact size. This is when a measuring tape becomes your best friend. To get accurate measurements you need to place the fabric measuring tape over correct places on your body and measure accurately.
Bust
To determine bust size, wrap the measuring tape around the fullest part of your bust, usually directly over the nipples, and note the measurement. You should do this with your bra on.
Waist
You can find your waist size by wrapping the measuring tape around the narrow part of your body on or slightly below your belly button. Be sure that you are not holding your breath or have just taken a deep breath in. You should be relaxed and breathing normally.
Hips
To determine your hip size, wrap the measuring tape over the pelvic bones at the front of your body and around your back, not at the widest part of your hips.
Length
Traditional pencil dresses designs have the lower edge of the hem fall either just above the knee or to the middle of the knee. However, some pencil dresses feature much shorter skirts. To determine the length of dress that falls to the proper length on your body, measure the length of your body from the nape of your neck to either the middle of your knees or just above your knees. A fabric measuring tape held at the nape of your neck to your preferred hemline gives you this measurement. This is a good time to get a friend or family member to assist you. An alternative would be to measure a dress that fits you well and comes to the length you desire.
Be sure to note these measurements in both inches and centimeters as dresses can have labels with either or both.
Pencil Dress Size Chart
While every pencil dress design is going to fit a little bit differently, you should start your search for the right size by comparing your measurements to a standard size chart.
| Size | Size 4 | Size 6 | Size 8 | Size 10 | Size 12 |
| --- | --- | --- | --- | --- | --- |
| Bust (inches) | 30 | 30.5 | 31.5 | 32.5 | 34 |
| Waist (inches) | 22 | 23 | 24 | 25 | 26.5 |
| Hips (inches) | 32 | 32.5 | 33.5 | 34.5 | 36 |
If your measurements place you in between sizes, you should always round up to the next larger size. This helps ensure that you are comfortable while wearing the dress.
Finding the Style that is Right for Your Body Type
A pencil dress for the office features a wide variety of styles, colors, and fabrics to suit your individual body type. Knowing your body type is the best way to find the dress that is perfect for you.
Body Shape

Description

Dress Style Considerations

Weight around the middle

Loose fit around the middle
Snug fit elsewhere
Avoid drawing attention to the middle

Triangle

Narrow shoulders and torso with wider hips

Avoid shapeless or oversize clothing
Wear tailored outfits

Hourglass

Ample chest with narrow waist and full hips

Avoid shapeless clothing
Choose tailored clothing to emphasize natural curves

Rectangle

Straight up and down figure with little waist definition

Avoid dresses that are tight everywhere
Look for defined and constructed waists
Keep in mind the culture of your office when choosing a pencil dress and choose according to the style that best fits your body type as well as what is appropriate for your office setting.
Dry Clean or Wash and Wear
The label included on your dress should state how to clean your new dress. Be sure to pay careful attention to the label before purchasing the dress to be sure your dress is cleanable by the method you prefer. Some fabrics require cleaning without water, so the label is an important part of your purchasing information.
Some fabrics require dry cleaning done by professional cleaners using a chemical process instead of soap and water. For a dress that needs dry cleaning, it is necessary to take the dress to a professional cleaner and return for it at a later time.
You can clean a dress that is wash and wear in a washing machine. The label on the dress indicates the proper method for washing the dress. It may say, "wash in warm water" or "lay flat to dry". Paying attention to the cleaning instructions helps lengthen the life of the dress.
The labels on some dresses may say, "hand wash only". Hand washing is usually required when a dress has embellishments that are delicate such as pearl buttons or sparkle.
Budget
Shoppers can find pencil dresses for the office in many price points to suit a wide variety of budgets. From a cotton dress to one made of silk and everything in between, you have many choices when looking for a dress that fits your budget.
Remember also that you need to include the method used to clean the dress in your budget. If a dress must be dry-cleaned, there are costs added to the dress over and above your purchase price. If you plan to have the dress professionally cleaned, this adds to the overall cost of your dress over the long run.
How to Buy a Pencil Dress on eBay
To purchase your new dress on eBay go to any page of the site and in the Search bar type " pencil dress". This brings up a wide variety of dresses to choose from. To narrow the search even further you can refine your search to any category you want. You can search by color, size, style, fabric choice, or even occasion such as for going to the beach.
Once you find the dress that is right for you, be sure to read the description carefully to be sure you have the correct size, length, and fabric choice. If you have any questions about the dress, you can contact the seller by selecting the "Ask the Seller" link on the listing page. Be sure to consult the seller's feedback score to find one that offers consistently positive customer service.
Conclusion
The iconic style, comfort, and wide variety of choices make the pencil dress the perfect addition to your office wardrobe. Comfortable, as well as fashionable, it is a dress that is suitable for all seasons and business situations.
Knowing your body type, size, and fabric choices makes selecting a pencil dress for the office fun and exciting. Finding the perfect fit and style that is right for you is as easy as getting out the tape measure and thinking about your office culture. Once you have the information you need to find that perfect office dress, you can explore all the options available to make your selection. Worn by women everywhere, the pencil dress is a great addition to your office wardrobe.