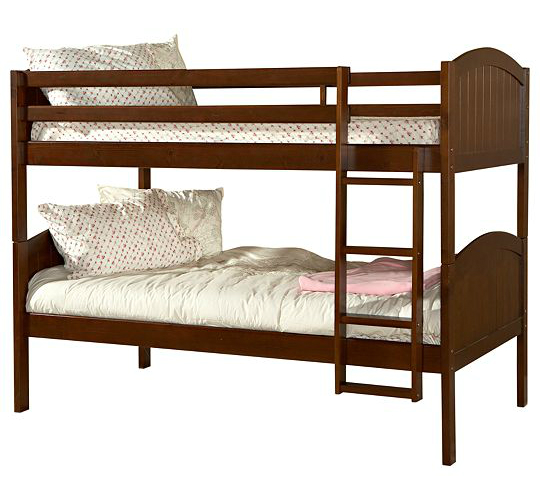 The mattress is the most important part of any bed, as it will dictate the firmness, support, and comfort of a sleeping surface. The wrong mattress on the wrong bed can lead to back and neck problems, and missed sleep is often the ultimate consequence. The best choice of mattress is usually a matter of preference. However, bunk beds are uniquely designed, and an inappropriate mattress may actually be unsafe. A bunk bed is ideal for homes where space is at a premium, and they are most commonly found in guest rooms or those occupied by children. The exact measurements of the bed's frame should be taken before looking for the perfect mattress. An ill-fitting mattress on the top bunk may leave dangerous gaps, and children may get their limbs or head caught between slats and bars. Once the exact dimensions have been ascertained, choosing the most comfortable mattress is a matter of taste. When shopping for a bunk bed mattress, there are two basic choices: foam or spring. Foam mattresses have grown to become very popular in recent years due to the invention of 'memory&' foam. Spring mattresses are usually cheaper, yet recent developments have created springs with similar properties to foam-based systems.
Deciding on the Best Type of Mattress for a Bunk Bed
Many bunk beds have slats or bars on which the mattress sits. Some cheaper varieties of spring mattress don't work well on bunk beds with metal bars, as the individual springs can quickly become deformed and misshapen. However, a good-quality spring-based system will work perfectly well with all bunk beds. Spring Mattresses
| Type | Description |
| --- | --- |
| Open Coil | An open coil mattress should be selected with great care when buying it for a bunk bed. Poor-quality open coil mattresses can easily lose their shape on an unforgiving metal frame, and they may begin to move as they gradually lose their shape. These mattresses consist of several individually-made springs which are connected to each other in rows by a single metal wire. |
| Continuous Coil | A continuous coil mattress is definitely a better option for a bunk bed, as its system of springs is made with a single, continuous length of wire. The springs are smaller than those found in continuous mattresses, and there are usually more of them. The result is a better-supported, more responsive sleeping experience. |
| | There is no better spring-based option for bunk beds on the market in the UK. This type of mattress relies on several independent springs that operate independently. The springs are contained in individual fabric pockets, and the result is a more controlled sleeping experience. These mattresses retain their shape for longer, and they will minimise the movement of the frame; a desirable quality for a bed shared by another person. |
Spring Interior Fillings
Few people ever consider the filling in a mattress, yet it is just as important as the springs in terms of comfort. The filling will protect from the harshness of the springs, and it will deliver a cushioning effect that differs greatly depending on the material in use. A mattress intended for a bunk bed can be filled with most materials; however, the actual sleeping experience will be affected by the filling being used.
| Filling | Description |
| --- | --- |
| Cotton | Cotton is an effective filling for mattresses of all types, however, cotton-filled mattresses are among the most expensive on the market. Cotton helps to keep the bed cool, and it is great at absorbing body-moisture. |
| Polyester | Polyester is a manmade material, and it can retain a lot of heat. If a cool sleeping experience is preferred, do not consider a polyester-filled mattress. |
| Foam | Foam is an excellent choice for use on bunk beds with solid-metal bars instead of slats. Its cushioning properties make them ideal for use on metal frames. |
| Hair | Hair is only found in the most expensive mattresses, but it delivers an extremely pleasant sleeping experience. It is soft, responsive and effective in distributing weight equally. |
| Wool | Wool-filled mattresses are soft and luxurious. They insulate in the colder months, yet they have excellent breathing qualities during warmer weather. |
| Coir | Coir is a substance taken from coconuts, and it is often used in budget mattresses. It is not particularly suitable for use on bunk beds, as it delivers limited support and weight-distribution. |
Foam Mattresses
The majority of bunk beds sold in the UK are intended for use by children, and they can be subjected to more abuse than normal. Young children often like to bounce and play on their beds, and this can cause damage to the springs over time. While the purchase of a foam mattress may cost a little more, it will be able to withstand a great deal of abuse from boisterous kids. Many bunk beds are made with relatively unforgiving metal-bars, and they can damage some spring-based mattresses. Cheaper open coil mattresses may not provide adequate protection from the frame, and an uncomfortable sleeping experience may be the result.
| Material | Description |
| --- | --- |
| Latex | Latex is taken from the sap of the rubber tree, and it is extremely durable. Latex's elastic qualities mean it instantly recovers its original shape after getting up. It is this elasticity that ensures body weight is evenly distributed – an essential quality for the top bunk. |
| Visco-Elastic | Visco-Elastic mattresses are relatively new to the market, and they deliver many of the same benefits that latex mattresses do. However, they react to the pressure and the heat emitted by the body, and that helps to mould the mattress to the contours of the body more accurately. |
| Polyurethane | Polyurethane is usually a cheaper foam that is highly durable, yet is does not offer the same level of support and weight-distribution as latex or visco-elastic materials. |
Including the Children
Most bunk beds are for children, and it is important that parents include them in the decision-making process. Children need high-quality sleep every night in order to develop properly, however, too many parents choose their children's mattresses without ever consulting them. If the mattress will be purchased online, it may be a good idea to take the kids to local stores. They can try out a variety of different mattresses for themselves, and a parent can purchase the most suitable one in the knowledge that their child feels comfortable with it.
How to Find a Mattress for a Bunk Bed on eBay
The eBay website is a useful resource for finding and comparing different mattresses intended for a bunk bed. There is a selection of used and new mattresses to browse, and finding the most suitable one is just a matter of comparing the prices of the most suitable designs. The easiest way to perform a search for mattresses is by entering relevant text into the search box, and that can be found near the top of the homepage. For instance, entering 'mattresses for bunk beds&' will show several related items that are currently for sale. There is the option of conducting a more detailed and concentrated search for specific sizes, types and prices. There is an All Categories link at the top of the homepage that should be clicked in order to open a list of shopping categories. Select Home, Furniture & DIY,, and a list of sub-categories will appear in the form of a menu on the left of the page. From there, the link to Furniture should be selected, and the 'beds and mattresses' link should be clicked from the subsequent menu.
Conclusion
Buying a mattress is a complex affair. People have very particular preferences when it comes to their sleeping arrangements, so there is no such thing as the perfect mattress. There is a huge range of mattresses to choose from, and it can be difficult to decide on the right one. A model intended for a bunk bed needs to be of the highest quality, as many of the frames used are made from rigid beams of metal. Bunk beds are usually bought for children, so there may be concerns surrounding the punishment that mattresses may take. Children love nothing more than to jump and play on their beds, and a bunk bed will probably be subjected to more abuse than a divan or a bedstead. Kids see sleeping in a bunk bed as an adventure, and that can leave a mattress susceptible to damage. While many people opt for a cheaper open coil mattress, this may be a false-economy. Their individual springs will struggle with both a rigid base and boisterous children. A pocket-sprung or foam-based mattress can deal with the rigorous movement it will be subjected to. Most high-quality mattresses will be suitable; however, they must fit the frames of bunk beds perfectly, as excess movement and large gaps may result in injury. Few things are more important to a child's development and academic achievement than a decent night's sleep, so investing in the best possible mattress for a bunk bed should not be done without due care and consideration.