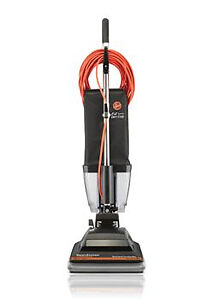 Regular vacuuming with a good vacuum cleaner keeps a home clean, healthy, and beautiful. Purchasing a Hoover vacuum ensures a wide selection of types and options from which to choose. Hoover has been selling home cleaning products since 1907 and has led in the design of technologies that have made vacuums more effective.
Features of Vacuum Cleaners
Today's vacuums offer special features to ease cleaning and improve indoor air quality. Users should look at these personal and environmental considerations and decide before purchase which ones are priorities.
Allergies and Asthma
Bagged vacuums trap more particles than bagless vacuums and therefore work well for households with allergies, respiratory issues, or pets. Hoover uses HEPA-media bags that trap 99.97 percent of dust, pollen, and dander down to 0.3 microns. However, bags need to be replaced regularly, and retrieving an object that was accidentally vacuumed up can be messy.
In contrast, bagless vacuums use cyclonic filtration technology to suck dirt from surfaces. These models save on bag expense and have dirt cups that can be emptied with each cleaning. Although debris isn't isolated in a bag, a dirt cup shows the user what the vacuum picked up. Hoover bagless vacuums use HEPA-media filters to catch tiny particles, and most models feature bottom-release cups for easy emptying.
Household Pets
If pets live in the home, purchasing a vacuum with them in mind will keep surfaces cleaner, indoor air healthier, and extend the life of the vacuum. Several Hoover models are designed to pick up after pets. Some tools, such as a rotating pet power brush, are built into the unit while others come as attachments. The pet static tool cleans pet hair off of upholstery, stairs, and furniture. The air-powered hand tool uses suction and rubber blades to collect pet hair. Select models have HEPA filters or bags with activated carbon to reduce pet odors. Look for the "pet" designation in Hoover model names and descriptions.
Physical Limitations of Users
Elderly users or those with physical limitations may find a Hoover lightweight vacuum easiest to work with. Lightweight models weigh 12 pounds or less and are easy to carry and maneuver, making them useful for homes with stairs and other spaces that require frequently moving the vacuum.
Amount of Floor Space
Consider home size and room configuration. Vacuums with wide-path nozzles clean a large area more quickly while narrow nozzles are easier to maneuver in small rooms and tight spaces. Hoover makes several wide-path models with a variety of options. For the most versatility, look for models that come with different nozzle options such as a wide-path upright with an extra hand wand and small attachment.
Extra Cleaning Tools
Many Hoover vacuums come with tools for cleaning surfaces other than flooring. Some models, especially canisters, have onboard tools for cleaning upholstery, drapes, stairs, and other hard-to-reach places. Other models come with separately stored attachable wands and specialized nozzles such as a crevice tool. Consider which home surfaces need regular cleaning and whether having the tools stored on the vacuum itself is a priority. If so, look for models that specify onboard tools. Product descriptions list included tools and whether or not they are stored onboard the vacuum.
Types of Hoover Vacuums
When choosing a vacuum, consider the type of flooring and the needs of the people who will be using the vacuum. Certain models are more suited for hard flooring while others are better for carpet. Users may have preferences regarding the weight or features of the machine, and Hoover has options to address a range of requirements.
Upright Vacuums
Upright vacuums work well in homes with mostly carpet because uprights provide the suction needed to clean deep carpet pile. Many models are designed to be compact and still hold onboard tools.
Self-propelled upright vacuums have a transmission and drive system that helps propel them so that the user does less pushing. However, they can be heavier due to the extra parts, so consider whether the weight of moving a vacuum from room to room or in and out of storage matters as much as powered assistance when vacuuming.
| Hoover Upright Model | Key Features |
| --- | --- |
| | This self-propelled model features HEPA-media bags, onboard tools, and a 29-foot power cord. |
| | This lightweight model weighs under 12 pounds, has a 35-foot power cord, and is designed for thorough carpet cleaning. |
| | This bagless upright is self-propelled, has a 31-foot power cord, and an 8-foot stretch hose to make cleaning nearly effortless. |
| | This bagless upright cleans pet hair and dander and has a carbon HEPA filter to absorb pet odors. |
Canister Vacuums
Canister vacuums were designed to clean homes that have primarily hard flooring rather than carpet. Canisters roll easily from room to room and provide enough suction to clean wood, linoleum, and other hard surfaces as well as low-pile carpet. The stretch hose allows for cleaning edges, under furniture, and in tight spaces without having to maneuver the canister. Specialty cleaning tools are stored onboard for easy access.
| Hoover Canister Model | Key Features |
| --- | --- |
| | This bagless canister is exceptionally quiet and features two filters for cleaner air. |
| | This canister has an electrified hose with power nozzle and 360-degree swivel for easy cleaning around furniture and corners. |
Stick Vacuums
The stick vacuum is ideal for light vacuuming in between deep cleaning. It doesn't replace a regular vacuum but offers quick convenience for daily touch-ups or when time is short. Stick models are lightweight, easy to store, and a powerful alternative to a broom and dustpan.
| Hoover Stick Model | Key Features |
| --- | --- |
| | This cordless model uses rechargeable lithium ion batteries for long life with no power fade and Hoover's cyclonic technology for strong suction when moving between floor and carpet. |
| | This corded model is bagless and features a powered nozzle and a 20-foot power cord with cord release. |
Handheld Vacuums
Handheld vacuums are designed to quickly clean up spills and to go anywhere they're needed. Keep one charged and handy for use around the house, garage or workshop, and car. Wet/dry models are safe to use on wet spills and on almost any surface, which makes them the most versatile choice. Some models have wall-mounted storage or features such as a crevice tool to easily clean corners and around objects.
| Hoover Handheld Model | Key Features |
| --- | --- |
| | This model picks up wet spills from hard floors or carpet and comes with a washable filter and a wall-mounted recharging rack. |
| | This model features an electrostatic pet brush, an integrated dust brush and crevice tool, and a battery-life indicator. |
Combination Models
A few Hoover models combine two types of vacuums to provide maximum cleaning versatility in one package.
| Hoover Combination Model | Key Features |
| --- | --- |
| Platinum Collection Lightweight Bagged Upright with Canister | This model includes a handheld canister vacuum to easily clean stairways and tight places. |
| | This model includes a cordless hand vacuum that is stored on the stick base. The stick vacuum has a rinsable HEPA filter and a motorized brush roll for use on floors or carpet. |
Shopping for a Hoover Vacuum
This chart presents an overview of the best types of vacuums for certain household needs. As features vary by model, use this information as a high-level guide to begin research.
| | Carpet | Hard flooring | Allergies | Pets | Light Cleaning | Spills |
| --- | --- | --- | --- | --- | --- | --- |
| Upright Bagged | X | | X | X | | |
| Upright Bagless | X | | | | | |
| Canister Bagged | | X | X | X | | |
| Canister Bagless | | X | | | | |
| Stick | | | | | X | |
| Handheld | | | | | | X |
Before selecting a vacuum, research model details and reviews on sites such as eBay. Reviews often have detailed product images to give a sense of the machine's design. If practical, test out floor models to make sure that the weight and action are comfortable.
As Hoover vacuums are widely available in brick-and-mortar stores and online, take time to shop for the model that will provide the best performance.
Finding a Hoover Vacuum on eBay
To purchase a Hoover vacuum on eBay, head to the eBay homepage and choose the Home & Garden category. Select the Housekeeping & Organization section and then click on the Vacuum Cleaners link. From the left options pane, expand Brands and check the box next to Hoover to view all Hoover vacuums. Alternatively, narrow the search by choosing other features such as type of vacuum, condition, and location. To further refine options, enter the model name or other information in the search bar at the top of the page. For example, after selecting the Hoover brand in the left panel, type "upright pet" in the search box to see all available uprights with pet tools.
Conclusion
A vacuum cleaner is an essential investment in home cleanliness and comfort. When making a purchase decision, consider upcoming changes in the household such as the likelihood of getting pets or moving to a larger or smaller home. With careful selection, a Hoover vacuum should provide years of reliable use.