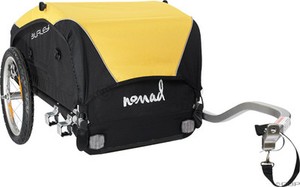 Cargo trailer buyers face several decisions in selecting the trailer that will meet their specific needs. Sorting through all the potential types of trailers and their options can seem like a daunting task. This guide will discuss various features of cargo trailers that buyers may want to consider before making a purchase. Whether looking for a used cargo trailer or a new one from such popular manufacturers as Cargo Mate, Featherlite, Haulmark, or Wells Cargo, buyers shopping locally or online should consider eBay as a great source for a wide selection of cargo trailers. Using this guide to become familiar with cargo trailer options and features can help the buyer make an informed decision and simplify the process of searching for the ideal trailer to make those hauling projects easier.



Selecting a Cargo Trailer
When contemplating the purchase of a cargo trailer, the primary consideration of the buyer should be how the trailer will be used. The cargo to be hauled by the trailer will determine the style and specifications that are most appropriate to the type of trailer needed for the job. The expected load weight is also a significant item to be factored in. Cargo trailers can carry everything from junk to fine vintage automobiles; beautiful horses, or the hay to feed them. Whatever the load, the trailer must provide safe and reliable transportation of the cargo to its destination.
Enclosed Cargo Haulers
While an open flat bed trailer will carry the hay to the horse, no one would consider transporting a horse on such a platform. Buyers should take into account the advantages and disadvantages of open or enclosed trailers when deciding to shop for a cargo hauler. Enclosed cargo haulers are ideal for transporting items that must be protected from the elements. Additionally, enclosed trailers can be locked and secured, like a portable warehouse, should it be necessary to park the trailer and leave it unattended. Enclosed trailers are not as aerodynamic as an open trailer and may create more drag on the tow vehicle. Enclosed trailers are also harder to load with the restrictions of having to enter through a door and the necessity to conform to a specific interior height.
Specialty Enclosed Trailers
Enclosed trailers come in several styles and configurations that can be specially designed for the intended cargo. Horses, cattle, or other livestock can be transported in enclosed trailers that provide ventilation, specific compartment designs, and creature safety considerations. Enclosed trailers can be equipped with swing open rear doors for easy entry or a fold down rear door to allow cargo to be driven or rolled in. Side access doors are another useful feature to consider in selecting the most useful and convenient enclosed trailer.
Open Flatbed Trailers vs. Open Trailers with Fixed Sides
If buyers are shopping for an open utility trailer, they must decide if it should be equipped with sides. Solid side walls are an advantage when hauling material that is loose and could blow out of the trailer. Solid sides also provide the option of covering the trailer with a tarp for limited protection from the elements. Trailer sides consisting of wood slats or steel bars are useful when using tie downs to secure odd-shaped loads. An open flat bed trailer is easy to load with a forklift, pallet jack, or other mechanical device. Buyers opting for a trailer with removable sides can have the advantages of both styles if they have a place to store the sides when they are removed.
Single Axle Trailers
Single axle trailers are sufficient for hauling most common household or small business payloads. A single axle trailer, as the name implies, has one axle with a wheel attached to both sides and springs or a fixed attachment to the trailer bed. Trailers without springs will have the trailer bed attached directly to the axle with clamps or supporting hardware. Trailers without springs provide a stiffer ride; the solid axle transmits shock from either wheel. Therefore, if the left trailer wheel hits a bump, the jolt is transferred through the axle to the right side as well. A trailer without springs will tend to bounce the load more, since the only thing cushioning the trailer's load from road shock is the tires. Trailers with springs most often use torsion bars or leaf springs near each wheel; these springs attach the axle to the trailer bed and provide independent shock absorption for each wheel. Trailers with springs cushion the load and provide a more stable ride with less road shock over bumps. The maximum weight capacity of a single axle trailer should be limited to 2,500 to 3,000 pounds.
Dual Axle or Multiple Axle Trailers
Buyers expecting to carry in excess of 3,000 pounds should consider purchasing a dual axle trailer. The two axles are usually placed in close proximity to each other at the center (front to rear) of the trailer. The position of the axles helps to disperse the weight load of the cargo and still provide shock absorption as well as increased maneuverability of the trailer. Dual axle trailers with the wheels closer to the rear of the trailer bed put more weight on the tongue or front of the trailer and will require a vehicle with greater towing capacity to pull the extra tongue weight. Dual axle trailers frequently have f en ders over the wheels to minimize road debris from being propelled upward by the tires. Fenders are especially useful in adverse weather conditions. Additional axles are an option if the buyer intends to carry loads of excessive weight or length.
Equipping the Trailer Properly
When it comes to purchasing a trailer that is properly equipped, buyers should remember to look for important safety and convenience features. If hauling heavy loads is a job the trailer is expected to perform, trailer brakes will be a necessary piece of safety equipment. Other factors to take into account include the trailer's safety and convenience lighting, what type of tie down load securing system is to be employed, as well as the type of ramp or rear closure the trailer is to be equipped with.
Trailer Brakes
When transporting loads in excess of 3,000 pounds, it is advisable to have a trailer equipped with trailer brakes. Some states require trailer brakes at specific load capacities. Buyers should check with their local Department of Motor Vehicles for trailer equipment and licensing requirements applicable to the state in which they reside.
Trailer Lighting
Exterior trailer lighting is a safety requirement and most cargo trailers come suitably equipped. Enclosed cargo trailer interior lighting is a convenience that buyers who use their trailers in the evening can really appreciate. Not all enclosed trailers offer interior lighting. If interior convenience lighting is important, be sure to ask if the cargo trailer being considered comes equipped with this feature.
Load Tie Downs
The actual tie down straps used to secure loads will usually need to be purchased separately from the trailer. However, it is important that a cargo trailer has tie down hooks that are placed properly to secure the anticipated load. For example, a buyer looking for an enclosed cargo trailer to haul a classic car will probably want tie down hooks in the floor of the trailer to secure the car during transport. Inquire as to the position of tie down hooks before making a purchase. Also inquire as to the load capacity of the tie down hooks if hauling heavy items is something the cargo trailer will be used for.
Ramps
Buyers who plan to use their cargo trailer to haul a vehicle should consider the type of ramp or rear closure they want on the hauler. Individual auto trailer ramps may work well for a car or motorcycle, but a snowmobile would probably require a wide fold down ramp to drive up on. Some cargo trailers come without a rear ramp or closure gate; determine what is important for the cargo trailers intended usage and be certain the trailer is equipped accordingly before committing to purchase.
Finding Cargo Trailers
The challenge buyers face in finding just the right cargo trailer is the somewhat limited number of retailers that offer the product. Buyers may have to search locally for a specialty store that offers cargo trailers as a part of their inventory, or find retailers that specialize in trailer sales. Often, trailer retailers may offer limited selections unless they are affiliated with a number of different trailer manufacturers. Used cargo trailers are even harder to come by. Buyers can easily search for cargo trailers on eBay. Using generic search tags like "cargo trailers" will produce a listing of all products matching the cargo trailer criteria. To narrow the search, use the advanced search feature or enter more specific descriptions like enclosed cargo trailers or dual axle cargo trailers. Buyers who have a preference for a specific brand of cargo trailer can search exclusively for that model by entering the brand name or trailer model number to view just those specific listings. Click on the links included in this buyer's guide to be directed to the specific products mentioned.
Stay Safe on eBay
Purchasing your next cargo trailer on eBay can help you save money and make certain you receive exactly the type of trailer you have been shopping for. Get to know the seller by checking his or her feedback scores. Don't hesitate to contact the seller directly with questions about the purchase process. Never send cash or any negotiable monetary instrument directly to the seller and never transfer funds into a seller's bank account. Use PayPalor another approved payment method directly through eBay; this ensures that you are covered by the eBay Buyer Protection Plan. The eBay Buyer Protection Plan assures buyers that they will receive the product they purchased in the condition it was represented. PayPal provides a secure money transfer service that offers the highest levels of personal security for online transactions. With PayPal ' s Buyer Security Purchase Protection, you are covered from checkout to delivery.
Conclusion
Cargo trailers are a great way to move articles from one location to another. Whether for personal or commercial use, a cargo trailer can make the job of transporting goods or materials easier. Cargo trailers are also safer than loading large or heavy items into a conventional passenger vehicle. Getting the trailer that will meet your needs and having it equipped properly is the key to making a satisfactory purchase. Using the information in this guide will help buyers make those important decisions. Determining where to make the purchase is another important consideration. Buying your cargo trailer on eBay is as convenient as point and click, and with hundreds of eager sellers showcasing their cargo trailers and haulers, you can be assured of finding exactly the right trailer at just the right price.