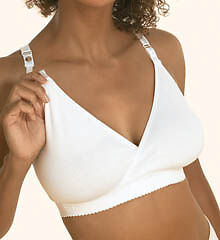 Making the choice to breastfeed your baby is one of the most natural and beautiful gifts a new mother can give to her baby. Breastfeeding is, was, and always will be the best way to get precious nutrients to a new baby and it's a great way to encourage bonding between mother and child from the start. For many budget-conscious parents, however, one of the best aspects of breastfeeding is the price; it's free.
However, in order to breastfeed comfortably and efficiently a small investment into breastfeeding bras, also known as nursing bras, is necessary. This buying guide is designed to help expectant mothers who are buying a breastfeeding bra with simple tips that cover when to buy a breastfeeding bra and what types of bras are best for what circumstances. In addition, this guide will provide an important list of dos and don'ts that all women buying a breastfeeding bra should read.

When to Buy a Breastfeeding Bra
Women who have just gotten pregnant for the first time should not buy a breastfeeding bra anytime soon. In fact, most women's breasts will increase at least one whole cup size throughout the duration of their pregnancy. What's more, once their milk comes in, approximately three to four days after birth for first-time mothers, breast size may increase even more.
For these reasons, buying a breastfeeding bra should not take place until at least month 7 or 8 of the pregnancy. Since the body begins to produce breast milk as early as 4 months, by this point in the baby's gestation the general size increase of one's breasts has been set. However, every woman is different and every baby's feeding needs are different which may lead to a larger or smaller supply of milk. For this reason, additional breast feeding bras may need to be purchased a few weeks after birth. For maximum flexibility, look for bras with adjustable or very stretchy chest bands which will easily accommodate a growing bust.

Types of Breastfeeding Bras
There are several types of breastfeeding bras on the market which each serve different purposes. Which bra a woman decides to purchase will largely depend on her breastfeeding plans, whether or not she will need to pump milk, and the type or types of bras she generally finds comfortable. It is important to remember, however, that the most important aspect of a breastfeeding bra is ease of access for both mother and baby. Choose a bra that is easy for you to manipulate in order to quickly and efficiently feed baby and that provides a comfortable level of modesty.
Hook or Snap Breastfeeding Bra
Most traditional breastfeeding bras operate on either a snap closure or a hook and eye closure that allows mothers to release the top portion of the bra and fold it down to expose the breast. In general, the hook and eye closure is easier to do one handed, which makes it a better option for feeding while holding baby in the other arm. These bras come in a variety of styles and sizes and usually are underwire free for comfort as well as to help prevent clogged milk ducts. These bras will also have a convenient pouch to hold a nursing pad which will help to minimize leaks from getting onto the outer shirt and clothing.
Softcup Sleeping Bra
Many larger busted women are familiar with the concept of a sleep bra since, even at night, the support that it offers is necessary. While nursing mothers don't always need the support of a sleep bra per se, they will need to wear one initially in order to hold nursing pads during the longest hours between feedings. Rather than use the more complicated hook and eye or snap closure, soft cup nursing sleeping bras are super stretchy and can just be pushed aside in order to reveal the nipple and latch baby on to eat. For this reason, many mothers like wearing softcup sleeping bras during the day while at home since they are much easier to manipulate.
Nursing Camisole
As an alternative to the snap or hook and eye closure, nursing camisoles are full size shirts which contain a shelf bra and hooks at the top. Made popular by brands such as Glamourmom, these tanks are best for smaller chested women since they don't provide as much support as a full bra. They can be worn under a regular shirt and used the same way as a regular nursing bra with the added bonus of providing tummy coverage during feedings.
Pumping Bra
For mothers who will need to return to work and pump their milk, investing in a hands-free pumping bra can save them time and frustration. These bras are designed to hold both pumping bottles in place and are generally offered by the manufacturers of breast pumps which provides a perfect fit. One of the most popular options comes from Medela, though quality generic choices are available as well.

Dos and Don'ts of Buying a Breastfeeding Bra
While many of the decisions that a woman makes when buying a breastfeeding bra will be highly personal, there are some universal dos and don'ts they should know. For first-time nursing moms especially, understanding the basic concepts and best practices of nursing and breastfeeding bras is a way to get off on the right foot.

| Breastfeeding Bra Dos | Breastfeeding Bra Don'ts |
| --- | --- |
| DO buy enough bras to use in between laundry days, remembering that, because of leaks, breastfeeding bras will need to be washed more often. | DON'T buy breastfeeding bras with underwires. The wires will press against milk-filled breasts and can cause painful clogged ducts or infected ducts (mastitis). |
| DO wear breastfeeding bras before baby is born to get used to them and practice opening and closing the hooks with one hand. | DON'T wear an ill-fitting or undersized bra. When nursing it is ultra-important to get fitted for a bra in order to avoid discomfort and clogged ducts. It is entirely possible that you will need to buy more breastfeeding bras once your breasts change after the baby's birth. |
| DO find a bra with adequate support and wide shoulder straps in order to reduce back pain. Remember that milk-filled breasts weigh more than empty ones. | DON'T forget to treat yourself. Breastfeeding bras do not have to be ugly. Buy at least one really nice breastfeeding bra for going out. |
| DO look for bras that are 100 percent cotton. The breathability of cotton will help dry leaks and prevent infection as well as maximize comfort. | |

Buying a breastfeeding bra is a complicated process for first-time mothers. However, following some basic dos and don'ts will help them make educated choices and save time and money in the long run. Remember, no matter how frustrating the initial process of buying a breastfeeding bra may be, the long term benefits of nursing and the cost savings over formula feeding are worth it in the end.

Where to Buy a Breastfeeding Bra
There are several ways for women to go about the purchase of a breastfeeding bra. Like buying any type of undergarment, a professional fitting may be called for initially. Prior to the birth of her baby, but no sooner than 7 months into her pregnancy, a woman should go to a specialized maternity or bra store to get her new bust measurements taken. She can buy breastfeeding bras at that time, but may wish to wait until later on or go to another store or online for a better price.
Shopping on eBay
Once a woman knows her breastfeeding bra size, the process of buying a breastfeeding bra is similar to any other clothing item. Using a large global marketplace like eBay can help a woman by offering several options in terms of styles and colors which will meet her needs. In addition, many eBay sellers offer nursing bra lots and free shipping which can save money.
To search for a breastfeeding bra on eBay, women should visit either the Baby Shop's feeding section or the Fashion Shop. There, she can either complete a category search or an advanced search to find the exact type of bra she wants. Usually, the sellers offering breastfeeding bras on eBay are retail stores and wholesale merchants who will have a large range of sizes. Women with full sized busts at sizes that are not typically found in stores are also better off shopping online because of the larger selection.

Conclusion
When a woman chooses to breastfeed she is making a decision that is healthy for herself, her baby, and her wallet. However, she will need to make an initial investment into breastfeeding bras in order to facilitate the nursing process and keep the breasts healthy during that time. There are several different types of nursing bras that a woman can choose which include traditional snap or hook and eye bras, soft cup sleeping bras, nursing camisoles, and pumping bras.
Which type or types of breastfeeding bras a woman chooses will depend on a number of factors. However, there are some definite dos and don'ts that newly nursing mothers should follow in order to get off on the right foot. Once she is ready to purchase a breastfeeding bra, a professional fitting at a maternity store can help ensure success. However, buying breastfeeding bras online through websites like eBay can save money and offer a variety of choices in terms of types, styles, and colors of nursing bras.