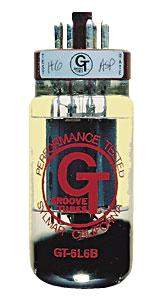 As the name suggests, a preamplifier (preamp) is a device that initially takes a signal and gets it ready for another device (the amplifier) to amplify that signal further. Preamps can be located in the housing of the amplifier it is paired with, or near the source of the signal, like a turntable.
There are different types of preamps and, currently, they incorporate the use of electronic circuits, which are referred to as "solid state" circuits. However, until the 1960s, preamps utilized vacuum tubes, rather than solid-state electronic circuitry. There is debate whether vintage tube preamps resist signal interference, so ensuring quality sound, better than solid state preamps.. For some audiophiles, proper design is really the key factor when it comes to ensuring minimal distortion. A poorly designed tube preamp will produce greater distortion than a solid state preamp that has a better design. For audiophiles looking to purchase quality vintage tube amps, it is very important that they consider the preamp's design specifications. By doing a little homework, an audiophile will be able be able to find the best vintage tube preamp for the best price.
This guide describes vintage tube preamps and their effect on the quality of sound that a vintage audio setup produces. It also includes a section on where to find vintage preamps, and how to search for vintage tube preamps on eBay.
Tube Preamps and Sound Characteristics
As mentioned earlier, preamps fall into two categories: tube preamps and solid state preamps. Questions may arise as to which is superior. But rather than discussing the exactness of the sound that each type of preamp provides, it may be more relevant to describe the quality of the sound that is exhibited. A vintage tube preamp is usually judged by the character of its sound. This can be termed the "color" of the sound, and pertains to aspects like the deepness of the lower frequencies, known as the bass, and the characteristics of the upper frequencies. The upper frequencies that are produced by a tube preamp are often described as more "light," with an open-air feel. This is considered pleasing to the ear and is the main reason why tube preamps are still sought today, long after tubes have been replaced by solid state circuitry.
Warmth and Fat
There are two terms that are often used to describe the quality of a tube preamp: "warmth" and "fat." When the term "warmth" is used, it refers to a mild distortion that is considered desirable. This mild distortion comes from an increase in the signal level that gives a sense of depth to the signal. Since this type of distortion is not sudden, but rather gradual in nature, it can take on its type of musicality through harmonics. This type of distortion can actually create a complementary octave that adds broadness to the sound. As a result, the signal achieves greater fullness and more depth. This characteristic is termed "fat." This extra sound character results from the way tubes work and isn't present in preamps that derive their signal amplification from solid state circuitry. This type of distortion is quite different from the type that can be produced by uneven harmonics, which have a harsh, pulsating quality.
Musicality and Compression Characteristics
Another difference in the musicality of a tube preamp, when compared to a solid-state preamp, is the compression characteristics provided by the tubes.. When observing the top of the output sound waves of a tube preamp, compression of the wave top can be seen. The level of compression will gradually increase as more amplification is applied. This pleasing type of sound can be used to give a recording more complexity. The type of sound that is produced by this compression will vary according to different models of tube preamps, with some models considered highly sought-after by audiophiles.
The tubes in a preamp will also smooth out the higher frequency range, due to the fact that they can function as filters. This may be desirable in cases where warm vocal sounds need to be emphasized. But this wouldn't be the case when certain music instruments need to be emphasized, such as drums or other types of percussion. This is required to create a balance in the overall sound by producing a sharp sound that will contrast with vocals and other types of instruments.
Buying Vintage Tube Preamps
Vintage tube preamps can be found in a number of different places. Of course a store that specializes in older music and recording equipment is likely to have a selection. Additionally, the classified section of a local newspaper is also an excellent resource. The classified section will usually have its own section that specializes in music instruments and related equipment being sold by individuals who may be willing to haggle a bit on the price. However, this is usually a method of purchase that is best left up to those with some experience and advanced knowledge of tube preamps. Tube preamps can also often be located at garage sales. One of the better ways to gain access to a large selection of vintage tube preamps is through online auctions, such as those that can be found on eBay. Regardless of the outlet, the buyer must carefully consider the condition of the tube preamp before buying it.
Assessing the Condition of the Tube Preamp
A lot can be said about the appearance of the preamp. If the unit was well cared for, that will show in the way that it looks. The buyer should take note of whether the preamp is clean or looks like it sat in the back of the garage for a number of years. A tube preamp that has not been kept in a climate-controlled environment has been exposed to variations in temperature and humidity. This exposure can cause the tube preamp to deteriorate over time. Like all sensitive recording equipment, vintage tube preamps don't stand up well in the face of harsh treatment. So, besides direct observation, it's important to ask questions regarding the way the preamp was stored and how often it was used.
Finding Vintage Tube Preamps on eBay
One of the best things about buying tube preamps online through eBay is the advantage of being able to access a large selection of models without the inconvenience of having to travel to a number of different locations. This can not only save a lot of time, but buying online gives shoppers access to a competitive marketplace where you are likely to find the best deals. By participating in auctions on eBay, you stand a very good chance of securing a tube preamp for less than the market price.
How to Start Your Search
You can either search category pages on the eBay site, or if you have a specific preamp in mind you can type a description into the search bar at the top of the homepage. When searching on eBay, make full use of its search features in order to find a specific preamp model that you're looking for. For example, rather than just typing in the words "vintage tube preamps," and using that as your only criteria for a search, click on the "Advanced" link at the top of eBay's home page. You can also click the "Advanced" link on the page that you're currently searching from. You should only use the Advanced Search feature if you have a specific tube preamp in mind. If you would like to simply browse the listings, enter "tube preamps" into the search bar on the homepage. On the results page, click on "Vintage Electronics.." You can then search the listings by brand or condition.
Finding Out More About the Sellers
Having the ability to check a seller ' s feedback rating offers a distinct advantage when purchasing on eBay. A seller who has received numerous positive feedback comments is a person that you will want to do business with. They will most likely be quite knowledgeable about the preamp that they're selling and will be able to answer all your questions.
Conclusion
There are several reasons individuals may wish to purchase a vintage tube preamp. The most common reason is that they're trying to achieve a certain sound quality that cannot be obtained from a solid-state preamp. The rich tones that can be produced from different combinations of tubes can elevate a vintage tube preamp to a virtual work of art in the eyes (and ears) of the more discriminating audiophile. This is one of the primary reasons why certain vintage preamps can command a great deal of money. In most cases, a balance will need to be struck between the preamp's price and the condition of that particular tube preamp. It's important to know a bit about the preamp that you are interested in and the actual value of the unit, considering its condition. It's also important to know how much replacement tubes will cost, as well as their availability.When you have done all the necessary research and discovered and digested all of the information that you need, you will then be ready to shop for a vintage tube preamp. Audiophiles will find the largest selection of vintage tube preamps and other vintage audio components on eBay.