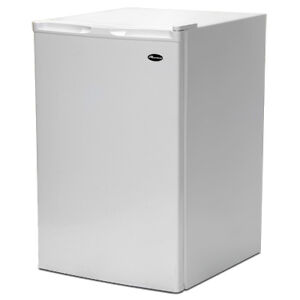 It is hard to believe there was ever a day when people had to live without appliances. Refrigerators, washing machines, dishwashers, microwaves, and more all make life more convenient and comfortable. At the same time, however, this comfort and convenience comes at a price. After all, brand-new appliances, depending on the type of appliance purchased, can cost several hundred or even several thousand dollars.

Those who buy brand-new appliances can save a lot of money when they shop on eBay, but there is any even better way to get affordable appliances via eBay auctions. Buyers can get used appliances on eBay for a significant discount and pay a greatly reduced cost for quality refrigerators, dishwashers, microwaves, ranges, and more. There are some important things to consider, however, when shopping for used appliances on eBay.
Who Will Want Used Appliances?
Individuals who are on a tight budget should seriously consider purchasing used appliances because they will be able to stretch their dollars further and meet most, if not all, of their appliance needs. There are several others, however, who should also consider used appliances:
Landlords - Those who own or manage a rental property can potentially take home more profit when they buy gently used appliances. That is because they will invest far less of the rent that they collect into used microwaves, dishwashers, and other previously owned appliances.
Retro Kitchen Owners - Many people these days are designing retro kitchens that are inspired by kitchens from the 1940s, 1950s, and 1960s. Sometimes, the only way to get appliances that match such kitchens is to buy used appliances that were originally produced during those decades.
Budget-Conscious Consumers - One does not have to be on a tight budget to see the value in saving money. Anyone who is budget conscious will want to consider used appliances in order to help them keep more of their hard-earned dollars.
Appliance Repair Professionals and Hobbyists - Individuals who repair or refurbish appliances professionally or as a hobby should also consider used appliances on eBay. Used appliances often have the parts that are needed to repair older appliances, but it is also possible to find the parts and accessories themselves that are needed for repair from eBay sellers.
Used Appliance Considerations
Those who have decided to buy used appliances on eBay should keep several things in mind as they browse what is available. Here are a few of the more important considerations:
Brand
Household appliances are made by several different brands, some of which were founded in the late 19th or early 20th centuries. Appliances from these brands tend to perform well for a long time, which means that used models from these brands are often wise purchases. Buyers will want to seriously look at used appliances manufactured by:
| Appliance Type | Example Products | Examples of Recognized Brands |
| --- | --- | --- |
| Large Appliances | Dishwashers, Refrigerators, Ovens and Ranges, and More | Kenmore, Frigidaire, KitchenAid, LG, Maytag, Samsung, Whirlpool |
| Small Appliances | Microwaves, Mixers, Toaster Ovens, Food Processors, and More | Black & Decker, Cuisinart, Frigidaire, Hamilton Beach, KitchenAid, Oster, Panasonic, Proctor Silex, Toastmaster |
Warranties
Most brand-new appliances come with a warranty of some kind. Usually, there will be a manufacturer's warranty that covers any major mechanical defects. Sometimes, the store that sells the appliance offers an extra warranty that buyers can add on to their appliance purchase.
This comes into play with used appliances because the warranty has not always expired on an appliance that is purchased secondhand. Oftentimes, buyers who purchase a used appliance can enjoy the benefits of the warranty until it reaches its original expiration date. To benefit from the warranty, those who purchase a used appliance will need the receipt from the original purchase and any other documentation from the original purchase that the warranty provider may require. This documentation can include such things as forms or cards from the original appliance instruction booklet.
When shopping for a used appliance, buyers should inquire as to whether the device is still under warranty. If so, buyers should also inquire as to whether the paperwork required for the warranty is available. In many cases, owners must register their appliance online in order to benefit from the appliance warranty, and this registration sometimes eliminates the need for other paperwork. Buyers should also find out from the seller whether the appliance has been registered online and how this online registration can be accessed.
Condition and Use
Perhaps the most important considerations when buying a used appliance are the appliance's condition, the age of the appliance, and the circumstances under which it has been used. Buyers should read the product description on eBay carefully to determine the condition of the appliance, but they should also examine any available photographs carefully and look for signs of damage such as significant dents or scratches. Mismatched color panels on an appliance are a sure sign that a significant repair of some kind has been performed on the device.
No appliance lasts forever, so buyers want to make sure that they focus on appliances that have not exceeded their average product lifespan. This means that buyers should seriously consider the age of the appliance and its relation to how long most appliances in its category should last. For example, an appliance that is only two years old has about eighteen years, on average, of usable life left before it needs to be replaced if the average lifespan for said appliance is twenty years. Here are the average lifespans for several major household appliances:
| Appliance | Average Lifespan |
| --- | --- |
| Dishwasher | 10 Years |
| Dryer (Laundry) | Up to 20 Years |
| Electric Range and Oven | Up to 20 Years |
| Gas Oven and Stove | Up to 20 Years |
| Microwave Oven | 10 Years |
| Refrigerator | Up to 20 Years |
| Washing Machine (Laundry) | Up to 20 Years |
The aforementioned lifespans are based on normal use of said appliances. Appliances that have been used more heavily are unlikely to last as long. For example, a used washing machine from a large family that must do several loads of laundry a day will not last as long as a used washing machine from a couple or single person who only does laundry once a week. Furthermore, how the appliance has been maintained is a vital consideration when evaluating a used appliance's potential lifespan. Appliances that have been regularly serviced and maintained according to the manufacturer's recommendations will last much longer than used appliances that have been neglected.
In any case, buyers should make sure to ask questions about the condition and use of any appliance that they are thinking about purchasing. Contact the seller via eBay to get these questions answered. Buyers are also wise to pay careful attention to the seller's reputation and past auctions. Sellers and storefronts with a good reputation and who have successfully sold many new and used appliances in the past are excellent sources of used appliances on eBay.
Used Vs. Scratch and Dent Appliances
Buyers will also want to pay close attention to the difference between used and scratch and dent appliances. Scratch and dent appliances are brand-new appliances that cannot be sold at brand-new appliance prices because of a minor ding or scratch. In other words, the only damages are cosmetic in nature. They are a great way to save money on new appliances, although they will be more expensive than used appliances. A gently used appliance offers nearly the same performance as a scratch and dent appliance but at a more affordable price. In any case, those who are in the market for used appliances may also want to do a simple search using the terms "scratch and dent" on eBay in order to see their other appliance options.
Finding Used Appliances on eBay
Buyers can find used appliances on eBay under the Home & Garden category. After visiting this category page, buyers should scroll down about half way and find the Major Appliances subcategory. On the Major Appliances page, buyers can check the box marked "used" on the left side of the page to get a list of all the used appliances currently available on eBay.
To narrow down their results further, buyers can select any of the subcategory links found on the Major Appliances page. These are the main subcategory links and a listing of the types of appliances found under each:
| Major Appliance Subcategory | Available Products |
| --- | --- |
| | Portable Dishwashers, Built-In Dishwashers, Dishwasher Parts & Accessories for Repair |
| | Convection Ovens, Countertop Microwaves, Microwave Drawers, Over-Range, Microwave Hoods, Microwave and Convection Ovens Parts & Accessories for Repair |
| | Cooktops, Ovens, Ranges & Stoves, Range Hoods, Parts & Accessories for Repair |
| | Ice Makers, Refrigerators, Upright & Chest Freezers, Wine Chillers & Cellars, Parts & Accessories for Repair |
| | Dryers, Washing Machines, Washer & Dryer Sets, Parts & Accessories for Repair |
| | Furnaces, Air Conditioners, and Other Non-Kitchen and Non-Laundry Appliances |
Alternatively, shoppers can find used appliances by doing a simple keyword search. Just enter the terms that describe the appliance that one is looking for into the search field on any eBay page. For example, type "used Whirlpool refrigerator" into any search field to get a listing of all the appliances that sellers have described as used Whirlpool refrigerators. Type "used dishwashers" into any search field in order to get a listing of all the appliances sellers are describing as used dishwashers.
Conclusion
eBay makes it easy to get a quality appliance and save money at the same time. Shop with confidence and find the device that is needed at an affordable price and with the convenience of online shopping.