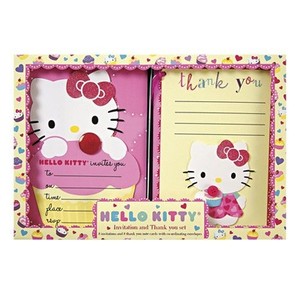 The iconic white cat with the red bow from Japan known by all as Hello Kitty has been a popular character displayed on everything from coin purses to perfume since 1974. Collectors who have been fans of Hello Kitty their entire lives and who may be looking to expand their cache of Hello Kitty merchandise are in for a treat. No matter what item they want, be it a sandwich maker or a lunchbox in which to carry that sandwich, buyers are sure to find it with Hello Kitty. In fact, the world of Hello Kitty collectibles is about as diverse as it gets.
For that reason, buying Hello Kitty collectibles can be tough. This buying guide is designed to help interested buyers understand the rich cultural history behind the Hello Kitty brand as well as the massive range of products offered under it. Through reading this guide, buyers will get acquainted with the Hello Kitty collectibles buying process and options for purchase as well, which should help when it comes time to expand or start a Hello Kitty collection.

The History of Hello Kitty
Hello Kitty's real name is Kitty White. She was initially designed by Japanese company Sanrio and artist Yuko Shimizu in 1974. Her image appeared on a coin purse and was an instant hit in Japan due, in part, to the emerging culture of Kawaii, or cuteness. Kitty White, her friends, and family entered the U.S. market in 1976. Despite several ups and downs in the intervening years, she has been a constant image on apparel, accessories, and every other item imaginable, growing into a veritable empire through the course of the later twentieth century and into the twenty-first.
Hello Kitty Through the Years
The character we all know and love as "Hello Kitty" has a rich and detailed past. This all started when Sanrio set out to market their new character, Kitty White. They felt that they first needed to devise a back story for the young girl. So, they created a family and a story for Kitty who was born November 1 in the suburbs of London. She has a twin sister, Mimmy, whose yellow bow appears on her right ear, rather than her left, like Kitty's.
Kitty's origin was an attempt by the company to work with the popular cultural trends of Japan at the time which favored foreign, and especially British, influence. In fact, the name "Kitty" comes from a character in Lewis Carroll's Through the Looking Glass. Over time, the brand, based around a simple design of a single figure, began to take on a more complex story and life of its own.
Kitty White becomes Hello Kitty
When the initial design of Kitty White was transferred to the first piece of merchandise, a coin purse, the founder of Sanrio, Shintaro Tsuji, wanted to affix the character within the company's image of "social communication." Therefore, he devised a phrase that appeared below the character to communicate that message. At first, the phrase was "Hi Kitty" before being changed to the more formal "Hello." From that point on, the phrase meant to embody the Sanrio motto of "small gift, big smile" became an emblem of the brand itself.
Getting to Know Hello Kitty's Family and Friends
Kitty's family and friends were then developed to further endear the character to both the Japanese and international audience it sought to reach. As a gift-making company, the more products Sanrio could emblazon with the Hello Kitty image, the more lucrative their sales.
Thus, Kitty's twin sister Mimmy as well as her mother, Mary, and father, George, were developed. In addition, friends and pets joined the brand. Most notably, this includes another cat called Dear Daniel, and Kitty's pets Charmmy Kitty and Sugar the hamster.

The Cultural Significance of Hello Kitty
Sanrio's market position as a gift maker allowed the Hello Kitty brand to expand exponentially throughout the years. The company describes itself as one that provides more than just gifts, but rather a means through which people can express their deepest feelings for one another. In this vein, the Hello Kitty brand was developed as one rooted in the most essential element of Japanese popular culture since the 1970s, Kawaii or cuteness.
Understanding Kawaii
The concept of Kawaii is also apparent in other Japanese cultural icons such as Pikachu from Pokemon and Kirby from the Nintendo video games. It emphasizes an aesthetic practice that is popular among males and females alike in Japan.
Kawaii, though at times controversial because of its replacement for beauty and refinement, has come to stand as a symbol of modern Japan, especially among its cultural exports. Kawaii is not limited to merchandise either, as many Japanese businesses and even government buildings employ "cute" mascots and lettering styles. Among the international community, chifley fans of Japanese anime, the idea of Kawaii is fully embraced. This is especially apparent in the drawings as well as behavioral choices of the anime community, regardless of their country of origin.

Hello Kitty Collectibles
The international influence and prominence of Hello Kitty on the collectibles market really hit its stride in the late 1990s, more than 20 years after Kitty White's American debut. This came about mainly because the brand, which was initially geared toward pre-adolescent girls, began to take a place in the coveted 18 to 34 year old female market. This was, in part, thanks to celebrities like Mariah Carey who used Hello Kitty merchandise as a fashion statement.
Adult women from that time remembered Hello Kitty from their youth in the 1970s and 1980s, making the expanded line of merchandise all the more appealing. Since then, Hello Kitty has been marketed as an icon for fashion, accessories, and even makeup.
Kitty Gets Accessorized
The majority of what can be found when looking for Hello Kitty collectibles actually falls into the accessories category. This includes jewelry such as necklaces, bracelets, earrings, and pins as well as glasses and phone cases. But that is not the real pinnacle of Hello Kitty accessories. That title belongs to one field only: handbags.
Hello Kitty Bags
Remember, Hello Kitty's image originated on a coin purse. Therefore, some of the items most steeped in the tradition of Hello Kitty merchandise can be found on similar products that range from clutches to backpacks. Today, finding a Hello Kitty handbag is more an exercise in decision making than real searching. There are literally hundreds of styles that appeal to everyone from a kindergartener on her first day of school to an adult getting ready for a night on the town.
Hello Fashion
Since Sanrio's overall corporate mission centers on gifts and gift giving, the stretch from Hello Kitty accessories to Hello Kitty clothing is not too far fetched. Who among us hasn't received a new shirt or sweater as a gift? In this light, Hello Kitty fashion has been expanded to include everything from newborn onesies and toddler clothing to hooded sweatshirts and bikinis. Hello Kitty as a fashion icon continues to appeal both to pre-adolescent girls as well as their older sisters, aunts, and even mothers.
Hello Kitty by Sephora
One final addition to the Hello Kitty family of products is something clearly oriented toward the adolescent and post-adolescent set. In honor of her 35th birthday in 2011, the cosmetics giant Sephora launched a beauty line which includes makeup, fragrance, and even compact mirrors that feature Hello Kitty. Hoping to play off of the success of the last Hello Kitty makeup empire, a limited edition line offered by MAC Cosmetics in 2009, Hello Kitty by Sephora seeks to unite the sophistication of the Sephora brand with the youthful jubilance and style of Hello Kitty.

Buying Hello Kitty Collectibles
Clearly, the diverse range of Hello Kitty products available on the market, both new and vintage, is enough to confuse even the biggest fan of this cute white cat. However, there are plenty of resources that buyers can use to find just the right Hello Kitty merchandise.
Buying New Hello Kitty Collectibles
The Hello Kitty brand is alive and well on both the U.S. and international markets. Though she saw some lag in popularity around the beginning of the 2010s, Hello Kitty's name and image continue to be promoted by Sanrio as one of its more lucrative and sought after lines. As such, Sanrio continues to offer wholesale items to most major retailers, especially in the fashion and handbag lines. Any major department store is likely to carry at least a few Hello Kitty items along with the rest of its merchandise.
More discerning consumers are likely to want variety with their Hello Kitty products, however. This necessitates a more specialized retail approach to buying Hello Kitty products. To that end, many boutique shops, especially those aimed at young girls, often feature Hello Kitty in abundance. Online shopping is also ripe with new Hello Kitty merchandise either directly from its source or through one of many large-scale online marketplaces, such as eBay.
Buying Used Hello Kitty Collectibles
Finding older Hello Kitty pieces is not as easy as buying them new. With roots that go back to the early 1970s, Hello Kitty collectibles from bygone eras are harder to track down in the traditional spots. Interested collectors can certainly look for Hello Kitty products in places such as swap meets, flea markets, and yard sales, but the chances of success at those places are hit or miss.
Modern collectors are better off looking online and through boutique collectibles dealers for used or vintage Hello Kitty collectibles. This includes classified ads as well as the same large-scale marketplaces that feature sellers from all over the country.
Hello Kitty Collectibles on eBay
eBay offers the perfect marriage of Hello Kitty collectibles available to buyers looking for both old and new products. This is because the concept behind eBay's website as a global meeting place for buyers and sellers and its 100 million plus users make it a one-stop shop for everything Hello Kitty. Buyers can find used and vintage items in eBay ' s Collectibles Shop or shop for brand-new products in the Fashion department.
All purchases made through eBay are backed by a Buyer Protection plan which helps collectors make their purchases online with a sense of security. In addition, eBay's long-standing partnership with PayPal helps to protect buyer's purchasing information regardless of how many sellers he or she works with. These enhanced features are part of what makes the eBay shopping experience so much more secure than other Internet marketplace options that don't offer widespread protections and security.

Conclusion
Kitty White, also known as Hello Kitty, has a story that is unlike many other iconic characters of popular culture. Designed as a character meant to be marketed and steeped in an important Japanese cultural tradition, Kawaii, her success across the decades is a testament to her prowess. Hello Kitty represents many things to many people and has been able to evolve over the years to include not just pre-adolescents who love her innocent eyes, but also the women who grew up with her and continue to love her youthful spirit.
Hello Kitty collectibles, both new and old, are widely available in today's marketplace. This means that interested buyers have a choice about where to purchase these items and how. Yet, using eBay, one of the world's largest and most secure online marketplaces, to conduct these transactions ensures buyers that they get exactly the Hello Kitty that they want.