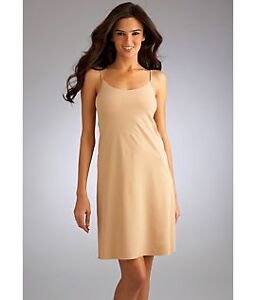 A slip is an undergarment worn by women. Slips are divided into two broad categories: full slips and half slips. A half slip starts at the waist and extends down to a variety of lengths. A full slip features shoulder straps and extends down over the torso to any particular length. Wearing full slips offers many benefits to any woman, including helping to improve a woman's silhouette, removing panty lines, and dealing with problems of see-through clothing. A full slip is available in a range of fabrics. The most common materials used for full slips include cotton, nylon, silk, and lace. Buyers can purchase full slips from a range of brands, and each varies in quality and price. There are numerous stores buyers can choose to visit to purchase a full slip, including department stores and specialty lingerie stores. For less expensive slips, buyers can head to secondhand stores to find a used slip. eBay offers a wide range of full slips available for sale in a variety of sizes, colors, fabrics, and brands.

All about Full Slips
A full slip is an item of clothing, or more specifically a lingerie item, that is worn under a skirt or dress. A full slip hangs from the shoulders, by shoulder straps, and extends down over the breasts, torso, and down the legs. Full slips come in a range of lengths and styles. Full slips were very commonly worn by women during the 1940s, 1950s, and 1960s. During the 1970s and 1980s, they became less commonly worn as more and more women began to wear trousers. The full slip has since regained its popularity with many women due to the range of figure-hugging slips available today. These are designed to enhance a woman's body shape, while still offering maximum comfort.
Slips are often worn not only under clothing during the day or evening, but they are commonly worn as an item of sleepwear. Vintage full slips are a popular item of sleepwear. They are usually pretty and feminine, with lace and decorative embellishments. Good quality full slips offer comfort and durability, and they also look very stylish

Benefits of Wearing a Full Slip
Because full slips come in a variety of lengths, they can be worn under all types of dresses and skirts, from lightweight summer maxi dresses, to short cocktail dresses, to elegant evening gowns. There are many benefits of wearing a full slip, such as comfort, looks, and practicality.
Comfort and Warmth
A full slip offers added comfort for the wearer and prevents chafing of the skin from coarse clothing fabric, such as a woolen skirt. A full slip also offers added warmth, especially when worn under a lightweight skirt or dress. For those wearing a full slip in warmer or humid temperatures, a 100 percent cotton full slip will ensure optimal comfort and breathability.
Provides an Added Layer
Often, a thin summer dress will show the silhouette of a woman's legs, especially on a sunny day. A full slip is a great item of intimate lingerie to wear under a favorite lightweight summer dress. It adds that extra layer to ensure the outfit is not too see-through. A full length slip is a great option under a lightweight ankle-length dress, and a knee-length full slip is great under a shorter, summer dress.
Create Shape
A full slip is a great option for creating a beautiful shape under an outfit. A satin full slip or soft microfiber full slip is a great choice for those who want to reduce the likelihood of static cling from particular clothing material. These types of full slips help to ensure a skirt or dress hangs properly and creates the desired shape.
Figure-hugging slips are growing in popularity for their ability to create a very sexy and attractive body shape under any type of dress or skirt. Nude - colored figure - hugging full slips are a great option as they create a very natural looking shape under sheer clothing. Strapless figure - hugging full slips are a great option for women who want to wear a lovely strapless dress.

Different Types of Full Slips
There are many different types of full slips available, each of which offers different levels of comfort and practicality, and is designed to offer the wearer different advantages.
Basic Slips
A basic full slip features thin shoulder straps and a basic body shape. It comes in a variety of lengths, and is a great option for any woman to have in her wardrobe, ready to wear under a lightweight summer dress, or a clingy, static evening gown. They come in a range of colors, although black, white, and nude shades are the most popular and flexible colors.
Built-in Bra Slips
A bra slip is a full slip that features a built-in bra. It is a great option for women who want a natural looking body figure under a fitting or sheer outfit, while still having the chest support required for optimum comfort. For those who want to wear an attractive fitted strapless dress, a strapless bra slip may suit. Some bra slips feature complete underwire support, while others offer added support across the chest area.
Figure-Hugging Slips
With the introduction of figure - hugging full slips, the full slip has gained in popularity. These slips are made from stretchy Lycra/spandex material that hugs to a woman's body shape. They are cleverly designed to provide extra support around trouble areas, such as the buttocks, thighs, waist, and stomach.
Full Slip Lengths
Full slips come in a range of lengths, designed for wearing under the equivalent length skirt or dress. The following table provides a list of the most common full slip lengths and a description of each.

| Full Slip Length | Length Description |
| --- | --- |
| | Slip reaches down to the ankle |
| Three Quarter Length | Slip reaches down to below the calf level |
| | Slip reaches down to mid-calf level |
| | Slip reaches down to just below knee level |
| | Slip reaches above the knee level, can be to various heights above the knee |

There are several different full slip lengths available. Many women choose to have a range of full slip lengths in their lingerie drawer, ready for wearing under a range of outfits.

Full Slip Fabrics
Full slips come in a range of different fabrics. Some fabrics are designed for wearing in warmer or cooler weather, other fabrics are ideal for wearing under an outfit that tends to cling to the body or become very static. The following fabrics are some of the more common available.
Cotton
Cotton full slips are popular for wearing in warm or humid weather. 100 percent cotton full slips offer optimum breathability and comfort in hot weather. Cotton slips come in a range of colors and styles. They are reasonably priced and offer good value for money.
Nylon
Nylon full slips are less expensive than the majority of other slips. They offer comfort, durability, and practicality for the wearer. Nylon slips do not offer a great deal of breathability, so they are not the best choice for wearing in warmer weather.
Silk
Silk full slips tend to be very expensive. They are commonly worn as items of sleepwear. They are often decorated with lace and other embellishments. Silk slips are very comfortable to wear, as they are warm and soft.
Lace
Lace full slips are also very expensive. Only the most expensive, luxury slips tend to be made entirely of lace. Most lace slips feature a lace bodice and lace edging. Lace slips are delicate and, depending on their quality, they can be very comfortable to wear.

Buying Full Slips Online at eBay
eBay have a good selection of full slips available for sale. Searching for any type of full slip is simple. Buyers can navigate their way to the appropriate section by selecting the Fashion portal, clicking on Women ' s Clothing, and then selecting Intimates & Apparel. Buyers then click on Slips, and then Full Slips. Once here, buyers can use the various filters to further refine their search. Alternatively, buyers can simply type "full slips" into the search bar on eBay's home page to see a long list of items for sale from sellers all over the world.
eBay's Green Shopping
eBay's Green Shopping features a wide range of products that are considered eco friendly. Their products are divided into various Green categories, including pre-owned products, energy saving products, as well as products that utilize sustainable materials. eBay's Green Shopping even features a Women ' s Fashion portal, where buyers can search for eco-friendly full slips.

Conclusion
A full slip is an item of lingerie worn by women underneath a skirt or a dress. A full slip can also be worn as an item of sleepwear. Wearing full slips offers the wearer several benefits. They can provide comfort and warmth, offering an added layer to prevent chafing, they keep a sheer outfit from being too see-through, and they can also help to create an attractive and beautiful body shape. There are numerous types of full slips, such as basic slips, built-in bra slips, and figure-hugging slips, all of which come in a range of lengths.
The most common types of full slip fabric include cotton, nylon, silk, and lace. The different fabrics range in quality, price, comfort, practicality, and the silhouette they create. Buyers have a few options when it comes to choosing where to purchase a new full slip. They can head to a specialty lingerie store, department store, or online. eBay features a vast selection of full slips for sale. Buyers are able to easily search on eBay for their desired full slip at the most competitive prices.