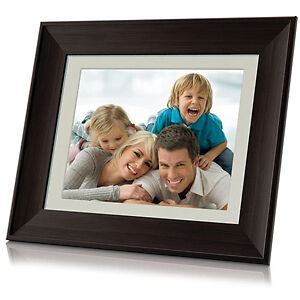 As technology continues to evolve and change, there are more and more lifestyle options available. A good example of this is the digital photo frame. A digital photo frame is a unique method of displaying pictures. Instead of displaying just one image, the frame cycles through a number of images saved on the memory card. This way, users can effectively display many more photos in their homes without increasing the amount of occupied wall or shelf space. Digital photo frames are a great idea for many types of people. First, they are a terrific option for home decoration, because so many favorite images can be displayed throughout the day. Additionally, digital photo frames can be used in sales offices to display products; in photo studios, to display samples of the photographer's work; or at wedding receptions, to display photos of the bride and groom. Digital photo frames are very versatile and useful.
However, since digital photo frames are very popular, there are literally hundreds of them to choose from. It seems that every technology company now offers a digital photo frame of their own. This might leave the buyer confused about which frames and which functions to choose. The number of choices can be overwhelming. In order to choose the right digital photo frame, all buyer need only read this guide and follow the steps below. The intent of this guide is to help readers understand what to look for, where to look, and how to buy a great digital photo frame at the right price.



Resolution and Aspect Ratio
Many people do not think much about resolution when it comes to a digital photo frame. After all, when the image is displayed on a computer screen, it looks nice no matter what the resolution. However, when choosing a digital frame, keep in mind that it will be on display. The resolution should be as high as possible to show off your photos to their best advantage. The good news is that high definition frames are available, so your favorite images turn out crisp, detailed, and crystal clear.
There are two main aspect ratios from which to choose in a digital photo frame. This is an important thing to consider, and selection is normally based on the camera that was used. The first ratio of 4:3 is common among point and shoot cameras. The second ratio: 16:9 is more common in high end and DSLR cameras. Be sure to select a frame that accommodates the aspect ratio of your camera. Why does it matter? Because if the wrong aspect ratio is chosen, the frame may either cut off part of the image or leave black bands around the outside. In order to display images to best effect, the digital photo frame should have the right aspect.

Portrait, Landscape or Both
Depending on the digital photo frame selected, the image orientation can vary. Some frames only display in portrait orientation (i.e. longwise vertical) while other display only in landscape (longwise horizontal). Still other frames include a device called an accelerometer, which allows the frame to understand which way it is currently oriented and to display either portrait or landscape, as needed. Of course, high tech frames with lots of features are on the higher end of the price range.
Choosing a frame that only supports one orientation can limit the usefulness of the device. It might mean that some, or many, of your digital photos cannot be used in that frame. Or, if they are used, they will not appear to best advantage. For example, when landscape images are displayed on a portrait-oriented frame, they either are severely cropped, or displayed with large black bands at the top and bottom. It is up to the buyer to determine if they need only portrait, only landscape, or a frame that can switch between them both.

Size
The size of the digital photo frame is something else to consider. Digital frames are not normally very large, but they can vary to some degree. Standard shelf digital photo frames support snapshots up to 5 x 7 inches. Of course, when selecting a spot for the frame, remember that the frame takes up considerably more space than does the photo itself.

Choosing a Web Enabled Frame
One of the newest digital frame technologies is the web enabled photo frame. These frames sometimes connect to the Internet via Ethernet cable, while others have wi-fi or Bluetooth capability. This allows the frame to display information and images directly from the web. This might include weather forecasts, maps, or online photo albums. Choosing a web enabled frame gives the buyer endless display possibilities. This can be especially helpful if the frame is used in a business setting.
When selecting a web enabled frame, connectivity type is an important consideration. If the frame is wi-fi capable, then it only functions on the web if there is a wireless network available for it. A Bluetooth enabled frame, of course, needs a Bluetooth connection to another device. Wired frames come with a cable that needs to be hidden from sight. A buyer should take the time to consider connectivity before choosing a frame.

Features and Functionality
Digital photo frames come with a wide variety of features. Not all of them are right for every buyer, buy they should all be considered before purchase. Some frames are very basic and simple. This may be the best option for those on a budget, or those uninterested in bells and whistles. However, some features can significantly enhance the frame's usefulness. The list below contains several options the buyer should consider when choosing a digital photo frame.
Various image switching graphics, like dissolves and fades
Auto crop or auto image enhancement
The ability to play music along with the image slideshow
Choices for image sorting
Various frame styles, including color, shape, size, and detail
Speed of image replacement
Intro images or sound

Digital Picture Frame Care
Dust, heat and direct sunlight are the main elements that can cause wear and tear on electronics. There are a few things you can do to make your digital picture frame last. First, wipe the frame and screen with a damp, lint-free cloth to remove dust. Use canned air to blow dust out of memory card slots and other openings. Avoid placing the digital picture frame in direct sunlight. An LCD digital picture frame will fade if exposed to sun for long periods. If your digital frame gets too hot, turn it off for a few hours to let it cool down. Careful maintenance of your digital photo frame will help it continue to display your cherished images for years or decades.

Where to Find a Digital Photo Frame
There are plenty of stores that offer digital photo frames, including most department stores, photo shops, and technology retailers. You can sometimes even find them at garage sales or secondhand stores. For the widest selection, search online for digital photo frames at Internet marketplaces and auction sites like eBay. eBay has hundreds of digital frames in all different styles, colors, sizes, and orientations.
To find digital photo frames on eBay, go to the "Camera & Photo" section under All Categories. From there, select "Digital Photo Frames". Once in this category, you can further narrow your search by using search terms like "Pandigital 7 Digital Picture Frame".
Before bidding on any item on eBay, you should always review a seller's feedback and thoroughly review the item listing itself. Packing, shipping, and insurance information is particularly important for digital photo frames because of the glass element of the product. You want to ensure that the seller has a sound plan for safely shipping the frame and that shipping insurance is included in the quoted shipping price.

Conclusion
A digital picture frame is more than just a display screen. You can select LCD photo frames with video-playback ability and built-in speakers for audio or find a wireless digital photo frame that continuously cycles photos from your computer over your home wireless network.
Digital picture frames make great gifts. Load a bunch of photos onto a digital frame and send it off to family and friends. It's sure to be a hit with anyone.
In today's world of technology, it is no surprise that the digital photo frame has been created. Why should someone only be able to display one image when they could display hundreds or even thousands? In the home, this can be an excellent way to display family images. In a business environment, this can be a great way to display business images, pertinent information, or even web details. There are many, many uses for the digital photo frame.
Digital photo frames come in a number of options and choices. The buyer needs to take the shopping process in steps in order to determine which frame is right for their situation. The size, resolution, and display should be considered. Additionally, the functions and features available should be considered as well. This ensures the best use of the digital photo frame for the situation in which it is used.