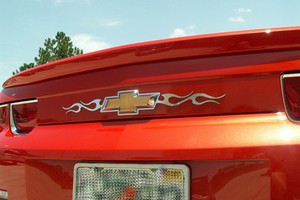 Your car is more than just transportation; it can also make a personal statement. There are large cars, small cars, understated cars, and ostentatious cars. There is a car for every driver and a car for every image. One way that different car companies have set themselves apart ever since the earliest days of the automobile is through the use of emblems and ornaments to distinguish brands. These emblems range from those as simple as the Mercedes-Benz tristar to as complex as Rolls Royce's famous Spirit of Ecstasy. There are small decorative medallions embossed flat against the car, and there are wild animals leaping from the hood. You can put anything from one of the classic emblems to a wholly unique custom design on your car. Emblems are a way to put your own stamp on a car in a more understated and less expensive fashion than a custom paint job, bringing individual expression within reach of every driver.
History of Car Emblems
The first car emblem dates back to 1898, when John Montagu put a statue of Saint Christopher on his Daimler. Not only was it the first emblem, but it was also the first custom one, not being provided by the manufacturer of the vehicle. It was not long, though, before the car companies got into the act. Rolls Royce introduced the Spirit of Ecstasy in 1911, and they were far from the only company to do so. In fact, by the 1920s, car emblems and ornaments had become ubiquitous, appearing on almost every vehicle made.
Even as the companies were putting ever more effort into car emblems, so were third parties. Perhaps the most famous such company was that of the French glassmaker Rene Lalique. Lalique produced custom glass hood ornaments and car emblems from 1925 onward, and his designs graced the hoods of some of the finest cars of the interwar period. Made of solid glass, these custom emblems are still sought after today.
Kinds of Car Emblems
There are two basic kinds of car emblems: hood ornaments and badges.. While badges are more common now because their low profile provides better aerodynamics and fuel economy, hood ornaments represent the true origin of custom car emblems.
Automotive Hood Ornaments
Hood ornaments, as the name implies, are displayed on the front of the car for all to see. While they are currently displayed on the hood, behind the grill, this was not always the case. Vintage automobiles often had exposed radiators, with the radiator cap clearly visible on the nose of the car. For many owners, especially those with expensive cars, this was nothing less than an eyesore, and the only possible response was to cover it with something more appealing. Naturally, the manufacturers followed, using the opportunity to create a new symbolic language to describe their products. Hood ornaments were a mainstay right through the 1950s, after which they began a slow fade away, largely vanishing from the mainstream by the 2000s.
Car Badges and Emblems
Hood ornaments were not enough to match the growing need for automotive heraldry, and they were soon joined by car badges and other emblems. The big advantage to a badge over a hood ornament was not only the improved aerodynamics but also the fact that the shape made them more flexible in where they could be positioned. Unlike a hood ornament, which must be placed on the hood, badges can easily be mounted on the fenders or even the rear of the car. That same flexibility also led to the general replacement of hood ornaments with car badges.
Choosing a Custom Emblem for Your Car
The first thing to do before buying a custom emblem for your car is to decide what kind of emblem you want. Are you looking for a different emblem from the same manufacturer, or perhaps a totally custom emblem to represent some interest you might have? There are so many options available that for some buyers it may almost seem that the choices are endless. There are decorative emblems and there are symbolic emblems, badges and hood ornaments.
Aftermarket Parts Emblems
One popular form of car emblem is one that represents a specific aftermarket part that you may have installed. These can range from metal badges, to vinyl decals and window emblems. They are a popular way to show support for a particular brand or aftermarket part. They can be found both individually and in some cases bundled with the aftermarket part.
Classic Car Emblem
Another popular choice, especially for people building custom or replica vehicles, is an emblem that represents a particular classic vehicle. These emblems can add a dash of style to almost any vehicle, especially a later model from the same company. Some people may even add them as a way to show their sense of humor, as can be seen when a small economy car has the emblem of a luxury car on its hood.
Replica Emblem
Sometimes when you are restoring a vehicle, you may find one or more of the original emblems hard to find. One option in this case is to find a replica emblem to replace it. These custom emblems are often exact visual duplicates of the original factory part, making them an excellent option for anyone seeking to restore an automobile but lacking the time to track down all the original emblems.
Custom Design Emblems
There are many people who dislike the idea of having a car that is just like every other car on the road. They want something that stands out and makes it clear that their car is not like all the others but is a unique reflection of their own personal taste. You can get an emblem that represents a favorite hobby, superhero, or even just something that catches your eye. The variety is staggering.
Choosing the Right Custom Car Emblem for You
The key to choosing the best custom car emblem for you is deciding why you want a custom emblem and what you intend to do with it. Are you looking for an emblem that reflects a particular interest or one that reflects a particular vehicle or era? Or do you simply want something to spice up the overall appearance of your car? Once you know what kind of emblem you want and have an idea as to your budget, picking the right one for your needs becomes that much easier.
You also need to consider your car. A hood ornament may look good on a car with an extended hood and terrible on one with a foreshortened nose. It all depends on knowing what you want and what looks good on your car.
How to Buy a Custom Car Emblem on eBay
Buying a custom car emblem on eBay is quick and easy. All it requires is entering the right keywords in the Search box. Searching is easy because there is a Search box on every eBay page, and you can use the filters on the sidebar of your results page to control exactly what you see when you are looking to narrow down your results to just those you want. You can filter by anything from price range to seller location. You can also separate ornaments from badges. After you have your filters in place, you can then use eBay's sort function to arrange the results so those that most closely meet your needs are at the top of your list.
Once you have found the emblems you want, the next step is to decide which of eBay's many reputable sellers you want to buy from. The best place to determine that is the seller's profile page, where you can find out all the information you want about the seller, including their location and feedback score. Their profile also lets you know if they have any specific shipping policies, such as letting you bundle several emblems together or even letting you pick them up yourself if you are close enough.
Conclusion
Custom car emblems are a great way to reflect your personal taste through your car. You can use them to show your solidarity with your favorite sports team or simply put something on the car because you like the way it looks. People who use aftermarket parts can advertise those parts through badges on the fenders or emblems on the windows of their car. Even though many cars no longer come with hood ornaments, custom emblems give you the ability to put a hood ornament on almost any vehicle and to reflect your own style and taste while doing so. Whether you want to put a replica emblem on the front of your vehicle or do something more subdued that people will only notice when they get right up behind you, it does not matter. Custom emblems exist to reflect your personality and individuality. They are what make your car truly your own, not just like any other vehicle on the street.