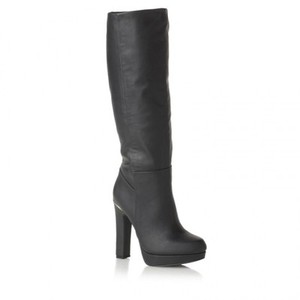 Timeless and elegant, knee-high boots offer a bold but fashionable addition to many outfits. With so many options, locating the perfect pair can be a bit daunting at times. However, when the fit is right, boots of this type look good on just about everyone.
One thing's for sure: tall boots are always a hit in the winter and fall. Sleek, knee-high styles keep legs warm and have a slenderizing effect. When properly fitted, many boots slide on and off and are comfortable enough for everyday wear, while remaining stylish enough for an evening out.
Most boots are highly versatile and can be worn with multiple ensembles. Paired with the right outfit they can accompany one through day, evening, and even work. They can be matched with a short skirt or tight leggings for a trendy, racy look. Try pairing the same boots with a long skirt for romantic appeal or slacks for a touch of conservative sophistication. However they wish to wear them, buyers are sure to find, either through retail establishments or online resources like eBay, a pair of knee-high boots to impress.

For help picking the right boots, watch this video:



Determining Appropriate Boot Size
To find a nice fitting pair of boots, one of the first steps shoppers need to take is to determine their exact shoe size. When it comes to measuring for foot size, it is best to wait until evening. This is because feet tend to swell throughout the day and are at their largest size during the afternoon. During the measurement session, the person being measured should wear the type of socks they intend to use with the boots they wish to purchase. This further helps to ensure a good fit.
To get an accurate measurement, begin by sitting down and placing the foot flat on a clean sheet of paper. At this point it is important to tightly trace the foot using a pencil. From there, the foot tracing should be measured from the two longest points. Once this distance has been determined, subtract 5 mm or 0.2 inches from the length. The final measurement in inches is used to determine size. Most shoes will come with one or two sizes listed on the bottom or somewhere accessible on the inside. Generally, the shoe will come in a US and/or European size. The following table provides a list of foot measurements and the corresponding women's US and European shoe sizes.

| Inches | US Shoe Size - Women's | European Shoe Size - Women's |
| --- | --- | --- |
| 8.5 | 5 | 36 |
| 8.67 | 5.5 | 36.5 |
| 8.83 | 6 | 37 |
| 9 | 6.5 | 37.5 |
| 9.06 | 7 | 38 |
| 9.33 | 7.5 | 38.5 |
| 9.5 | 8 | 39 |
| 9.67 | 8.5 | 39.5 |
| 9.31 | 9 | 40 |
| 10 | 9.5 | 40.5 |
| 10.17 | 10 | 41 |

In addition to finding one's numerical shoe size, it is important to find the general width. Unless otherwise indicated, shoes tend to come in a standard size "B" width. Others are generally indicated as being narrow or wide. The widths are sometimes distinguished with their official size, with "A" being narrow, "B" being standard, and "C" being wide.
It is important to purchase shoes that are the right width. Those that are too loose may rub against the heel and insole, causing sores and bunions. Those that are too tight can also cause blisters, as well as muscular pain. Long-term wear of ill-fitting shoes can lead to serious orthopedic issues.
Measure the width of the foot using the same tracing that provided information for the length. The measurement is found by taking the two widest points on the tracing and reducing them by 5 mm or 0.2 inches. The table below provides information to help in determining appropriate shoe width size based on US shoe size and foot width measurements.

| US Shoe Size - Women's | Inches in Width - Size A (Narrow) | Inches in Width - Size B (Standard) | Inches in Width - Size C (Wide) |
| --- | --- | --- | --- |
| 5 | 2.6 | 2.8 | 3.0 |
| 5.5 | 2.7 | 2.9 | 3.1 |
| 6 | 2.8 | 2.9 | 3.1 |
| 6.5 | 2.8 | 3.0 | 3.2 |
| 7 | 2.9 | 3.1 | 3.3 |
| 7.5 | 2.9 | 3.1 | 3.3 |
| 8 | 3.0 | 3.2 | 3.4 |
| 8.5 | 3.1 | 3.3 | 3.4 |
| 9 | 3.1 | 3.3 | 3.5 |
| 9.5 | 3.2 | 3.4 | 3.6 |
| 10 | 3.3 | 3.4 | 3.6 |

Knee-High Boots for Larger-Than-Average Legs
In most shoes, the size of one's leg is irrelevant. However, unique to knee-high boots is the need for a calf-measurement. Some boots are made out of stretchy, Lycra-like material that makes it possible for them to fit nearly any calf size. Others are made out of strong leather and are less forgiving.
Before purchasing a pair of knee-high boots, individuals should measure the thickest part of their leg between their ankle and their knee to determine the circumference. This measurement should be used to determine if a boot will fit over one's ankle or not. In most cases, the boot will fit just fine, but before ordering a pair it is smart to ensure that one's calf will fit comfortably.
Individuals with larger legs tend to have a harder time finding boots of this type because of their calves. Most individuals find that knee-high boots that either pull on or feature a zipper/tie combination are better for larger calves. Designs made out of stretchy, flexible material tend to be the best. These boots can be pulled on in a manner similar to stockings. It takes a bit of practice to become accustomed to wiggling on this style, but they look great on larger legs and are quite thinning.

Knee-High Boots for Smaller-Than-Average Legs
People who consider their legs to be a bit on the skinny side tend to look good in slouch boots or bulky widemouth western styles. These styles offer the illusion of a more curvaceous figure. Additionally, consumers with this body type should invest in a more slender heel, as chunky heels tend to make one's legs and ankles look even thinner.

Popular Materials and Styles
Sleek boots made out of suede or leather seem to never go out of style. Examples like Lucky Brand Aida knee-high boots feature a few modest buckles and a sleek, leathery appearance. They come with a low heel, making them ideal for someone who is not used to towering on a pair of stilettos.
Vinyl and PVC knee - highs from brands like Fredericks of Hollywood, Torrid, and Demonia give the wearer a tough, funky look while retaining a sense of sexiness. These are a great look for anyone who is wanting to come across edgier than the standard boot wearer.
Finally, there are knee-high, lace-up canvas boots stylized to look like a Converse brand sneaker. This unique look is young, fun, and not intended for the demure.

Boots and Socks
Most people are uncomfortable wearing boots without socks or stockings underneath. This is likely due to the sweat and moisture that can build up with long wear. Some higher-end models of boots come equipped with special moisture-wicking attributes that help to prevent this, but generally speaking boots without socks will equal sweat.
Of course socks can be hot and uncomfortable. A good solution is to wear stocking feet or thin, knee - high stockings beneath one's boots. This not only helps to keep sweat from building up but it also helps the boots to slide on smoothly and remain comfortable throughout the day.

Caring for Boots
Boots can be expensive, depending on the style and brand that is desired. Well-cared-for boots in a simple, timeless style can last a single individual through several years of cold weather. To care for boots, always remove all dirt and debris immediately after coming home from a stroll. For difficult to remove dirt on leather, saddle soap is generally considered safe.
After a nice thorough hand cleaning of the boot surface, they should be set up to dry. Never attempt to put boots in the dryer or direct sunlight, as this can cause cracks in the surface of many popular boot fabrics and lead to severe damage. Instead, consumers should place the boots in a warm, dry area of the home and allow them to gradually dry. Stuffing newspaper inside of the boots during the drying process can help to speed things up. Just remember to remove and replace the newspaper if there is enough moisture present to cause it to soak through.

Finding Knee-High Boots on eBay
eBay sellers present a great opportunity for consumers to purchase both new and used knee-high boots of every shape, style, and shade. To view available listings, start by visiting the Women's Shoes section in eBay's Fashion category. From there it is possible to narrow results to Boots and then to Fashion - Knee - High results only.
From here, listing results can be greatly narrowed using a variety of search restrictions including size, color, heel height, seller's location, and more. This makes it easier to get search criteria to specifically match the type of boot that you are hoping to purchase.
If you find yourself with any questions about a particular pair of boots, visit the seller's profile by clicking on his or her eBay username. From here you can send the seller a direct message. You can also review the seller's most recent sales and read testimonials from previous clients.

Conclusion
Of all boot styles, the knee-high is one of the most popular and versatile looks when the temperature drops. They can be worn with skirts, pants, and even jeans. Many individuals like the fact that boots can make them appear leaner and taller. Though they can be rather pricey, the great thing about the knee-high style is that a plain black or brown pair will go with just about anything from conservative to casual.
When it comes to wardrobe shopping, the knee-high boot has become as ubiquitous as the little black dress. Every woman should have a stylish pair or two tucked away in her closet. With proper care, a nice pair of knee-high boots can last years and be as stylish as the day they were purchased.