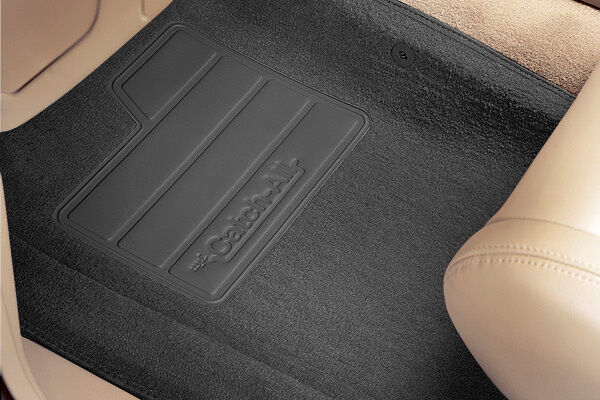 Sport utility vehicles and trucks used to be reserved for commercial use or for people who spend a lot of time in the great outdoors. However, these days SUVs are popular among all types of people, from the suburban-bound office worker to the soccer mom driving carpool for the neighborhood kids. SUVs are great all-purpose vehicles because they can meet rough and tumble road conditions, and provide a safe and comfortable ride for passengers. However, while SUVs protect the people inside the vehicle, few owners think about taking care of their interiors. That's why carpets for SUVs are a great addition to any vehicle.
This document aims to educate individuals who want to purchase mats and carpets for their SUVs. First, the history of automotive carpets will be discussed, followed by the different types of SUV carpets. Finally, those who don't know if they should buy carpets for their SUVs should read about the different reasons why these items are necessary.
History of Automotive Carpets
Believe it or not, before the invention of automotive carpets, early cars at the end of the 19th century only had wooden slats on the floor. While this may have been impractical considering the road conditions back then, these were necessary as drivers needed access to the car's drive train in order to operate it.
Of course, the problem with this design was that mud and rocks would often get in between the slats, not only getting the people dirty, but could possibly hit the driver and cause major accidents. Therefore, in 1916, a man from Massachusetts named Charles Small created the first type of car mat that had holes to fit around the levers. Over the next few decades, car manufacturers developed this idea to create more advanced types of car mats. For example, in 1955, the molded rubber floor mat was invented by the Eagle Picher Company from Ohio.
In the 1960s and 1970s, the universal floor mat (those that fit almost any kind of car) was conceptualized by Pretty Products (also from Ohio). The same company also came up with the idea of adding car logos to their carpets to match the car. Plastic molded floor trays for trucks and SUVs were also developed by several companies in the 1980s. As SUVs and trucks became more popular for normal everyday people, the development of carpets for SUVs took off and spawned its own industry.
Types of Carpets for SUVs
Carpets for SUVs can be categorized according to how they are constructed or the type of materials used to make them. When it comes to construction, automobile car mats can be pre-formed, molded, custom, or berber. As for materials, SUV carpets can be made of clear vinyl, rubber, carpet, or universal absorbent materials.
Types of Carpets for SUVs by Construction
Car mats can be made in a variety of ways, and these methods each have their own advantages and disadvantages. Mats for SUVs can come preformed, molded, custom made, or berber.
Pre-formed
Pre-formed carpets for SUVs are often made with the particular make and model in mind. These are pre-cut and sewn using measurements of standard cars from popular manufacturers, and made in a set ranges of colors and styles. Many owners choose to buy pre-formed mats because they tend to be inexpensive and easy to purchase and install in the car.
Molded
Molded carpets for SUVs are made by stamping rolls of carpet material (usually vinyl) into shapes that conform to the SUV's flooring. The carpet manufacturer takes the car's floor plans to create molded parts that fit exactly on top of the car's flooring. This type of carpeting completely covers the flooring, preventing dirt and debris from making contact with the floor.
Custom Made
Many manufacturers offer custom carpets for SUVs. Many owners may want certain colors, designs, or perhaps styles that are simply not available on the open market. They can approach some manufacturers and have their choice of car mats made in their desired material or design.
Berber
Berber carpets simply refer to the construction of the nap on top of the carpet. These types of carpets have loops instead of cut fibers. While the berber style may not be very comfortable, it does a good job of trapping dirt and is very durable, making it ideal for vehicles that are used heavily.
Types of Carpets for SUVs by Material
Carpets for SUVs are perhaps more commonly categorized according to the type of material used in their construction. Since many SUVs and other types of vehicles are more susceptible to dirt and moisture, car mats are meant to be more protective, and thus use a lot of heavy duty material. The chart below summarizes the different materials used to make carpets for vehicles:
| Type of Carpet | Description |
| --- | --- |
| Clear Vinyl Carpets | Placed on top of an existing carpet to leave the design visible, while protecting it from dirt; prevents flooring from wearing out due to friction |
| | Stain-proof and waterproof; made for heavy usage; can come with a wide lip to catch dirt |
| | Usually comes with brand new cars to match the interiors; effective at catching dirt and dust; may not be water resistant |
| Universal Absorbent Carpets | Created using a polyethylene material wrapped in cloth; good at absorbing water and other liquids |
When choosing a type of carpet for an SUV, owners need to think about the climate where they live, and how they use their vehicles. For example, a mom who uses the SUV for errands and picking up the kids may want to use clear vinyl carpets on top of their existing flooring or universal absorbent carpets to prevent wear and tear and stains. Someone who lives in a snowy climate or perhaps goes camping or hunting every other weekend should consider heavy rubber carpets.
Reasons to Use Carpets for SUVs
Many SUV owners may not want the added expense of carpets for their vehicles; after all, the floor already has some sort of carpeting. However, they should consider carpets an investment for their vehicles, and for other good reasons, such as keeping the car's value, for easy cleaning, as well as to add style to their vehicles.
Retain Value
Many owners may want to eventually sell their car at its retained value or trade it in for a new one. However, buyers and dealers don't just look at the outside of the car or what's under the hood. When they look inside, they want to see clean interiors, and they will definitely look at the flooring. Stained and dirty seat covers can easily be changed, but filthy flooring can be difficult to hide. If the flooring has been soiled too much, then the owner may have no choice but to have it replaced, which is more expensive than buying carpets in the first place and keeping them clean.
Easy Cleaning
Dirt and debris can be tracked into the SUV on a daily basis just with regular use. In the fall or winter time, shoes can also bring in moisture, or worse, road salt. This not only ruins the car's interior, but is also difficult to clean. However, with car mats, all of these and other substances can easily be cleaned by taking the carpet out and hosing it down or throwing it in the washer. There's no need to go down under the seats and scrub the stains out with a brush or vacuum them out.
Add Style
Car lovers and enthusiasts love their cars inside and out. They want to make sure their rides are stylish, so matching interiors is a priority. Carpets for SUVs don't just protect the flooring from dirt and grime, but they can also make the interior look stylish and put together. Many manufacturers offer a range of designs, colors, and even logos for the most discerning of buyers.
Buying Carpets for SUVs on eBay Motors
Purchasing carpets for SUVs these days is easier, thanks to the wide array of choices available. It's even easier (and more inexpensive) to purchase them online, particularly on sites like eBay Motors. This is a special section on the main eBay site that deals exclusively with motor vehicles, parts, and accessories.
Searching for Carpets for SUVs on eBay Motors
When looking for any item on eBay Motors, the fastest way to do it is with the search box, found on every page. Just enter the words and phrases that pertain to the item you want, like "rubber SUV mats" or "Ford F-150 carpets." Another great way to search for the right item would be to go straight to the front page and use the "Find a Part or Accessory" function. Just select the year, make, and model of your car and enter the keywords into the search box. This will ensure you can the right carpet for your SUV.
Using eBay Classifieds
If you prefer to meet sellers face-to-face, or perhaps have an immediate need for a carpet and can't wait for long shipping times, then you should check out eBay Classifieds. Just like your local newspaper classifieds, sellers in your area or city put up ads listing items like carpets for sale. You can browse through the different categories in your local eBay Classifieds page or use the search engine to find ads for the items you wish to purchase.
Conclusion
Looking back to the early days where cars were actually covered with wooden slats, the development of automobile carpeting has made driving safer and kept the interiors cleaner. SUV car mats come in all shapes and sizes, but they are often classified according to the type of construction (pre-formed, molded, custom made, berber) or the type of material used (clear vinyl, rubber, carpet, universal absorbent). Each type of carpet has it own distinct advantages and disadvantages, so buyers should carefully consider their needs and wants when choosing.
SUV floor mats can be an invaluable investment for any vehicle owner. These mats not only protect the vehicle flooring from dirt, but also help the SUV retain its value, allow for easy clean up, as well as add some style to the interiors. Whatever the reason, buyers can get some of the best deals on carpets for SUVs and other accessories on eBay Motors.