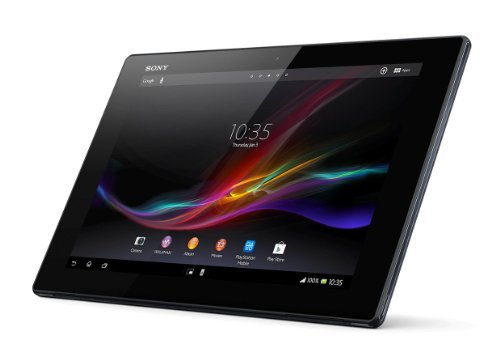 Android tablets are becoming increasingly popular in this fast-paced, instant gratification world. People like to stay connected to their piece of the world and to have information at their fingertips at all times. Larger than smart phones and smaller than laptop and netbook computers, tablets combine the abilities of a computer with the portability of a cell phone. Great for those who travel a lot, Android tablets are popular with anyone looking for convenience and connectivity. When deciding on an Android tablet, the screen size is likely the first consideration. Also important is the brand. Manufacturers can modify the Android system, so different brands may look and act differently. There are many different Android tablets to choose from, so a little research goes a long way before making a purchase.
What is an Android Tablet?
A tablet is a thin computer operated by a touchscreen. An Android tablet is one that uses the Android operating system to run. Because a tablet is smaller than a laptop and larger than a smartphone, it is the perfect on-the-go tool to stay in touch and up to date, whether for business or just life. There are three main operating systems to choose from: Android, Apple iOS, and Blackberry OS.
Operating System

Features

Android

performs multiple applications simultaneously, like email and web chatting
full Adobe Flash support
integration with Google services like maps and eBooks

Blackberry OS

wireless connectivity to Blackberry phones
pairing with Blackberry servers
full Adobe Flash support

Apple

wide range of available apps
connect and sync with other iOS devices
The operating system is an important consideration, as it is the basis for how the tablet works. Knowing what the user expects from a tablet helps him or her decide which tablet and operating system is best.
An Android tablet comes in many versions, and because it is an open system, manufacturers can modify it to best suit their needs and devices. Therefore, a Samsung tablet looks different than a Motorola tablet. The apps store on each device may also differ.
What to Consider When Buying an Android Tablet
There are many things to think about when buying an Android tablet. The screen size varies among different tablets. Internet connectivity options are very important, since the main reason to have a tablet is connecting to the Internet. The tablet processor also matters, as the processor is the technology that runs the Android tablet, and speed and power vary among brands and models. Other things, like battery life, memory, and the camera, come into play as well.
Screen Size
The screen size for most Android tablets is between 7 and 11 inches. This is the distance diagonally between two corners. Bigger is not always better. Larger screens are easier to read and type on. They are also heavier. Smaller screens fit more easily into small bags or purses. A typical 7-inch tablet weighs less than 1 lb, while one with a 10-inch screen may weigh up to or over 2 lbs. For those that use a tablet mainly on the go, a smaller screen weighing less is a better option.
Connectivity
Wi-Fi technology uses radio waves to connect to the Internet, and this feature is standard for most Android tablets. Homes and public places, such as malls, restaurants, and coffee shops have Wi-Fi signals. 3G and 4G connectivity allows Internet access through cellular phone networks, and are useful with GPS-related functions. 3G and 4G refer to the speed of Internet access, and usually involve extra fees through the wireless supplier.
Most Android tablets also come with Bluetooth capabilities, which allow the user to connect and transfer data wirelessly to and from other computers.
Processor
The Android tablet processor is the brain of the tablet, and controls all the systems. The type and speed of the processor make a difference in the operation of the tablet. Most tablet processors use technology developed by a company that licenses the design to other companies for manufacturing. This allows the individual manufacturer to make slight changes to the initial design. Processors made from the same core technology therefore perform much the same way, regardless of the tablet make. Basically, when looking at processors, the higher the frequency, the more power and speed the machine has. The amount of memory and the operating system also affect the speed.
Other Considerations
There are other things to consider when buying an Android tablet. These features can differ greatly among makes and models.
Battery Life
Battery life varies amongst Android tablet brands. Things like bandwidth consumption, screen resolution, and processor speed affect the battery life of the tablet. The tasks the user performs with the tablet also affect the life of the battery. If the user is on the go a lot, a long battery life is important. The battery for most Android tablets lasts for about 8 hours.
Memory
Memory refers to the amount of storage on an Android tablet, which defines how much space is available for things like documents, pictures, and videos. Memory, expressed in gigabytes, ranges from 16 GB to 64 GB. Some recommend a tablet with at least 32 GB of memory if watching movies or listening to music.
Camera
Many Android tablets have cameras built in to allow the user to take photos and videos, as well as to video chat and conference. Some tablets have a camera that takes pictures both forward and backward. The camera resolution, expressed in megapixels, defines the quality of the picture, with higher resolution creating a higher quality photo.
Android Tablet Brands and Models
Many manufacturers make Android tablets, including Samsung, Asus, Google, and Sony. Most offer several models with varying screen sizes, processors, and other points.
| Brand and Model | Features | Price |
| --- | --- | --- |
| Samsung Galaxy Note 10.1 | Android 4.0 Ice Cream Sandwich operating system, 1.3 lbs, 7.1 inches, 3 megapixel camera, long-lasting battery, | $$$$ |
| Google Nexus 7 | Android 4.3 operating system, .66 lbs, 7.8 inches, 2 GB memory | $$ |
| Google Nexus 10 | Android 4.2 operating system, 1.33 lbs, 6.9 inches, long battery life | $$$ |
| Sony Xperia Tablet Z | waterproof, 1.06 lbs, 6.8 inches, 8 megapixel back camera, expandable storage | $$$$ |
| Asus Transformer Pad Infinity | Android 4.0 Ice Cream Sandwich operating system, 1.32 lbs, 7.1 inches, excellent battery life | $$$$ |
Knowing the intended uses of an Android tablet and comparing to the features offered helps the buyer pick the right Android tablet.
How to Buy an Android Tablet on eBay
Buying an Android tablet on eBay is simple. Once you have an account, a few clicks allows you to find and purchase a tablet. Once your account is set up, you can do a search to find a list of all available tablets. You can search by keywords, like "Android tablet," "tablet," or even "computers." You can then narrow the search by brand, product line, condition, or even screen size. Once you have a list, read the listing for any Android tablets you like. Read all the details to learn the specifications of the tablet. If you have any questions for the seller, such as the condition of a used Android tablet or the cords and accessories that come bundled with the purchase, you can communicate over email.
Conclusion
Having an Android tablet gives the owner freedom and flexibility to work, play, and stay connected regardless of where he or she is physically. Tablets are portable and usable anywhere a wireless network is available. This makes them suitable for those that need access to information on the go, like travelers. Many business people that spend time outside the office, such as salespeople, have the convenience of necessary information while on the road. Tablets and other electronic devices make paper almost obsolete and provide up-to-the-minute information. For searching the web, checking email, and staying connected through social media, Android tablets are easier to read than cell phones. Having an Android tablet is the ultimate convenience in this ever-changing, non-stop world.