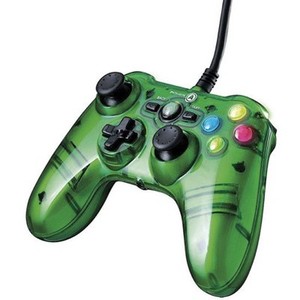 When searching for Xbox 360 games and accessories, buyers should be aware of the latest games available, related accessories, and newest innovations. From groundbreaking technology, such as the Xbox 260 Kinect motion sensor system, to must-have peripherals, including controllers, headphones, and cameras, consider all options before making a purchase. Know game ratings, wireless and storage options, and how and where to buy Xbox games and equipment.

History of Xbox 360
Launched on November 22, 2005, the Xbox 360 Gaming System is the second gaming console produced by Microsoft - the first was the original Xbox. With its integrated Xbox Live service, players are allowed to compete online with friends, family, and other players from around the world. Members of the Xbox Live service also have access to downloadable content, known as DLC, which includes Xbox 360 games, Xbox 360 arcade games, game add-ons, and items for their online personas, or avatars, in addition to other items.
Xbox 360 Design
Microsoft designed the Xbox 360 video game console to be a full-fledged multimedia center, now allowing access social media sites, such as Facebook, in addition to streaming sites that include Netflix, Hulu Plus, and Microsoft's own streaming site, Zune. Along with a wide variety of Xbox 360 video games, buyers will find a huge selection of Xbox 360 accessories on eBay, including the Kinect, that allow gamers to harness the power and flexibility of the system.
With the release of a redesigned, slimmer version of the Xbox 360 Gaming System - known as the Xbox 360 Slim - in June of 2010, Microsoft stated that the life cycle of the current console will continue through 2015. Current versions of the Xbox 360 feature an internal 4GB hard drive, 802.11 b/g/n Wi-Fi, and 5 USB 2.0 ports. Older models of the Xbox 360 Gaming System have been discontinued, though they can still be found online at such sites as eBay, along with the newest systems.

Xbox 360 Video Games
There are Xbox 360 video games to satisfy the tastes of any gamer, whether a first-person shooter fan, a sports fanatic, Role Playing Game (RPG) player, or driving game guru. For example, players can play first-person shooter games in the Halo, Gears of War, and Battlefield series; sports games in the Madden NFL, NCAA Football, and the FIFA Soccer series; strategy games in the Halo Wars and the Command & Conquer series; the latest RPG offerings, such as The Elder Scrolls series; and popular racing titles like Forza Motorsports and Need for Speed. Video game fans can also find a wide selection of strategy guides on eBay to help them make it through each game.
Xbox 360 Video Game Ratings
For help deciding which games are family-oriented or otherwise, look for Xbox 360 video game Entertainment Software Rating Board (ESRB) ratings. Each rating is accompanied by a content description that can provide insight into game elements, such as whether a game contains cartoon violence, drug references, blood, suggestive themes, or strong language.
Early Childhood (EC): Plenty of educational games are available for the preschool set, ages 3 and older, and most are in the EC-rated video game category.
Everyone (E): E-rated video games are typically appropriate for people ages 6 and older. They may contain some mild violence or language, so read the full game description before buying an E game for a young child.
Everyone 10+ (E10+): Video games rated E10+ are generally deemed appropriate for people ages 10 and older. They may contain some mild violence or language, so read the full game description before buying.
Teen (T): T-rated video games are the equivalent of PG-13 movies. They're suggested for people ages 13 and older and may contain suggestive content, violence, crude humor, or blood.
Mature (M): M-rated video games are strictly for mature audiences. Like R-rated movies, they're suggested for people ages 17 and older who don't mind blood and guts, violence, sexual content, and strong language.
Adults Only (AO): AO-rated video games have content that should only be played by persons 18 years and older. Titles in this category may include prolonged scenes of intense violence and/or graphic sexual content and nudity. Microsoft does not support AO titles on Xbox 360, Xbox Live, or as part of the Games for Windows-branded program.
Rating Pending (RP): In certain situations, eBay allows sellers to offer pre-sale video games. Some are not yet rated by the ESRB and have an RP rating. A final rating is always available in time for the game's release.

Xbox 360 Controllers and Accessories
Enhance the Xbox 360 gaming experience by using system accessories and add-ons, such as various types of controllers, wireless antennas, hard drives for storage, customization accessories, headsets, video chat cameras, and the Kinect System.
Xbox 360 Controllers
Some Xbox 360 video games allow up to four people to play at one time, so make sure to have extra Xbox 360 controllers on hand. Choose Microsoft wireless controllers, identical to the one that ships with the Xbox 360 (it lasts about 40 hours on two AA batteries and has a 30-foot range), or Microsoft wired controllers. For racing games, check out the various racing wheels available from such companies as Microsoft, Datel SuperSports, and others. There is even a racing steering wheel by CTA Digital available for use with the Kinect. All of these options can be found wherever Xbox 360 gaming consoles and accessories can be found, including each manufacturer's website and eBay.
Xbox Live
Another feature that adds to the functionality of the Xbox 360 Gaming System is the ability to play online versus friends and family, or even other players from around the world, through the use of Xbox Live. Xbox Live offers a chat option via a compatible headset with microphone. A membership to Xbox Live can be purchased for either a monthly or yearly fee and is available through various online sites, including eBay.
Microsoft Points
The currency that powers the available content through Xbox Live is known as Microsoft Points, which can be purchased through a credit card connected to an Xbox Live Account, or through Microsoft Point Cards which can be purchased at local retail stores or online through such sites as eBay.
Xbox 360 Add-ons
Customize any Xbox 360 Gaming System with the desired features, storage, and style by purchasing add-ons, such as wireless access, expanded storage, and colorful skins.
Go Wireless with Xbox 360
Connectivity is as important to game play as graphics and sound. The Xbox 360 has a built-in Ethernet port to connect to the Internet and Xbox Live via system cables. Microsoft also makes a USB-based wireless antenna to connect older versions of the Xbox 360 to any available Wi-Fi network, providing users more freedom to connect from anywhere they want. The newer Xbox 360 Slim has built-in 802.11 b/g/n Wi-Fi, allowing users to set up and play from any location.
Get More Xbox 360 Storage
For media buffs who love to play music, movies, and access photos directly from the Xbox 360, consider upgrading to a larger hard drive. Xbox 360 hard drives range from 20GB up to 320GB.
Customize the Look of Xbox 360
Create a sleek theme for the Xbox 360 with Xbox 360 skins that fit over the console, or change its look with Xbox 360 faceplates. These are available in retail stores and online through such sites as eBay.
Headsets for an Improved Gaming Experience and Chat
Headsets which can improve the overall gaming experience, are manufactured by Turtle Beach, Tritton, and Microsoft's own series of wired and wireless headsets. These headsets can facilitate handsfree chats through Xbox Live.
Xbox Live Vision Camera
The Xbox Live Vision Camera allows users to video chat with friends and family over Xbox Live. Gamers can also use the Live Vision Camera to make their own personalized avatar for use on Xbox Live. Xbox Live Vision Cameras can be found at local retail stores or online through eBay.
Xbox 360 Media Remote
Allow the whole family to control the Xbox 360 media functionality using the Xbox 360 Media Remote. Control Zune, Hulu Plus, and Netflix programming at the touch of a button. Users can pause, play, skip forward, fast forward, skip back, and fast back all from one easy remote. The remote can even be used to control the power and volume on many popular TV brands, allowing users to control Live TV. The Xbox 360 Media Remote can be found at local retail store or online through eBay.
Controller-Free Gaming with Xbox 360 Kinect System
With the Xbox 360's Kinect System, the player's body becomes the controller, allowing for handsfree playing of the latest Xbox 360 games. Gone are the days of the handheld controller, as each player's body motions determine what happens on screen. The Kinect System for the Xbox 360 is available at local retail stores or online marketplaces like eBay.
Using the Power of Voice with Xbox 360
The Kinect System also allows gamers to utilize the power of their voice to watch movies or listen to music. With voice commands, Xbox 360 users are able to play, pause, and even rewind their favorite movies.
Other Xbox 360 Accessories
There are a multitude of other accessories available for the Xbox 360 Gaming System, ranging from thumb pad extenders that make movements while playing first-person shooter games more precise and easier; to peripherals, such as musical instruments meant to be used while playing games like the Guitar Hero and Rock Band series; to a drawing tablet called uDraw Studio, which allows users to create works of art utilizing the Xbox 360. All these accessories and more can be found wherever Xbox 360s are sold.

Find Xbox 360 Games and Accessories on eBay
Once gamers know what type of Xbox 360 games and accessories they want, they can go to the Video Games portal on eBay, click the Microsoft Xbox 360 link under Systems or under Games, and narrow down the provided options.
Category Filters
For Xbox 360 video games, use the filters on the left side of the page to narrow games by rating, genre, or condition. For Xbox 360 accessories, filter listings based on accessory type or condition.
Keyword Search
Search eBay listing titles for specific words. For example, shoppers wanting to find a Madden NFL video game should type "Madden NFL" (without quotation marks) into the search box. Click "Advanced Search" to expand the results. Shoppers should also visit eBay's Search Tips page to learn how to effectively search with keywords. If buyers can't find exactly what they want, they should try shopping eBay Stores, tell the eBay Community what they want by creating a post on Want It Now, or save a search on My eBay, and eBay will e-mail buyers when a match becomes available.

Buy Xbox 360 Games and Accessories With Confidence
Before bidding on Xbox games and accessories on eBay, shoppers should make sure to know exactly what they're trying to purchase, research the seller, and understand how eBay and PayPal protect the buyer.
Know the eBay Purchase Details
Carefully read the details in item listings. Figure delivery costs into the final price. If a lot of money is spent, make sure the seller will insure the item when it ships. For more information about an item, ask questions by clicking the Ask Seller a Question link under the seller's profile.
Always make sure to complete the eBay transaction with a bid, Buy It Now, or Best Offer. Transactions conducted outside of eBay are not covered by eBay protection programs. Never pay for an eBay item using instant cash wire transfer services through Western Union or MoneyGram. These payment methods are unsafe when paying a stranger.
Know the eBay Seller
Research the eBay seller to ensure a positive and secure transaction.
Questions to Ask the eBay Seller
What is the seller's feedback rating?
How many transactions have they completed?
What percentage of positive responses do they have?
What do buyers say in their feedback? Did the seller receive praise?
Most top eBay sellers operate like retail stores and have return policies. Do they offer a money-back guarantee? What are the terms and conditions?
Buyer Protection
In the unlikely event that an item is not delivered or it doesn't match the item description, eBay Buyer Protection covers the purchase price plus original shipping.

Conclusion
For those gamers who are in the market for a new or upgraded system, consider the Xbox 360. In addition to top-of-the-line gaming, this system allows users to chat with family and friends on Xbox Live, watch their favorite movies, or listen to the latest songs. Also check out the wide variety of accessories that can make the gaming experience more enjoyable and customized.