WORK FROM HOME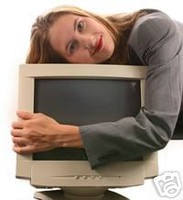 Thanks to eBay you indeed can work from home!


I am living proof that this can be done!

I encourage you today to give it a try.

The key to selling is to SIMPLIFY your system.
Set up SHOP!
Organize yourself into not only a SELLING MODE but into a positive attitude mode!

THINK BIG and see BIG RESULTS!

Know that you know that you know that you KNOW ..............
You can do it!

There is a light at the end of the tunnel!
All hard work does pay off!
THATS A FACT!



Take a look at my ME page and watch my video from my news interview!


I am a confident mom that is living proof it can be done!


HAVE A GOAL


Start with a small goal and once it is reached make a larger goal.
Every day you need a goal!
Something to accomplish for that day.
A goal to have set by the end of the week.
EXAMPLE:
30 items listed by Sunday night.
Shipping completed by days end.
Emails all caught up.
Then have a REWARD!
Reward yourself for meeting your goals!
EXAMPLE:
Play a Game on the net!
Something with Hot fudge!
Write a Review! (this was my reward for today)
My point is, just by starting the day with a SIMPLE GOAL and including a SIMPLE REWARD,
Can motivate you to accomplish TODAY'S TASKS!
The thing about working from home is: DISIPLINE.
This is something you MUST learn to do right away.
You are your own Boss SO, since it's a bit hard to fire yourself, you must DISIPLINE yourself to GET things done and stay on track. This is where the Goal setting helps.
Even if the days goals have been messed up with a sick child or whatever reason, NEW GOALS should be set as soon as you realize the previous goal you set is not a reality anymore.
DON'T LET YOURSELF DOWN if you realize you will not be able to meet a goal.
LEARN FROM IT and set a new goal!
Could even be, today's new goal is:
GET A GOOD NIGHTS SLEEP! ((smiles))
This is a VERY important issue for those working at home!
Get enough sleep!
BOTTOM LINE:
Set yourself up for SUCCESS!
Set Goals!
Get sleep!
Reward yourself!
And KNOW that you KNOW you can Do it!