Women's Muck Scrub Boots are
Great for the Outdoors and Gardening!
Gardening is a favorite past time for so many people all over the world.
Here is a great gift idea for every woman who loves to do gardening!
Simply buy a metal, wooden, or wicker basket and fill it up with some gardening tools, gardening gloves,
gardening books, gardening DVDs, packets of vegetable seeds, packets of flower seeds,
packets of fruit seeds, and a pair of Muck Scrub Boots!
If you are looking for the perfect gift for a lady who loves to do gardening and other outdoor
activities, then a
Muck Boot
will be a perfect fit for her! Muck Boots are very durable
and comfortable with their natural rubber sole.
When anyone is working or even walking in the outdoors and not wearing boots,
a muddy disaster can happen which can simply ruin one's good shoes.
This is precisely why wearing Muck Boots is a must have for every
woman who loves to do gardening and other outdoor activities.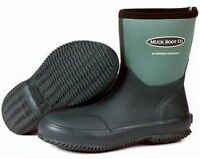 The
Scrub Boot
™ goes beyond waterproof by offering
slipper-soft comfort, easy on/off convenience and
total protection in wet and muddy conditions.
The natural rubber sole and base are completely
resistant to household cleansers, fertilizers
and grass stains. A great boot for those everyday
really dirty jobs and when you need more than a
garden shoe. 9 inches tall.
Stretch-fit topline binding snugs calf to keep warmth in and cold out
Breathable Airmesh™ lining
Multi-ribbed tread designed for traction garden, backyard and lawn.
CR flex-foam bootie (5mm) with four-way stretch nylon, snag-resistant cover is 100% waterproof, lightweight, flexible, buoyant
Seamless quick-clean rubber overlay
Rear ledge (kick rim) for hands-free removal
Natural rubber reinforcement in the toe, heel, achilles, and shank areas with 1.25mm semi-rigid rubber
*Muck Scrub Boots are NOT designed as a snow boot.
Not for use on tile, wet tile, wet slate or icy concrete.
*
Muck Boots
are worn by women who are
involved in activities such as the following:
Home & Garden
Equine & Pet
Sports & Outdoors
Work Boots
Farm & Ranch
*Check out Jodeze Gifts N More to get your very own pair of Muck Boots TODAY!

*Please click on YES if you liked our eBay Guide! Thank you so much!