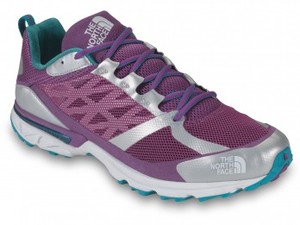 Walking into any sports store to buy a new pair of women's running shoes can seem a bit overwhelming at times, when one is faced with a wall full of different brands, styles, shapes, fits, fabrics, and colors. For those who want a new pair of running shoes that will be comfortable in two weeks, and even two years, there are a few tips to follow when choosing the right pair of running shoes. Women need to first identify the type of running they will be doing, and then identify the style of shoe they want.
Once these points are identified, a woman should determine her foot shape in order to buy the best fitting shoe. There are many places to buy women's running shoes. Most women head to a specialty sports shoe stores, where staff are able to offer advice to help women choose the right type and fit of shoe. Buyers can also head to major department stores, sporting goods stores, and even online. eBay has a great selection of women's running shoes, where buyers can search for the right pair at the most competitive price.
The Right Running Shoe for the Terrain
Women's running shoes are designed for a specific type of running. Road running requires different cushioning and support than off-road running or track running. A woman looking to buy a new pair of running shoes should first identify what type of running she will predominantly be doing.
Road
Road running shoes require more cushioning and support than other types of running shoes. Road and pavement surfaces provide no give, and place significant amounts of pressure and stress on a runner's feet, knees, and lower back.
Off-road
Off-road and trail running require less cushioning and more grip. Trail running shoes have sturdier soles that offer better grip over rough, slippery surfaces, such as dirt, mud, grass, rocks, water, or sand. Trail running shoes are more rigid than road or track shoes. With a trail running shoe, the foot is placed close to the ground, with a thin, durable sole to protect the foot.
Track
Track running shoes are designed to be lightweight. They require comfort and flexibility, and don't need to provide cushioning like road shoes do. Track running is predominantly about speed. Therefore, track running shoes feature a thin sole, and are the lightest type of running shoe one can buy. There are two types of women's track shoes: running flats and running spikes. Running flats are designed for longer distance speed running. Running spikes are designed for short speed running distances.
Cross Training
For those who want to run on a variety of surfaces and are looking for an all-round athletic shoe, cross trainers are available. Cross trainers offer a bit of everything. They offer sufficient cushioning and support for road running, they offer a grippy and durable sole for some off-road running, and they offer the comfort necessary for some track running. For those who want an all-round athletic shoe, the cross trainer is a good option.
Different Shoe Styles
The following groups of shoe styles will fit into one of the above categories of running shoe. Within the categories of running shoe, each woman has a different requirement for the perfect running shoe. Before making any running shoe purchase, a woman should consider what is important to her in a running shoe, taking into account the type of running she will be doing.
Cushioning
Running shoes that offer maximum cushioning offer extra protection for the feet, knees, and hip joints, as well as the lower back. Cushioned running shoes are designed for longer distance running. These styles of shoe offer an extra layer of soft midsole protection that is curved to support the foot and promote a more natural, effective gait and correct foot motion. The Adidas Marathon 10 women's running shoe features Torsion System technology that offers added support and conditioning to the midfoot. Extra cushioned shoes are great for those with a high arch and neutral or underpronated gait.
Stability
Running shoes that offer stability tend to be the most versatile type of shoe, such as with the cross trainer. Stability shoes are great for those with a normal arch and normal foot shape, and those with a neutral or overpronated gait. Heavier runners tend to find extra stability in their shoe useful. Stability running shoes help stabilize and support the foot through the heel and midsole. The Air Max is a popular Nike running shoe that offers excellent stability with their large air cushioning pocket at the heel.
Support
Support running shoes are designed to support those with an overpronated gait and a flat arch. They support the foot where needed and provide control of the running motion of the foot. Their midfoot support is more rigid, enabling them to effectively support a foot that rolls inward. Support running shoes tend to be heavier than other running shoe styles. Support shoes are often identified by the section of sole, usually grey in color, at the midsole section of the shoe. The Brooks Adrenaline GTS 12 running shoe offers great support for the midsole.
Grip
Grip shoes are designed for ultimate grip on uneven or rough terrain. Trail shoes are specifically designed to grip the ground effectively. Grip shoes give superior protection and firm support of the sole of the foot. Grip shoes tend to offer foot deflection plates, gusseted tongues, and very stable outsoles. They also offer waterproofing protection and breathability. These shoes are designed for any type of foot shape and gait. For those looking for a shoe with extra grip, try the Asics Gel Instinct.
Weight
Running shoes can range significantly in weight. Top quality lightweight running shoes are designed with the latest technology to provide a lightweight shoe without losing out on comfort, cushioning, or support. Lightweight shoes are designed for any type of gait or foot shape. They are ideal for those women who want to run at their top speed. A great lightweight shoe is the New Balance Minimus range.
Determine the Foot Shape and Gait
The shape of a woman's foot determines the type of gait she has when running. Some have a high arch, while others have a flat arch. In order to buy the right type of running shoe, a woman needs to first identify her foot shape and resulting gait.
| Gait | Description |
| --- | --- |
| Overpronation | Referred to as flat feet; the inside arch of the foot is flat, feet angle in; requires extra support in the inner, midfoot region; ideal shoes offer motion control |
| Neutral | Referred to as normal feet; moderate arch where the pressure is dispersed evenly across the foot, from the outside of the heel to the ball of the foot; stability running shoes are a great choice for neutral foot shape and gait |
| Underpronation | Referred to as high arch feet; arch is very high and pressure is put on the outside of the foot; those with an underpronated gait suit cushioned shoes |
Finding the right type of shoe requires a buyer to understand her foot shape and gait. One brand and style of shoe is not suitable for all, which is why buyers need to carefully understand their running style, and what they need their new running shoe to do for them. Finding the right shoe will help reduce the likelihood of injuries.
Find the Best Fit
Once a woman has identified her shoe shape, gait, and her running style, she then needs to understand how to correctly fit a running shoe. Correctly fitting a running shoe is one of the most important aspects of buying a new pair of running shoes. One can buy the most expensive shoes available, but if they don't fit properly they will be uncomfortable, and will likely lead to injuries. A running shoe should feel snug, but not tight, warm, but not hot, firm, but not hard. The toe end of the shoe needs adequate room while still supporting the toes. The wearer's thumb should fit between the end of her toe and the tip of the shoe.
The width of the shoe is important around the toes; toes need to move, but not slide from side to side. The heel needs to fit snugly against the back of the shoe without slipping up or down when running. Using the last eyelets helps keep the heel securely in place. The upper part of the shoe that goes over the top of the foot must fit securely without pressing on any part of the foot. The instep needs to feel comfortable and secure. The way the shoes are laced up can affect how comfortable the shoe feels across the top of the foot. Once a buyer has found a shoe that feels comfortable, she should try it on in the store, walking and running in the shoe. A shoe needs to be worn for at least five minutes to get an idea of how it feels on.
Buying Women's Running Shoes on eBay
eBay has a wide selection of women's running shoes for sale. To find any type of running shoe on eBay, simply select the Fashion portal, and then click on Women's Shoes. From here, buyers can select Athletic, and then Running, Cross Training. Once here, buyers can use the category options to further refine their search. Alternatively, buyers can simply type "women's running shoes" into the search bar on eBay's home page to see a long list of available products for sale.
Safe Buying Tips
Any woman purchasing a new pair of running shoes on eBay can use the helpful information found in the Safe Trading Tips for Buyers section. Here, buyers can find some simple steps to ensure a successful and safe buying experience on eBay. When buying a new pair of running shoes, it is important to read the seller's shipping terms, refund and returns policy, and any other terms and conditions he or she may stipulate. Buyers are advised to know the item they are purchasing, know the seller, and ensure they can communicate with the seller easily. For further tips on how to utilize eBay to its fullest potential, buyers can head to eBay's Learning Center.
Conclusion
A comfortable, correctly fitting pair of running shoes, suitable for the type of running a woman does, need not be difficult to find, or overly expensive. Whether one is a regular runner, running several miles each day, or a casual runner that only heads out for a short jog once a week, there are a few points to consider before buying that new pair of running shoes. Choose a shoe that suits the type of running one does, and then identify what style of shoe desired. From here, a woman needs to determine her foot shape in order to find the best fit. Some women like to browse the selection at specialty sports shoe stores, while others know exactly what type and brand of shoe they want. For those who know what type of running shoe they want to buy, eBay offers a great opportunity for buyers to find women's running shoes at the most competitive price, where they can search a wide range of running shoes from sellers all over the world.