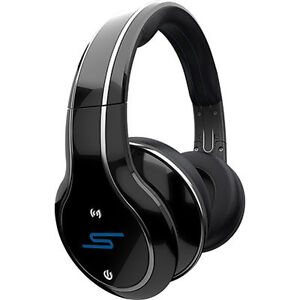 Many people's lives are surrounded by wires. While wireless applications are becoming more ubiquitous, most people would prefer not to be limited by the wires that attach to computers or other equipment. Therefore, wireless headphones are a handy thing to have because they untether people to a certain extent. While wired headphones may provide crisper sound quality, wireless headphones are often more convenient (especially when one goes to the gym). Wireless headphones are also often used by gamers to communicate with each other while playing.
In this buyer's guide, the many types of wireless headphones will be explored. There are several designs for people who prefer different fits (such as earpieces, headbands, and neckbands). There are also wireless headphones that have been optimized for sound quality. Consumers can find wireless headphones at most reputable electronics marketplaces. If people want to purchase wireless headphones online, then eBay is a great source of both products and information.
Types of Wireless Headphones
Wireless headphones use three types of signals: infrared, radio frequency, and Bluetooth. The various signals are used to send the sounds from the source to the headphones. In this section, the pros and cons of each type of headphone will be explored.
Watch this video to learn more about the different types of wireless headphones:


Infrared
The first type of wireless headphone on the market was the infrared headphone. These headphones are designed for use with both computers and audio systems. Compared to radio frequency headphones, infrared sets are much less expensive and less susceptible to interference. Infrared headphones have a range of approximately 30 feet, but the infrared signal can be blocked by walls and other objects. If the signal becomes blocked, the wearer can be left with a harsh static in his or her ear.
More than one set of infrared wireless headphones can be used with one source. Infrared signals are not secured, but since the signal is line of sight, security is not much of an issue. Sound quality can also be better than radio frequency headphones because audio is transmitted to right and left headphones separately to provide a true stereo sound. Some infrared headphones also transmit signals digitally, which improves the sound. Manufacturers like Sony, HP, and Sennheiser manufacture infrared wireless headphones.
Radio Frequency
Unlike infrared headphones, radio frequency headphones can be used in different rooms from their source because the signal will not be blocked by walls or objects. The radio frequencies are transmitted within the 800-900 megahertz band. However, being far away from the source can cause interference, which will sound like heavy static. Like infrared headphones, radio frequencies sent to headphones are not secure and can be picked up by other people using radio frequency headphones (or it can come through as interference). Most RF wireless headphones will work up to 100-150 feet away from the source. This range is often farther than most wireless networks. Consumers should make sure they do not have other devices that operate at the 800-900 MHZ range, because those devices will interfere with radio frequency wireless headphones. Sony, Logitech, and Sennheiser all design wireless headphones that use radio waves to transmit the signal.
Bluetooth
Bluetooth is a proprietary open wireless technology standard that is often used with cell phones. The main benefits of Bluetooth wireless headphones are that they can connect to any other Bluetooth-enabled device, they have limited interference, and have relatively low power consumption. Bluetooth technology uses a spread spectrum, frequency-hopping signal that limits problems caused by other wireless devices and provides robust sound quality. Bluetooth headphones have a range of approximately 30 feet and are very secure. However, Bluetooth-enabled headphones are designed to be used on a one-to-one basis with their source, so only one headphone can be used at a time. Jawbone, Jabra, and Plantronics are among the companies that design Bluetooth headphones.
Design
Once consumers have determined which signal system is best for their headphone use, then they can start to examine the design of the headphones themselves. There are two main types of earpiece design: over the ear (which would include headsets that include ear pads that cover the ear) and earbuds (which fit inside the ear). See the following table for pros and cons of these designs:
| Earpiece Design | Pros | Cons |
| --- | --- | --- |
| Earbuds | Lightweight; good for running; discreet; portable | Less sound quality; easily broken; can cause ear annoyance |
| Over the Ear | Improved sound quality; noise cancellation; relatively durable | Heavy; less portable |
As the table shows, earbuds are better for people who are on the run. Wireless earbuds are particularly lightweight, but consumers need to make sure they provide a proper fit. Wireless over the ear headphones provide a more immersive experience, but can get a bit heavy. Over the ear headphones are the better choice for studios for podcasts and music. Apple has designed a great number of earbuds that come with their iPod and iPad products.
Fit Design
In addition to earpiece design, consumers have a number of fit designs to choose from. Choosing between these options is mainly personal preference, but can be made in terms of head size. In this section, headbands, neckbands, ear hooks, and in-ear only designs for wireless headphones will be examined.
Headband
The headband design is the most common and what people usually think of when they consider headphones. It is made of a piece of plastic that is placed over the wearer's head. Padded wireless speakers covers each ear. The pads can be quite large to provide better noise cancellation. As noted above, this design is good for studio work, but is not as portable as other options. Most headphone manufacturers design headband wireless headphones, but reputable manufacturers include Sony,, Monster, and Skullcandy.
Neckband
Unlike a headband that sits atop a user's head, a neckband scoops around the neck and rest on the ears. The neckband headphones are more discreet than a headband and feature in-ear buds that provide good sound quality. The neckband is more comfortable than a headband because it does not cause pressure on the top of a person's head. Plantronics, Koss, and Rocketfish are companies that design neckband headphones.
Ear Hook
Ear hooks are most commonly associated with Bluetooth technology, but they can also be for other types of wireless headphones. The ear hooks are similar to the neckband, but they do not have a band connecting them. They are simply looped around the ear and fit into the ear. The problem with most ear hooks is that they are not adjustable, so consumers should make sure they buy the appropriate size. Some ear hooks are fitted with microphones to allow hands-free communication. Jawbone, Philips, and Panasonic all provide ear hook headphones.
In-Ear Only
In-ear only headphones are basically earbuds, but they often come with an attachment at the end that seals the ear like an earplug. Because in-ear headphones block ambient noises so effectively, the volume on the player does not have to be turned up too loud. Most in-ear headphones come with tips that are a variety of sizes to fit any size ear canal. Manufacturers of in-ear headphones include Apple, Skullcandy, and JVC.
How to Find Wireless Headphones on eBay
Wireless headphones can be found in abundance on eBay, and finding them is not terribly difficult. You can just type "wireless headphones" into the search box found on most pages, or you can use the category directory. The first step in using the category directory is to click on All Categories followed by Consumer Electronics. You can follow the directory to the Portable Audio & Headphones category, and in here, you will find a Headphones subcategory with many search filters to use to your advantage, including a wireless filter. If you want to see all the wireless options, you can check Bluetooth wireless, infrared wireless, and digital RF wireless.
Search Tips on eBay
If you choose to use keyword searching to find the right wireless headphones for you, here are a few tips. The more words you add to the search box, the more precise your search will be. Be sure to spell all of the words correctly, as a typo, such as "wirless headphones" will yield far fewer results. If you make a common enough typo, eBay may direct you to the correct results. You can also eliminate terms from the search algorithm by preceding them with a dash. For example, "-wired" would eliminate all wired headphones from the search results.
Conclusion
With all the confusion in modern day life, it can help to simplify even small matters. Wireless headphones eliminate the sometimes jumbled wires that can limit people's movement. Improvements in technology have allowed for excellent sound quality in wireless headphones. This buyer's guide has shown that there are three types of signals (infrared, radio frequency, and Bluetooth) and each has its own set of pros and cons. There are also many designs of wireless headphones to choose from. Some wireless headphones have speakers that surround the ear and others have buds that fit right in the ear. There are also a variety of band designs, including headbands, neckbands, and two designs that have no band: ear hooks and in-ear only. With so many choices, it is hard to believe that they can be found in one place. Yet, it is possible, and that place is eBay.