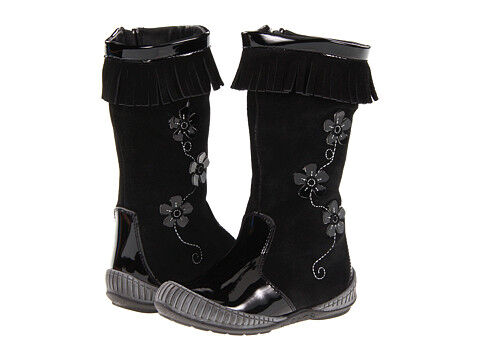 When you think of what shoes you will need for winter the first thing that probably comes to mind is
new boots
. You want your feet to be snug and warm, and you also want them to be comfortable. When you choose your winter shoes, you should do so carefully. It is important to make sure that they fit you correctly and make sure they will serve you well for a long period of time after the purchase. In addition to comfort, the boots you choose should offer support and should be suited to the selected activity so that you get the most wear out of them. This helpful guide has been designed to provide you with advice that is practical. It will help you discover everything you need to know so you can make the right purchase. There are also plenty of tips on foot and boot care that will help you get the best out of your shoe over the years.
Deciding on the Best Type of Boot
Boots can be broken down into three different categories.
| Type | Description |
| --- | --- |
| | This type of boot is made for general day to day wear. It is designed for comfort and will often have a fair amount of cushioning. In general, they are built with membranes that are waterproof to offer protection in wet weather conditions. They are designed to wear on easy going terrains. |
| | If you are going to carry extra weight, it is important that the boots can easily support the pressure and the additional weight. Normally these kinds of boots offer more durability and support. They are heavier than daily wear boots and are made for shorter distances over moderate terrains. They are also well suited for venturing cross country into steeper and rugged types of terrain. |
| Mountain Style | Mountain boots are designed for extended trips or special activities are known as top end. They are heavier in construction, very rigid, and offer more support and durability than any other type of boot. They are well suited for climbing or mountaineering. |
Materials Used
The principal material used for making boots is leather. It comes in three main types: Suede/Split, Full Grain, and Nubuck. The variance in support, suppleness, resistance to water, and durability are dependent upon a combination of thickness and the process of tanning. For boots that are lighter in weight, softer leathers are utilized for performance and comfort. Additional materials involved such as stiffeners, foam, and fabrics for lining tend to vary depending on the desired use.
Leather boots that are full grain is selected based on the resistance to water, durability, and support that it offers. It is primarily used for boots that are used on long trips and tough terrains where protection and support are a top priority. Full grain boots will require breaking in. They tend to be much heavier than those made from fabrics or split leathers. They are more durable and suitable for regular usage.
Boots that are created from suede, split leathers, nylon, or nubuck are often softer feel much better on your feet. They are more suited for daily wear and do well on day or short overnight trips. They are normally made with Gore-Tex or Sympatex that are waterproof membranes that are guaranteed to be waterproof.
Adjusting to the Proper Fit
When you first receive your new winter boots, remember to try them on later in the day the first time you wear them. This will effectively be a better mimic to your feet when they swell due to walking. Make sure the fit is snug at the ankle and the heel. Be sure to leave ample room so you can curl and wiggle your toes with no restriction. When you first try on the boots it is normal to notice a few millimeters of heel lifting. As the boots become broken in, they will mold to your feet and this will decrease any lifting. In some cases where a boot may see a little large, it can be adjusted with a sock that is thicker or a volume reducer. Boots that are too small will often cause discomfort and blistering and they will never be made to fit. Expert cobblers can stretch and tweak a boot to help you achieve a better fit. It is important if you buy lace up boots that you pay attention to how you lace them because that can have an effect on the overall fit. When it comes to fitting, you must try on both boots because many people have one foot that is somewhat larger than the other. Walk around indoors and try walking on an incline if one is available.
If the boots seem to be comfortable, you should keep wearing them for a couple of hours. This will allow for your feet to warm up and settle into them properly. If the boots are not comfortable after this period of time or if you feel it is a major relief to remove them, then you should discontinue wearing them and return them to the store and try once again. It is possible you may need a different model or size or both could be a required solution. It is important to repeat this exercise as many times as necessary to find boots that will have a comfortable fit and be compatible with your feet. No matter how amazing the footwear claims to be, if the fit is not right, the boots will never meet your expectations.
Finding Winter Shoes on eBay
The best thing you can do after you have bought your new boots on eBay is to care for them properly. If you take care of them from the start, you will receive a much higher performance and durability from them. They can be much harder to bring back to life when they have been neglected. Avoid treating your boots with wax products because it can have effects that are detrimental on their performance and make any repairs exceedingly difficult.
All boots made from leather need to be properly maintained with proofing from products like Snow Seal to make sure they remain resistant to water and supple, which can also be found on eBay. You will not have to take these steps on every outing. Sometimes just one good cleaning inside and out will be just fine. Before you wear your boots for the first time, it is a good idea to use proofing products along the stitching.
Fabric boots are generally made with waterproof membranes but they still need to be treated from time to time to protect the uppers so that they do not absorb any water. It is recommended that after each walk, you clean out the stones, grit, or other debris from the foot beds so that they do not puncture the boot.
Your boots are not the only thing that will require attention and care. Your feet will also need this treatment, as well. Wear winter socks that are fast drying with natural or man-made fibers. This will help to keep moisture away from the skin. It can aid in the prevention of softening and heating of the skin and reduce the chance of blisters forming. For extended trips, take additional pairs of socks. Sometimes a simple sock change can give your feet a new lease on life. Be good to your feet and your winter shoes and they will be good to you.
Conclusion
When the warm days of summer have gone, and the sandals are tucked away, you will want to find winter shoes that are not only in style but will also keep your feet cozy and warm. Winter boots are very important for people who live in colder climates that are apt to receiving high volumes of snow. Use careful consideration and planning when searching for winter shoes. Make sure you find a proper fit and you take care of them so they will last you more than one season.