Are You Ready for Some Football?
This guide will offer you a short tour through the Wilson Football factory, so that you can see some of the important steps involved when making your Wilson Football.
The Wilson Football factory, in the tiny town of Ada, Ohio, is the last manufacturing facility in America where footballs are made. Each football is still made by hand. The 150 employees at the factory manufacture about 700,000 every year - that's about 3,000 to 4,000 footballs per day. Wilson's contract with the NFL is over 75 years old. Since 1941, every point scored during an NFL game has been with a Wilson football., in fact, Wilson's partnership with the NFL is believed to be one of the longest agreements in sports history.
Super Bowl Sundays are especially exciting for the Wilson employees. They're seeing their handiwork in action, because they are the makers of the Wilson Official Super Bowl Game Ball. Every football made for each of theSuper Bowls has been been produced by Wilson. In fact, Wilson makes all the footballs for every NFL team, with each team going through about 1,000 footballs every year.
The Start: Leather hides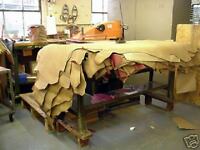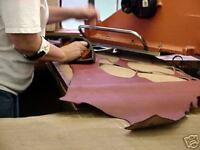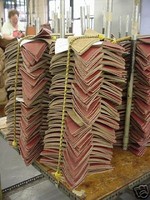 Shown above is a stack of specially tanned, water-resistant leather hides. The cowhides, from Iowa, Kansas and Nebraska, were shipped to a leather processor in Chicago, where they were stamped by a 20-ton press to get the familiar pebble-grain texture. Football shaped panels are cut from the hides, and four of the panels will be used for the production of each football. One cowhide yields enough panels to make 20 footballs. Since no two hides are identical, each panel may be trimmed to a uniform thickness and weight to meet official specifications.
Quality control is a key issue with football production, and there are over a dozen checks performed throughout the manufacturing process, which involves 50 or so different steps, depending on the type of ball being made.
Stamping and Sewing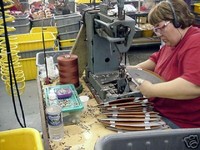 After the panels are cut, they are assembled into sets of four, which will be sewn together to make the completed football. The panels are stamped and decorated according to the type of football being made and the customers' order specifications. Outside decorations might include: the Wilson brandname, manufacturing info, team logos, team names, stripes, images, commemorative information, etc. Footballs with white panels are usually intended for decorative display, or as autograph balls.

A lining material is sewn into the underside of each panel to help the ball retain its shape and to protect the ball's bladder. Two of the panels are punched for lacing holes, then reinforced with a lining to protect the bladder opening and the valve ring. The four panels are then sewn together inside-out on a heavy-duty sewing machine.
Turning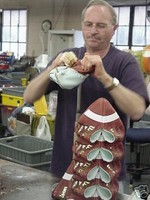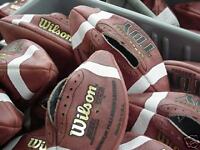 The next step, turning the football right side out, is one of the most difficult tasks to perform by hand. It requires a unique combination of skill, dexterity, and strength; so only a few of the employees are qualified for the job. Employees jokingly describe the difficulty of the turning job as "very similar to the difficulty of turning one of your sneakers inside out."
To make the job easier, a turner uses steam to warm and soften the leather. He also uses a vertical steel bar that provides leverage during the turning.
Lacing
Next, a polyurethane bladder is inserted through the opening in the lace area and the ball is pre-laced with linen thread. Lacing is a skilled job and only the most experienced lacers handle the NFL footballs. NFL footballs also undergo a few extra production steps for reliability during their "heavy-duty" use, but all the footballs undergo the same types of quality checks during production.
Inspection: The Finish
Completed balls are placed in molds (shown above) and inflated to 100 pounds of pressure. The process stretches and shapes a ball and by the end of a minute, pressure is reduced to the standard 13 pounds.
The very last inspection stages have each ball being assessed for quality standards in appearance, shape, length, width, stitching, and weight. The specifications of Canadian and American footballs are slightly different. These specs imply that a Canadian football, on the average, will be a tiny bit shorter. A Canadian football, as shown by the specs below, is not slightly fatter, even though many football fans believe this to be the case. Since most official Canadian and American footballs are manufactured by Wilson, it is likely that their dimensions are actually identical
National Football League (NFL) and
National Collegiate Athletic Association (NCAA) specs:
Long circumference 27 3/4 (705 mm) - 28 1/2 inches (724 mm)
Short axis - 20 3/4 (527 mm) to 21 1/4 inches (540 mm)
Canadian Football League (CFL) specs:
Long circumference 27 3/4 (705 mm) - 28 1/4 inches (718 mm)
Short axis - 20 7/8 (530 mm) to 21 1/8 inches (537 mm)
The chief difference between an NFL, NCAA, AFL and CFL balls is the type of stripe applied around the football 1 inch from each end:
NFL balls have no stripes
NCAA balls have broken stripes
AFL balls are tan with two blue S-shaped stripes
Canadian balls have complete white stripes
Other NFL football facts:
Inflation pressure of an NFL Game Ball: 13 psi
Weight of an NFL ball - between 14 and 15 ounces
Number of lace holes on an NFL Game Ball: 16
Number of Game Balls each NFL home team has per game: 24
Number of Game Balls used for the Super Bowl: 72
After each ball passes inspection, the ball is partially deflated to remove the strain from the seams. The balls are then ready to be shipped out - to the NFL teams, to colleges, to the Super Bowl, and if you are searching for a new Wilson football - to you.
I took these photos during a tour of the Wilson factory. Tours are available, by appointment, every week, except for the months of June, July, and August.
Every year, Wilson also sends several of the employees to the Super Bowl to set up a ball-making exhibition. Fans will stand as many as 10 deep to watch the football making processes.