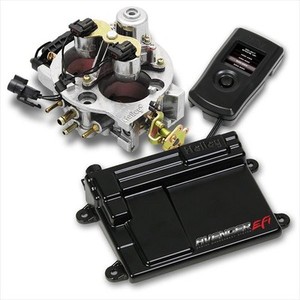 It can be frustrating for drivers to own a car that they know is capable of better performance, power, and even higher miles per gallon (MPG). Many cars are limited in this way as a result of the factory computer settings created by car manufacturers. These manufacturers do have good reasons for installing engine settings that are lower than the maximum output of the vehicle. However, drivers that buy certain cars specifically because they want more power or better mileage may find the factory settings to be a problem.
Certain aftermarket devices, called performance chips, allow drivers to override these factory settings and increase their vehicles' performance potential. Different kinds of these devices are available on the market to help drivers improve their cars in one or more areas, even managing nitrous oxide systems for a little extra boost. Most drivers can find these superchips in specialty auto stores, through chip manufacturers, and also on auction sites, like eBay Motors.
About the Performance Chip
Performance chips are aftermarket devices created to allow drivers to alter the factory settings on their vehicles. Using these chips, it is possible to increase a car's performance and improve its gas mileage. This is because performance chips can alter the gas and air mixture that enters an engine. This is done by changing the factory settings to allow more fuel to enter the cylinders. Performance chips are best used on cars that can handle high-octane gas. If the driver is going to use these chips to improve mileage, the car will need more energy in the form of a higher combustion fuel. High-octane gas combusts more efficiently, which creates more energy for the engine to draw on.
Why a Chip is Needed
Drivers may wonder why a performance chip is needed at all. Manufacturers can actually get a lot more performance out of a car's engine and other parts of the vehicle. However, they sometimes have to hold a car back to preserve its longevity, and meet pollution guidelines. Cars that produce more power also tend to produce more exhaust and depending on the settings, require more gas. However, drivers can override these settings to increase their gas mileage, improve vehicle performance, or add more horsepower to a car.
Different performance chips will provide drivers with different improvements. Some chips focus on improving mileage, while others provide more torque and engine horsepower. As with any aftermarket product, drivers should pay close attention to the pros and cons of adding this device to a vehicle.
Pros and Cons
Performance chips provide many pros for the driver looking to enhance vehicle power and speed. These chips override factory settings in the car's computer to allow the vehicle to combust fuel even more efficiently. Cars also handle more smoothly for the driver and provide a superior experience. Performance chips can also increase the miles per gallon (MPG) your car gets by altering the fuel mixture, as well as altering the air mixture that is combined with the fuel in the engine.
There is a reason that performance chips aren't used by average drivers. They have some drawbacks. In altering the factory settings, you will put more wear and tear on the engine and other car parts. Performance chips that are improperly installed in vehicles can put stress on a transmission and lead to major and costly damage. Drivers should also be aware that installing a performance chip in their cars will void the warranty, and may also make it difficult to pass vehicle inspections that test for pollution produced by the car. Take the time to thoroughly research performance chips before buying one and installing it in a vehicle.
Types of Performance Chips
Drivers looking for a little more power from their vehicles will have one of three types of performance chips to choose from. These chips have their own unique characteristics. One may allow drivers to plug in the performance chip and forget about it, while another allows the driver to constantly tinker with the car settings for the best response to meet his or her needs.
Engine Management Systems (EMS)
The engine management system provides drivers with almost total control over their engine settings. This device is meant to be a complete replacement for the onboard computer system. With the EMS, the driver can adjust the air/fuel ratio, fuel injector, car idle speed, and even provide management of wet and dry nitrous systems. The EMS is mounted inside the engine compartment, and the wires from the onboard computer that come with the car must be plugged into the EMS. Drivers can also plug their laptops into the EMS device to adjust settings and check performance.
Power Programmers
Drivers who don't have a lot of in-depth knowledge about car engines and systems can look to the power programmer to provide user-friendly control of the onboard computer. This device is plug and play, meaning drivers plug it into a port underneath the dashboard where it automatically connects to the car computer. The programmer will ask the driver a series of questions about what they want out of their car, and the car specifications. This process takes about ten minutes.
Upon completion of the questionnaire, the power programmer will upload a new program of engine settings to the car's onboard computer. The programmer can then be disconnected from the dashboard and won't be needed until the driver wishes to change the computer settings again. The programmer allows drivers to adjust settings related to different tire sizes, speed ratings, and even the rear-end gear ratio to improve overall performance.
Control Modules
Drivers that just want a performance chip to plug into their onboard computers and forget about can look to control modules. Performance chip manufacturers create custom programmed control modules designed for specific makes, models, and years of cars. These modules are heat shielded and can be plugged directly into the onboard computer. They are placed between the wires from different sensors in the car and the computer. Control modules intercept the information coming from the sensors, analyze it, and make necessary adjustments to improve the peak efficiency of the car. The information is then sent to the onboard computer, which implements changes in the vehicle's operation.
Control models are even available in different power levels to increase the power and performance of the vehicle to the driver's desired specifications. For instance, Bully Dog control modules are typically available in four different power levels.
| Setting | Stock Power | Tow/Economy | Performance | Extreme |
| --- | --- | --- | --- | --- |
| Horsepower | Stock | 50+ | 75+ | Up to 120+ |
| Torque | Stock | 100+ | 125+ | Up to 250+ |
Stock effectively means returning the car to its standard onboard computer settings. Horsepower is the amount of power the engine can provide to a vehicle. The higher the horsepower, the stronger a vehicle is and the more power it has at its disposal. Torque is the amount of turning power the vehicle has to get the wheels going. The more torque a car can apply, the higher that vehicle's acceleration rate.
Buying Performance Chips on eBay Motors
You can purchase performance chips on eBay by heading to the eBay Motors page. On this page is a "Parts & Accessories" form. To find a performance chip, just select the make, model, and year of your vehicle and enter the search term into the text box. For example, you can search for a specific brand, such as the "DVM performance chip." Once you have entered your search term into the form, just click on the search button to have eBay find and return the matching listings in a search results page.
Local Sellers
Once you begin searching for a performance chip through eBay, consider narrowing your search down to just those devices available through local sellers. This may allow you to meet up with the seller and get specific advice on how to install the product in your vehicle. To find local sellers, look for the "Distance" filter on the navigation menu of a search results page. Under this filter is a text box for you to enter your zip code and a dropdown menu to select a miles distance from that zip code. Ten miles is the minimum number of miles to set your search radius within and 2000 miles is the maximum search radius.
Conclusion
Performance chips are electronic devices meant to adjust the factory settings for a car's onboard computer. These chips can completely replace the car computer, adjust the program of the computer, or they can intercept sensor data and adjust it to make the computer react differently. These devices are aftermarket products that don't come installed in cars. Performance chips do override the factory settings, which are in place to help preserve the engine and other car parts, and also help cars meet federal pollution guidelines.
These chips can mean a car is worn out faster, and installing one can void the vehicle or engine warranty. Drivers should be absolutely certain they want to increase their gas mileage, car power, and performance with one of these devices before installation. Drivers can usually select from one of three different types of performance chips for their cars. Additionally, these chips are sometimes available at different power ratings to provide an increasing level of torque and horsepower, depending on the chosen rating. Performance chips are available through sellers on the eBay Motors pages.