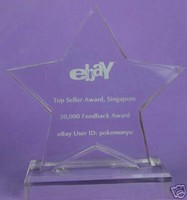 Dear fellow Ebayers,
I have been shopping in Ebay for pass 9 years and became an active seller in year 2000. The most common question I receive is "Is the stuff you are selling is authentic?". I even see myself in some blogs whom people who have not buy from me before comment "when it is too good to be true, it probably is". I will be able to understand all the doubt of Ebayers whom find a product sold for $100 in store to be going at $10 in Ebay.
But how Ebay seller do it? Below is the way how we do it.
1. We do not have to pay rent as we work from our own home.
2. We sign contract with big brand to receive the best price.
3. We know where to buy the best quality good at price seem impossible to other.
4. Bulk purchase.
5. Few workers.
6. Effective logistic team.
7. Bulk shipping discount.
We still believe that is still some "fake" items in Ebay but ebayers can reduce their risk by buying from reputable seller. There is still a lot of treasure for you to dig up in Ebay, but you need time and skill to find all the genuine bargain.
Stamps collection is the best example in Ebay, in the pass we collect stamps by buying one at a time from reseller or post office. Now Ebay stamp collectors can buy 10,000 stamps in one auction listing alone. That is what I call the Ebay power. Happy shopping in Ebay.
Best Regards
Pokemonyu