LED (light emitting diode) lighting is a high efficiency, long lasting light source.
LED lights
are very versatile and today the lights are used in many products including (but not limited to)
Christmas Trees
&
Tree Toppers
,
Wreaths
,
Yard Art
,
Decorations
and
Wax-less Candles
.
Saves Energy
Compared to incandescent lights which use 300 watts of energy for a set of 50 lights, a set of
50 LED lights
uses only 4 watts of energy. This will save you up to 90% on your energy bill while helping to reduce your carbon footprint. In the United States, if we replaced 25% of light bulbs with LED lights it would save over $115 billion dollars in energy costs.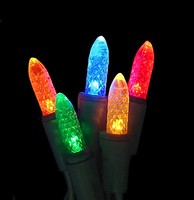 Cool To the Touch
Unlike your standard incandescent lights that get hot after being lit for a few hours, LED lights always stay cool to the touch. LED lights will not generate heat so they don't warm up your home and can be used all year round without the need to turn up the air conditioner. 3.4 BTU's per hour are generated from LED lights compared to 85 BTU's per hour for incandescent bulbs.
Longer Life
Led lights typically last 100 times longer than your traditional incandescent lights which will save you money in the long run. Less time and money will be spent on replacing burnt-out bulbs because the lights are sure to last year after year. LED lights generally have a 100,000 hour life compared to 2,000 hours for incandescent bulbs. The long life that LED lights have is not only soft on your pocket book but it reduces the amount of waste that is disposed of, hence reducing environmental impacts. Unlike other types of lighting, the life of LED lights is not affected when they are turned on/off.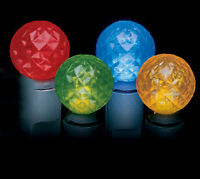 Brighter and More Colorful Bulbs
LED lights come in every color imaginable they are available in
red
, green,
purple
,
pink
,
blue
,
yellow
,
orange
,
clear
and
multi color
bulbs. The colors are more saturated and the bulbs are 10 times brighter than incandescent lights. Not only are numerous colors of Led lights available but you can also find the strand of lights with a
white wire
or
green wire
.
Durable
LED lights do not contain a filament which means they will not break as easily, they are solid and hold-up well under stress.
Mercury Free
Unlike some fluorescent and CFL lights, LED lights do not contain Mercury so there is no risk of toxic exposure. You can feel at ease using LED lights in your home around your family and friends.
Buy in Bulk and Save Even More Money!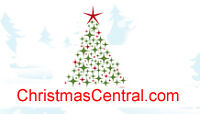 Guide Expertise
ChristmasCentral.com
, is a family owned and operated business founded in 1977. For over 30 years, we have established long-standing relationships with suppliers worldwide enabling us to bring our customers top quality merchandise at tremendous savings. As a result, we have become a premier online retailer.
No one can resist what has made us famous—the world's largest inventory of unique and often hard-to-find Christmas and seasonal items.
ChristmasCentral.com
ships more artificial Christmas trees and holiday decorations from one location than any business in the United States.