To all those who have e-mailed me with wonderful, kind comments about my guide, Thanks! To all those who have shared their make-up secrets...SUPER BIG eBay HUGS!!!
Who would have guessed that over 8,339 people would read this guide! That's really cool!
Tips & Tricks Looking Fab Over 40!
Age gracefully they say! Why, I ask? Since I've turned 40, mother nature has played some nasty little tricks on me. One night she snuck into my bedroom whislt I was delightfully dreaming and stole my triceps! Yup, that's right. Both, left and right, gone! I've since been seen doing dips on the kitchen counter, at the grocery check-out, even in line at the bank. *Sigh* I'd better start practicing that first-lady princess wave soon.
Age gracefully? Nah, I won't give up that easy. I love finding tips and tricks that enhance or improve my over 40 look. Recently, I was watching the movie Mean Girls with my daughters. You know, that movie with that cute little, skinny, beautiful, Lindsay what's her name! Well anyway, in one scene, I noticed she had a tad of white eyeliner in the corner of both eyes. Hum, I thought. There must be something to that!
After scouring the internet, I came up with my favorite look-great tip of the summer. White eyeliner, when applied correctly can make your eyes look bigger, brighter and more radiant (radiant equals youthful for us over 40s).
Appyling White Eyeliner
After your base make-up is applied, dab a bit of concealer under both eyes and on both lids. This evens the skin tone and provides a base on which to apply your shadow.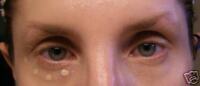 Using the color of eyeliner you wear daily, line the outside corners of both upper and lower lids. Lining the inside of the lower lid with dark liner will make your eyes appear smaller. So, don't.
.

Apply eye shadow. Darker colors toward the outside of the eye and lighter colors toward the middle, makes eyes look larger.
At this point curl lashes and apply lash builder if you choose. Do not apply mascara.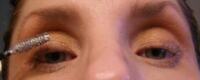 Carefully apply a very thin line of liquid eyeliner at the base of the lashes on the outside corner of both upper lids. This step is optional. I have very small, close set eyes. If your eyes are already large and well spaced apart, you may want to skip this step. Use sparingly, you don't want to end up looking like Cleopatra.
Using an off white (not stark white), cream, or light pink frosted (reflects light) eyeliner, dab pencil where upper and lower lids meet on the insider corner of both eyes. Step away from the mirror and examine the effect. Add more or less. You want your eyes too look brighter but natural and not theatrical. Smudge the liner if necessary.

Line the inside, outer corner (not whole lid) of both lower lids. Again stand back from the mirror and examine the effect. In this case, less is best. It only takes a small amount to creat the illusion of brighter, wider eyes.

Apply mascara for the finished effect!
Why not have a little fun and add a beauty mark!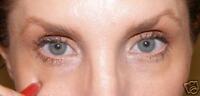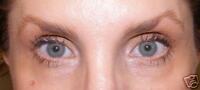 Remember, natural NOT theatrical!
~Thanks for taking the time to read my guide!
~Help me become a Top 100 reviewer by voting "Yes" if you found this guide useful!
~Check out my other guides for tips on anything from make-up to barbecue!
~Happy ebay Adventures from borrowedbooks :-)
Don't forget your suncreen today!
If you sell this item and would like me to add your store link to this guide, just email me!