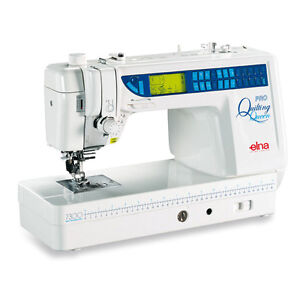 Clothing is as much of a necessity as it is a fashion statement; therefore, people who sew will always be necessary and appreciated. Tailors also use the craft of sewing to piece together bedding, napkins, upholstery, and many other items made of fabric.

Despite the necessity of sewing in the construction of apparel and bedding, hand stitching was the common way of manufacture throughout human history until the mid-1800s when functional machines that manually stitched clothing were first patented. These first machines were used in factories rather than homes, however. Since electricity had not yet been invented, early machines were run via a pumping motion using a foot pedal or via a hand-operated crank.

The first household machines were in wide use by the turn of the 20th century, and today, sewing machines are common home appliances. There is an abundance of styles, types, and features found in modern machines.
Types of Sewing Machines


When shopping for a sewing machine, the many different choices can be overwhelming. Choosing the correct machine depends on many factors. The casual user who wants a machine around for basic mending jobs will choose a different machine than a small business owner who crafts shopping bags or doll clothes, for instance. A beginner will probably choose a simpler machine with only a few knobs and switches, but computerized machines that essentially do all of the sewing with a few programming commands are also available. Learning the names of different types of machines and researching available sewing functions will go a long way in making an ideal purchasing decision.
Mechanical


Mechanical sewing machines are the simplest machines that run on electricity. Most functions of a manual must be adjusted by the tailor. The tailor controls the speed via a mechanized foot pedal. Less pressure on the pedal slows down the speed of the stitching while more pressure speeds it up.
This type of machine often requires the tailor to employ much more of a trial-and-error process than when making projects with other, more complicated, machines; thus, using a mechanical machine is often more time-consuming and not as precise regarding size and tension of stitches. Finding the correct tension for the project is vital since the wrong thread tension will make the stitches so loose that they will not hold or too tight so that the fabric bunches.

If shopping for a beginner or someone who will not use their machine often, a mechanical machine is the ideal choice. Their functions are easier to learn, and they are usually much more inexpensive than more elaborate machines.
Electronic


Electronic sewing machines have more functions than a mechanical sewing machine. Some features of an electric machine include the ability to automatically cut the thread and to automatically adjust the tension and stitch length to fit the needs of a particular project. This saves the home tailor time and frustration. Electronic machines will also automatically sew buttonholes when the desired size and shape is inputted into the machine.

These types of machines are more efficient than mechanical types because they are run via electrical impulses to control the speed and accuracy of the stitching. Mechanical machines, on the other hand, rely on mechanical parts only, making them essentially no more than a manual machine run on electricity.

Electronic machines are ideal for the amateur home tailor who has more than rudimentary knowledge of the art of sewing. If planning to use the machine on a semi-regular basis or for more elaborate projects than basic hemming, an electronic machine is the ideal choice.
Computerized


Computerized sewing machines are the most professional machines available to the home tailor. They have a multitude of automatic functions available with a small amount of programming. These machines essentially do all of the work.

Owning a computerized embroidery machine is an asset when creating beautiful embellishments or monograms for a sewing project. The user can download programs to a memory card to plug in to the memory of a computerized machine, or the home tailor can use cartridges already embedded with certain patterns.

Computerized machines, therefore, are essential when creating elaborate embroidery patterns or in the setting of a small home business that sells handmade goods. A computerized machine may be ideal for the beginner as well if they plan to use their machine often. These machines require more sewing knowledge to run, however, and their price can be prohibitive to the beginning tailor.
Manual


Not to be confused with basic mechanical types, manual machines that are foot-powered or powered via a hand-crank on the side can still be found. The majority of them are antique. They are more commonly seen as décor rather than actually used for sewing.
Other Sewing Machine Considerations


The home tailor needs rudimentary knowledge regarding tools when using a sewing machine on a regular basis. Machines that are used often must be dusted and oiled at home. Specific machines and manufacturers have different instructions regarding care.

It is also useful to have the necessary accessories and tools on hand before beginning a sewing project. This includes, of course, the material and thread that are needed, but having extra sewing machine needles, scissors, and other tools readily accessible will speed up the process if the project hits any snags.
| | |
| --- | --- |
| Fabric | Fabric choices are as diverse as the creations they will be turned into. Fabric can be made of natural fibers, like cotton, hemp, silk, and bamboo, or synthetic fibers like nylon and polyester. Fabrics vary in thickness, or weight, as well. It is always advisable to have more fabric on hand than the project requires in case something goes wrong in the sewing process. |
| Needles | The correct type of needle is dependent on the fabric used for the project. Basic needles are used for fabrics of average thickness, like printed cotton or nylon. Thinner fabrics such as linen or silk will require a different type so as not to harm the delicate fabric. Knitted material like that seen in T-shirt fabric requires a ball-point needle. Use another type of needle for thicker fabrics like denim. Needle types are easily identified by a small colored stripe near the top. |
| Memory Cards | Used in computerized machines, memory cards can hold pattern and embroidery designs. The amount of data they can hold varies. More of a "cartridge" rather than a card, these can be purchased pre-programmed with a certain embroidery pattern or are available as a programmable variety. These can be basic landscape or animal patterns, and cartridges are also available in licensed character varieties. |
| Tools | Useful tools to have on hand when using a sewing machine are a screwdriver and machine oil. A screwdriver is used to take off the housing of the machine when it needs to be oiled. |
| Patterns | The home tailor will need a different pattern type depending on both the project and the machine being used. Patterns made of thin paper that the user cuts out and places on fabric in order to cut the project pieces can also be found. PDF patterns are also available that the home tailor can print out on paper at home. |
| Scissors | A pair of scissors or a cutting wheel are indispensable for the home tailor. |
| Case | To keep a machine in prime condition and dust-free, a case is recommended. Some machines come with a full set of accessories, including a case, while cases can also be sold separately. Both hard plastic cases and tapestry-style thick fabric cases are common. |
Finding Sewing Machines on eBay


No matter the type of sewing machine desired, begin a search on the eBay homepage. On the left-hand side of the page, hover over "All Categories" and select Toys & Hobbies or Sewing & Fabric. From there, type "sewing machine" into the search bar.
Shoppers can also search for sewing machines in all categories by typing the desired machine in the search bar on the main page, such as "Brother computerized sewing machine."

Accessories can also be found by searching in the Sewing & Fabric section or by using the search bar on the homepage.
Conclusion


Sewing is a useful and necessary pastime. Knowing the needs of the intended projects, terminology, and the features and specs of the desired machine will assist in making the right sewing machine selection. The home tailor can choose the ideal machine and accompanying accessories with ease as long as they have basic sewing knowledge.