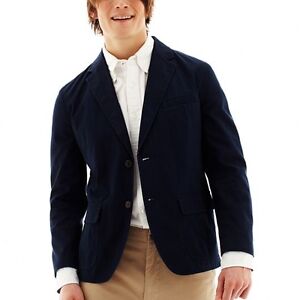 Although similar in many ways, blazers, sport coats, and suit jackets have distinct differences that distinguish each from the others. These three staples of a man's wardrobe experience evolution as new fashion trends emerge and change, but each jacket maintains general characteristics unchanged by prevailing designs.
Distinguishing Between Three Jackets
At many social functions, anything goes; however, some occasions require adherence to appropriate levels of formality. As a rule of thumb, wear suit jackets for formal events, blazers for less formal occasions, and sport coats for the least formal gatherings.
Suit Jackets
By definition, suit jackets form part of an ensemble: Suit jackets are sold with trousers and, sometimes, vests. Tailors use the same material and same color to make each piece, so the jacket, trousers, and vest match exactly. If the jacket does not come with trousers, then it is not a suit jacket.
The Look
Suit jackets could come with any combination of the following features: single-breasted or double-breasted; peaked, notched, or shawl lapels; vented or unvented; and American, English, or Italian styles. The appearance of the suit jacket that a man wears depends upon the style of the time and that man's personal preference. Regardless of evolving fashion, only one rule exists with respect to a suit jacket: Wear it with confidence.
Color
No specific color defines a suit jacket. Dark, somber colors have remained popular choices over many decades, but men can find suits in every imaginable color. As a general guideline, choose muted colors for business and formal events, and save brighter, vibrant colors for fun.
Pockets
Suit jackets have either jetted pockets or flap pockets. Sewn into the jacket's lining and having an almost invisible opening, jetted pockets keep the lines of the suit smooth. Slightly less formal suit jackets have a small flap sewn over the jetted pocket; the small addition creates flap pockets. Horizontal pockets grace most suit jackets, but some jackets do have diagonal pockets.
Buttons
The buttons on suit jackets are not obviously noticeable and blend in with the color of the fabric. Most buttons are made of plastic, but, occasionally, buttons covered with fabric are used. The buttons on the sleeve match the waist buttons in more than appearance: The amount of sleeve buttons on a suit jacket always matches the number of waist buttons.
The Material
Worsted wool, with a smooth, slightly shiny appearance and preferred for the way it hangs and drapes, makes up most of today's suit jackets. Many consider suits of this fabric suitable for year-round wear, but suits of other materials do appear on the seasonal scene.

Flannel and tweed do find use in the manufacture of warmer suits made for winter, and suits made for the warmer months have silk, cotton, gabardine, lightweight wool, or linen construction.

Regardless of the type of fabric used, the fabric used in suit jackets is woven more finely than the fabric of blazers or sport coats. This keeps with the smoother, more formal appearance of suits.
Wearing Suit Jackets
Wear suits for occasions such as weddings and formal business meetings. To wear a suit jacket properly, leave the bottom button unfastened. As a rule of thumb, unbutton the jacket when seated, and refasten when standing up. Do not wear a suit jacket interchangeably with a blazer or sport jacket; the fine weave of the fabric and the formality integral to a suit jacket do not suit dressing down.
Blazers
Associated with yachting, golfing, and clubs, blazers provide a dapper look that is less formal than a suit jacket and more polished than a sport coat. Curiously, this jacket dresses down easier than the less formal sport coat.
The Look
In various respects, blazers fall somewhere in between suit jackets and sport coats. They are roomier than suit jackets yet closer fitting than sport coats. These jackets bridge the gap between formal and casual, and they epitomize the concept of a dapper gentleman.
Color
Although the jacket originally blazed with vivid color, the traditional color for blazers in the past century has remained navy blue. This is not set in stone, as many clubs utilize grey or tan, and designers employ a rainbow of colors when creating their version of a blazer.
Pockets
Rather than formal flap or jetted pockets, blazers sport patch pockets - flat patches of fabric sewn directly onto the outside of a jacket. Patch pockets on the bottom of the blazer may or may not have a flap, but the left breast pocket always remains open.

Club and association badges often adorn the left breast pocket, but etiquette states that blazers should not display a badge or a crest for purposes outside of the particular society to which the design belongs.
Buttons
Buttons categorically distinguish blazers from other jackets. Unlike sport coats and suit jackets, blazers' buttons do not blend in with the fabric's color; rather, the buttons act as noticeable accessories. Most manufacturers use simple brass buttons, but many blazers display buttons of gold, silver, or mother-of-pearl.

Sometimes, buttons may have meaning. The accessory may exhibit the same design as the crest on the breast pocket, or the buttons may change hands from father to son as a family heirloom. If purchasing buttons separately from the blazer, research any obvious motif to avoid possible social blunders.

Buttons that come with the suit do not need to stay on the suit. Actually, switching out between two or more sets of buttons can give one jacket many different looks.
The Material
Blazers are made from fabric that is sturdier than the fabric of suit jackets but has a smoother texture than the fabric used to make sport coats. The classic fabrics are worsted serge, which is a cloth of wool or silk with ridges or slanted lines, worsted wool, and flannel. Although sturdy fabric is traditional, shoppers can find lighter fabrics such as silk and cotton for hot weather blazers.
Wearing Blazers
Dress a blazer up by pairing it with compatible dress pants, a shirt, and a tie, or dress it down with a casual T-shirt and jeans. When wearing a blazer for informal business or a social event, let the formality of the occasion determine what to wear with the jacket.
Sport Coats
Sport coats have a looser fit and more casual look than suit jackets and blazers. These jackets come to mind when a person thinks of an academic professional sitting in a library, but they appeal to a diverse range of men.
The Look
The availability of options gives sport coats a great deal of preference as a casual jacket. Designers often incorporate pleats, belts, and offset pockets in the design details. Many people associate these single-breasted jackets with elbow patches, but an equal amount of sport coats are free of patches.
Color
Sports coats are most often found in earthy colors, and both solid colors and patterns have equal favor. Popular patterns remain houndstooth and sharkskin, but plaid jackets have a vintage appeal.
Pockets
Flap pockets are the pocket of choice for sport coats. Some designers include a small ticket pocket on the right side that has more design merit than practicality.
Buttons
Frequently, sport coats don the same buttons as suit jackets, but leather buttons exist to grace jackets designed with slightly more flare. Also similar to suit jackets, sport coat buttons match or blend with the coat's fabric.
The Material
Traditionally, thick, rough fabrics make up sport coats; in fact, textured, nubby fabric is synonymous with this jacket. In keeping with changing fashions, modern designers use cotton, wool, corduroy, and camel hair in a variety of weights for their creations.
Wearing Sport Coats
Sport coats pair nicely with jeans, chinos, and other casual trousers but do not mix a solid color sport coat with pants of a similar color; the result is that of a poorly put together suit. Unsuitable for formal occasions, wear sport coats for casual business, outdoor events, and informal gatherings. Mix and match sport coats with T-shirts, collar shirts, vests, and ties. Some men dislike the look of casual shirts with sport coats, but the match is a matter of personal taste and style.
The Style
When shopping for blazers, suit jackets, and sport coats, three terms may appear: American style, English style, and Italian style. Not exclusive to the country bearing the style's name, the three styles are found across the world, and any one sport coat might include details from each style. The following descriptions contain only basic characteristics.
| | |
| --- | --- |
| American Style | American style jackets feature a natural shoulder, a roomy, boxy body, and a back vent. Most jackets of this style are single-breasted and have either two or three buttons. Patch pockets and flap pockets are both seen, and lapels are notched. |
| English Style | English style jackets have a structured shoulder and small waist to provide the illusion of a tapered torso. These are not as boxy as American style jackets and are made both single-breasted and double-breasted. The jackets have notch lapels and vented sides. |
| Italian Style | Trademarks specific to Italian style jackets are the lightweight fabric, the square shoulders, and the lack of venting. Basically, this style has less structure, more flair, and more flow than the other styles. |
Finding Blazers, Sport Coats, and Suit Jackets on eBay
Find these jackets on eBay by typing the name of the desired jacket into eBay's search engine. To browse a larger selection or refine a search, use the navigation bar on the left side of eBay's homepage. Hover over the Fashion selection, and choose Men's Clothing from the next display menu. From the Men's Clothing Shop, select either Blazers & Sport Coats or Suits to find the most suitable jacket.
Conclusion
By understanding the difference between blazers, sport coats, and suit jackets, men can avoid making a social blunder or experiencing the awkwardness of being either the most overdressed or underdressed person in the room.