While the answer to this question will be somewhat dependent on the audience you're targeting (are you selling to students, stay-at-home Moms, business people, etc?), the overall answer will be tied to eBay's visitor statistics. Particularly, split into days of the week, and times of the day.
About.com has an interesting article on the subject where Aron Hsiao writes:
• Peak visitor-ship on eBay runs in daily and weekly cycles following the same pattern seen around most of the World Wide Web. In general, traffic flows according to the following two simple rules:
• Daily peak visitor-ship is between 8:00 PM eastern time and 10:00 PM pacific time. To maximize bidding for daily peak time, list your auction during this window so that it will close during this window and gain the largest possible daily audience.
Weekly peak visitor-ship is on Sunday evening. To match your listing to the weekly peak in order to maximize bidding, list so that your auction will close on a Sunday evening between 8:00 PM eastern time and 10:00 PM pacific time.
Listing seven-day auctions every Sunday evening is a convenient way to time your auctions well without having to think about it too much, while also avoiding the surcharge on 10-day listings. Using these simple rules, you can maximize your bids on an ongoing basis. List seven-day or ten-day auctions whenever possible and time them to end on Sunday evenings.
Aron's advice seems to match these observations:
Experts agree that a seven day auction is best. The primary reason for the longer auction is to attract more attention and viewers to what you are selling… Typically, Sunday is considered the best day to end an auction followed closed by Saturday and then Friday.
Perhaps thought the most important timing factor of an auction is the actual time that is does end. You should shoot for auctions that end between 10 and midnight Eastern US time. I was also able to find two interesting studies on the subject — both somewhat dated, but still relevant.
First of all, there is an eBay Seller Central Report: How Buyers Use eBay (2005) which has some extremely interesting stats on eBay buyers' demographics, browsing patterns, eBay categories of interest, and much more. Speaking of traffic-related questions, on page 10 it shows us the following two graphs:

On the same page the report says:
A well-timed listing will be live on a Monday, perhaps even two Mondays with a 10 day auction
• More visitors tend to come on weekdays
• Traffic is heaviest on Mondays and Sundays
Another study worth turning to is a study by David Steiner of AuctionBytes.com who over 4 years (1999, 2001, 2002 and 2003) was polling eBay sellers to find out the best day and time to end an auction.
Here are David's two tables (highlighting mine):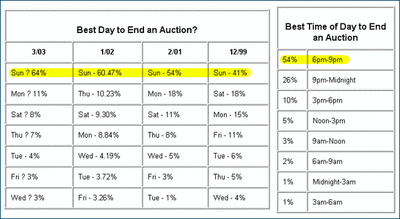 Based on all of the above data, here are my conclusions:
Day of Week: When possible, end your auction on Sunday. Monday & Saturday are your second choices, followed by Friday.
Time of Day: Aim at ending your eBay auction at 9 pm (+/- 1 hour) Central Time. Second option: the following 3 hours.
I hope this guide helps you!! If you have found it informative please click YES below.