Ok, I hear you groaning....not another vocabulary word!?! In this article, I will tell you what it means, and why you want to be a pocillovist!
Pocillovy: The definition
Pocillovy comes from the Latin pocillum ovi meaning "a small cup for an egg". Pocillovy is the collecting of these cups.
So...what are they used for?
Egg cups are used extensively in European countries as a serving dish for soft boiled eggs eaten for breakfast. The egg in its shell is placed in the cup, then the diner gently breaks the shell around the tip of the egg, removes it, then scoops out the tender egg with a special egg eating spoon. There are also special slicers that will remove the top of the shell with less of it getting into the egg!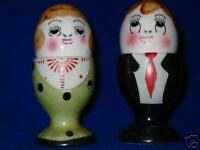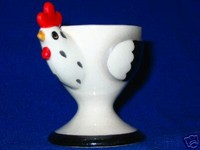 Mr. & Mrs. Humpty Figural Cups Coq Rouge by Howard Holt
What if I don't eat eggs?
Egg cups can be used for many purposes besides the one intended. For instance, they can be used at the table during dinner parties for a variety of purposes:
Individual mini vases

Candle holders

Salt wells

After dinner mint or nut cups
Children would also love having their Easter Egg creations elevated by display in an elegant egg cup!
Why do people collect them?
Like much kitchen ware, egg cups are highly collectible because they are:
Useful
Small (easy to bring home from travels, and to display many of them)
Thematic (Chicks, Disney Characters, Pigs, etc)
Some marked by top artists
Colorful
Affordable
Made of a variety of materials: wood, pottery, milk glass, china, silver, etc
Sure to go up in value
There are fun clubs to belong to
This is a hobby that is still young and affordable to get into. Eventually, these will go up in value like cookie jars did! If you are interested in pocillovy, please visit these auctions.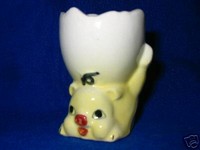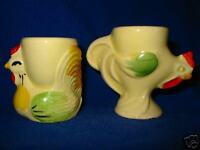 Unmarked Pig Two Roosters marked England