Chances are if you're reading this, your mechanic has told you that your oxygen sensor (commonly referred to as an O2 Sensor) has tripped your check engine light. Don't fret, as this is possibly the most wearable sensor found on cars today and is a common issue.
So, you may ask yourself What does an oxygen sensor do?
Answer:
The oxygen sensor monitors the engines air to fuel ratio by measuring the amount of free oxygen in the exhaust. It reports this information to the engine control unit or ECU. Approximately every 10 milliseconds the ECU uses this information to make corrections to the air to fuel mixture for maximum efficiency.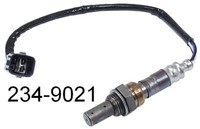 Click here to see our listing of oxygen sensors!
Be sure to click here to visit our eBay store to see all our great parts!