I am often asked, What can you make with Goat's Milk besides soap and lotion? Well, almost anything that you would make with regular cow's milk can be made with goat's milk: cheese, yogurt, ice cream, butter, etc. You can also add it in liquid or powdered form to recipes for everything to fudge to soap to skin cream!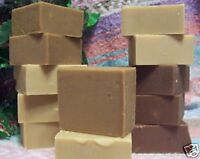 After several people asked us this question, I began to search the internet. We scoured the local stores -- country stores, farm markets, etc. We picked the brains of dairy goat keepers. We found lots of cheese recipes, and tons of other stuff. You can make Mozzarella cheese, ricotta cheese, cottage cheese, cultures for cheese making, goat's milk fudge, and more. We've even found a few recipes of other dairy goat keepers online. Most goat dairys will sell goat milk, goat milk butter, and several varieties of goat cheeses.

You can substitute Goat Milk products in any of your favorite recipes that call for milk. If you are interested in making your own goat milk cheese, ice cream or yogurt, be sure to see a few of our recipes below or you can do a google search for your own.

Like most milk products, goat milk can be frozen. Canned or reconstituted powdered goat milk should be frozen in plastic or glass containers allowing enough room at the top for expansion. It is recommended that you thaw your frozen milk in the refrigerator and use it within seven (7) days after being defrosted. To maintain good flavor, do not freeze goat milk for more than two months. Goat Milk Butter may be frozen for 6 months. We do not recommend freezing quality goat cheeses. (Don't freeze cow's milk cheese either; if you've tried it, then you know why they say not to freeze it!)

Here are some favorite recipes, but we are always looking for more delicious ways to serve goat milk products. Please feel free to send us your family's favorite recipes!

These dishes are for all goat milk lovers and may call for ingredients such as eggs, nuts, or cow butter and cheese, to which some people may be sensitive. Adjust recipes by substituting egg replacers, margarine or goat cheeses as necessary.


Remember, you can substitute Goat Milk in any of your favorite recipes that call for milk!

Simple Soft Cheese: This is an easy recipe that only requires 1/2 gallon raw goat milk, the strained juice of 2 medium lemons, a thermometer capable of the 180-200°F range, some "cheesecloth" (many cotton cloths will work for straining), and some coarse salt (kosher or sea salt). (This recipe will not work well with pasteurized milk).

Heat milk on medium heat (in a stainless steel pot) to 185°F


Remove from heat and stir in the lemon juice


Stir for several minutes until milk has curdled


Add 1/2 tablespoon of coarse salt (optional)


Pour milk through cheesecloth


Wrap curds in cheesecloth and hang (using a rubber band works well) in the refrigerator to drain


Drain for 4-8 hours, depending on how dry you want the curds


Scrape curds off cloth into bowl and stir

That's all there is to it! Use on toast, in salads, with pancakes - whatever you wish. Experiment using herbs (added at the end when you stir the cheese). For larger curds, heat the milk well into the 190's before curdling. Experiment with curdling temperature and drying time to get the cheese that meets your needs.

Cajeta (Mexican Caramel Candy)
3 quarts goat milk
2 tablespoons cornstarch
3 cups sugar
¼ teaspoon baking soda
Dissolve baking soda and cornstarch into 1 cup milk. Stir well to dissolve any lumps. Add rest of milk and add sugar. Bring mixture to boil, stirring constantly while cooking. Cook until the mixture is thick and looks like caramel sauce. Pour into jars, cool, and refrigerate. This makes a great topping for ice cream and makes a delicious apple dip!

Fudge
3 cups sugar
2/3 cup goat milk
3/4 cup margarine
6 oz. chocolate chips
7 oz. marshmallow creme
1 tsp. vanilla flavoring
Combine sugar, milk and margarine in heavy quart sauce pan. Stirring constantly, bring to full rolling boil. Reduce heat to medium and continue boiling five minutes. Remove from heat and stir in chocolate chips until melted. Add marshmallow creme and vanilla, beating until well-blended. Pour into greased 9 X 13 pan. Cool at room temperature. You can also add nuts, if you wish. Enjoy!!!