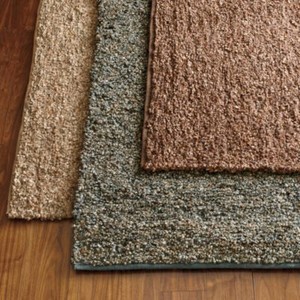 When it comes to decorating a home, there are fashions that come and go, and staples that stay around forever. Rugs are one such staple. Their production has been traced all the way back to the Bronze Age. Today, certain types of rugs accrue value very quickly indeed, and are often worth many times their purchase price a mere 50 years after they were bought. Many rugs are passed down within families as heirlooms.
In this guide, we will explore the history of rugs, the different types of rugs available on the market today, and how to buy a good rug on eBay.

The History of Rugs
Rugs are one of the very earliest soft furnishings known to man. Early rugs are still being discovered in the Middle East and Far East. These rugs are artifacts, and are studied by archaeologists and anthropologists. Some of the ancient rug-making traditions have been carried into the Modern Age, unchanged, whereas others have evolved into the newer techniques we see today.
Early Rugs
The very earliest rug ever discovered was found at a Pazyryk burial mound in Siberia, and subsequently named the "Pazyryk Carpet." It dates from around 4,500 BCE, and the rich colors of the pile carpet are still evident. The earliest discovered knotted pile rugs were made in 2,500 BCE, and came from West and South Asia, though evidence of earlier rug making activity, perhaps going back as far as 6,500 BC, has been unearthed.
Indus Valley inhabitants used spindles to create what many historians consider the first weaving materials. Bronze Age examples from Persia are also particularly noteworthy. However, because of the natural materials used, few examples survive to the present day.
11th-Century Indian Rugs
Indian carpet weaving may have started with the first Muslim invasion of the Indian subcontinent, as early as the eleventh century. Certainly carpet weaving in India was well established by the 15th-century, with many stunning examples still in existence today.
13th-Century Armenian Rugs
Coveted by travelers and social historians, Armenian rugs are some of the most valuable early rugs available. Early Armenian rug designs often feature eagles, dragons and serpents as recurring themes. Rugs were often made to complement curtains, and certainly their woven structure was very similar to the style of curtain-making found in the same area during the same time period.
16th-Century Persian Rugs
World-renowned Persian carpets have a well-documented past. Examples from the Safavid dynasty, which covered 1501 to 1736 CE, were depicted in paintings, which point to a much longer history. Persian carpets, often made of wool or silk, are still made in modern-day Persia (Iran), and today Iran is still one of the leading rug exporters in the world.
19th-Century Chinese Rugs
Though Chinese rug making went back many hundreds of years before the Victorian Era, they were not made to be exported abroad. However, in the 19th-century, China began to cultivate international rug trade relations, and changed their methods of rug manufacture to suit the needs of Victorian Britain and 19th-century America and Europe.
Modern Rugs
In the 20th and 21st- centuries, rugs have continued to find a place in the modern home, with mass production becoming an efficient way to meet the growing demands of expanding markets. Rugs can now be found in most department stores, as well as online, and come in a large variety of materials and sizes. Kitchen rugs, outdoor rugs, door mats, stair treads and runners are just some of the many different rug types available.

Types of Rugs
Rug quality varies depending on the manufacturing process and the materials involved, and a huge variety of contemporary rugs stock the shelves. From nylon, rayon and acetate, to wool, silk and cotton, rugs are made of a variety of materials.
Tufted Rugs
Tufted rugs are easy to mass produce, and make up the vast majority of the rugs and carpets sold. The tufted material, which is usually man made, is injected into a backing material, which is then bonded to another material, often hessian, for added strength.
Needle Felted Rugs
Needle felted carpets are very durable. Their compact fibers are attracted together via electrostatic means. This type of rug is very new, having only been available for the last three decades. Because of its extreme durability and higher cost, it is often used in high traffic locations rather than homes.
Knotted Rugs
Knotted pile rugs can be machine or man made, depending on their origins. The thread making up the carpet is pulled through the backing material. Knotted rugs are available in an array of colors and sizes.
Woven Rugs
Woven rugs are created on a loom, and because of this, they can be stocked with many different colored yarns. Both loop pile, also known as berber, cut pile rugs and a combination style can be made this way. The loom is the oldest known rug making technique, and continues to be a means of creating attractive, detailed designs. When hand loomed, rugs of this nature can be particularly expensive.
Hooked Rugs
The domain of many a hobbyist, the hooked rug is a style in which pieces of material are drawn through a burlap backing to create a simple rug. These hooked rugs, while less expensive than their more intricate counterparts, are charming and useful.
Flat weave Rugs
Threads or long pieces of material are woven in and out of the cotton instead of being tied around it. Sometimes, hobbyists make flat weave rugs out of strips of old pieces of clothing, such as jeans. European flat woven carpet types include Damask, Venetian and Dutch styles.
Embroidered Rugs
Embroidery is a very old craft. Instead of being formed on a loom, embroidered rugs were hand stitched onto a cotton or linen backing, held taut by a frame. Royalty joined in too. Mary Queen of Scots was known to have been an avid embroiderer. Some Victorian embroidered rugs feature very realistic, faux three dimensional flowers and other intricate designs. Embroidered rugs were somewhat mass produced when steel needles became available, but have largely remained the domain of craftsmen.

Why Buy a Rug?
There are a number of reasons to add a rug or two to any room in one's home. A rug is not simply a decorative choice, but also a very functional piece of soft furnishing.
Decoration
Modern rugs are largely chosen as decoration. Rugs are made in such a large variety of colors that they tie in nicely to any style of home decor as well as any color scheme. Decorative rugs can be surprisingly ornate, and the designs can vary from popular children's cartoon characters to very detailed contemporary subjects. A decorative rug can bring the rest of a room together nicely and can turn a stark living space into a much more sumptuous one.
Soundproofing
Carpets are installed wall-to-wall for a number of reasons, including their soundproofing properties. An alternative, popular flooring choice is hardwood or laminate. While this type of surface is very easy to keep clean, sounds do reflect off of hard surfaces. An area rug can remedy this in an attractive way. Since sound is absorbed by the fibers of the rug rather than being reflected off the floor, it creates a much quieter space.
Softness
Whether it is placed on carpet or on a hardwood or laminate floor, a rug will often add additional cushioning to the floor. This can be very useful in households with smaller children who are prone to falling over and hurting themselves. It also creates a pleasant surface to walk on.
Insulation
While hard flooring is practical, it does not offer the same insulative properties as a carpet and underlay. Placing rugs on the floor can be an attractive solution. Because of the packed nature of the fibers, heat is trapped in the winter, and cool indoor temperatures are maintained in the summer.

How to Buy a Rug on eBay
Searching for a rug on eBay is simple. All a buyer needs to do is head to the Home & Garden section, then the Rugs & Carpets subsection to get a list of all the rugs posted for sale on eBay. If the right rug cannot be found in an initial search, the buyer can try eBay Stores. A buyer will find quite a number of sellers offering rugs at great prices. If something very specific is being sought, an ad can also be placed in the Want it Now section, or a search can be saved for later. Either way, the buyer is notified by email should a item listing that matches their criteria become available.
If the buyer wants to ask the buyer some questions, or would like photos of the rug from different angles, they can contact the seller by clicking on the Contact Member link in the seller's profile. If the product does not arrive as expected, eBay Buyer Protection will cover the amount of the original purchase plus shipping. A buyer should familiarize themselves with the terms and condition of the buyer protection program before going through with the sale.

Conclusion
In this guide, the history of rugs was explored, from the earliest discoveries in Siberia to the modern worldwide rug trade. After that, the various types of rugs were examined, including woven rugs, hooked rugs, flat weave rugs and embroidered rugs. Reasons to buy a rug include how it is able to dampen sounds in a room with a hard floor, how it can work as a decorative element, how it can provide extra cushioning underfoot, and how it provides insulation. Rugs are a useful addition to any household. A run can make a beautiful focal point, and in many cases, an heirloom. Buyers will find a huge selection of rugs of every type on eBay.