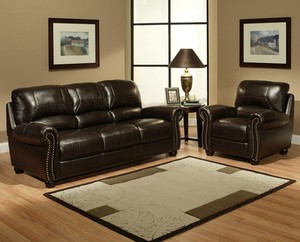 Sofas are often found in many home and businesses. They offer comfortable seating for waiting rooms, offices, break rooms, hotel lobbies, large bedrooms, basement recreation rooms, and many other locations. For all of these places and purposes, durable sofa fabric is not only helpful, but it is vital, particularly in high-traffic areas. Sofas in public areas are more prone to heavy wear than other sofas are, and they will eventually need to be recovered or replaced with a new one that is in better shape. Whether buyers are selecting a new sofa or are choosing the fabric for a sofa reupholstery project, they should familiarize themselves with the variety of available options for sofa fabric, keeping in mind that the primary requirement for high-quality sofa fabric is durability. This guide will assist buyers in identifying the right fabric for their needs. It will also provide some information about websites (such as eBay) and brick and mortar retail locations where buyers can find good prices on durable sofa fabrics.

Microfiber
Microfiber is a unique synthetic material that incorporates miniscule polyester fibers into a tightly woven fabric. The result is a typically soft material that feels a little like suede or velvet. Some kinds of microfiber are denser and resemble the texture of corduroy. Microfiber works well for people with cats, since the closely-woven fabric makes it nearly impossible for cats to work their claws into the sofa and scratch it.
Durability Against Stains
Microfiber is also ideal for buyers with children, since it is very easy to clean when compared to other types of sofa fabric. Since microfiber is water repellant, it handles spills well, keeping them on the surface rather than letting them seep into the sofa's padding and potentially causing smells. If owners of a microfiber sofa take care to clean it right away after they notice dirt or spots, they should be able to avoid any permanent staining to the fabric. To clean the sofa, owners should use a soft cloth, warm water, and a gentle soap. In cases where there is severe risk of staining from tomato products, grape products, or other color-intensive foods and drinks, owners may be able to use a special stain remover that is designed specifically for carpet and upholstery.
Buyers should note that a white or cream-colored microfiber couch will likely be very difficult to keep clean, in spite of the advantages of the fabric. A white sofa shows lint and other particles, and it may become stained from the oils on users' hands, particularly if they are wearing some kind of lotion.
Durability Against Dust
Dust does not affect a microfiber sofa as it would a regular cloth-covered sofa. The fine fibers filter dust, preventing it from accumulating significantly. Any dust that does remain on the sofa can be easily removed by a quick pass with a vacuum attachment. This resistance to dust accumulation makes microfiber a great choice for users who suffer from dust allergies and other types of allergies.
Durability Against Wear and Tear
Since microfiber sofas are covered with densely woven fabric, they do not suffer tears and rips as easily as regular sofas would. The microfiber surfaces also wear well under normal use. While it may eventually show a few worn patches on the front edges of seat cushions and on the tops of the armrests, these worn areas will likely take years to develop. In the meantime, the sofa will provide classy style and comfortable seating for its users.
Microfiber vs. Leather
Microfiber sofas are available in a wide variety of colors. For buyers who want a color that coordinates with a particular design scheme, this is a significant advantage over leather, which typically has a limited range of colors (such as black and various shades of brown). Microfiber is also much more affordable than leather is, and it is more resistant to abrasions and cuts than leather is as well.

Leather
Leather is a beautiful, classic covering for a sofa. It is made from the cured, treated hides of cows and is a supple, smooth material. Although it can feel sticky on hot summer days, leather typically stays cooler than other sofa fabrics do. During the winter, a few soft pillows and a throw can be added to the sofa for extra warmth and comfort. While a leather sofa may feel stiff when it is first purchased, it becomes more soft and pliable as it absorbs the oils from users' skin and experiences regular wear. In general, leather sofas provide very comfortable seating. However, its high price tag may be prohibitive for some buyers.
Durability Against Stains
Leather's inherent water resistance makes it easy to clean. Liquids, dirt, and spilled food can be quickly wiped or brushed off. A cloth with warm water and a mild soap (such as a face soap or an unscented body soap) can be used to lightly wipe down the sofa as needed. For grease stains, only a dry cloth is needed. Newsprint marks can be removed with hair spray and a cloth. Vivid stains from wine or blood may require treatment that is a little more intensive. Some experts recommend a cleaning solution that is specifically designed for leather, while others advocate a homemade solution or paste made of cream of tartar and lemon juice.
Durability Against Dust
Leather sofas hardly ever collect dust. If they are left untouched for a long period of time, dust may settle on the armrests and seat cushions. It will also accumulate in the cracks and seams. Any accumulation of dust can be quickly removed using a duster or a soft cloth.
Durability Against Wear and Tear
Leather is an extremely durable material. It may serve its owners for decades without wearing through. Any worn spots will simply lend character to the sofa. However, leather sofas are susceptible to ripping or tearing from sharp objects. If users carry tools or pocketknives attached to their belts, they will want to remove them before sitting on the leather sofa. Keys, metal studs, and belt buckles can also pose the risk of scrapes and abrasions. However, leather remains one of the most elegant and durable materials that is used for sofa upholstery.
Genuine Leather vs. Artificial Leather
Artificial leather, or faux leather as it is sometimes called, provides an affordable synthetic alternative for buyers who cannot afford genuine leather. Some buyers may also be concerned about the use of animal products in real leather. These buyers will find a faux leather sofa to be almost as attractive as genuine leather is, and just as durable as well.

Vinyl
Vinyl may not be as cozy and comfortable as some other types of sofa fabric are, but it is extremely durable. A vinyl sofa is ideal for a child's bedroom or playroom. To clean them, owners can simply spray the surface with a mild cleaning solution or some water and then wipe it dry. Like leather, vinyl can be ripped, abraded, or torn by sharp objects. However, under normal conditions, it will typically last for years without noticeable signs of wear.

Wool
Wool is a natural fabric. While it is not as water resistant or stain resistant as vinyl, leather, and microfiber are, it still provides significant durability when subjected to heavy wear. It does not snag or wrinkle like some other sofa fabrics do. Pilling (the formation of fuzz and tiny balls of fluff as a material becomes more worn) is also less likely to occur with a wool sofa.

Denim
Denim is a go-to clothing material because of its supple, durable nature. A denim sofa can be a trendy addition to a child's or a teen's bedroom. As it wears, it will become even more comfortable and will develop both character and texture.

Buying Sofas and Sofa Fabric on eBay
Sofas with durable fabric are available in many brick and mortar furniture stores, as well as online from websites like eBay. On eBay, simply type "sofa" or "sofa fabric" into the search field, depending on whether you plan to recover a sofa or purchase a new one. If you conduct a regular search, you can save it and eBay will notify you of new sofas or sofa fabric as those items are listed.
Another way to search for sofas and sofa fabric on eBay is by clicking the Home, Outdoors & Decor category on the eBay homepage and then selecting Home & Garden. Next, click Furniture, then Sofas, Loveseats & Chaises, and then click the checkbox beside Sofa to see all of the applicable listings.
Some of the resulting listings may contain a Top Rated seller seal, which means that, among other criteria, the seller has received good feedback from previous customers. In addition to a Top Rated seller seal, look for free shipping and return policies that can guarantee you a more satisfactory shopping experience. If you are shopping for a sofa rather than sofa fabric, you may need to look for sellers in your area to facilitate the transaction. If you have any questions about the sofa or the fabric that you want, click Contact Member on the seller's profile page or click the Ask a Question within the listing itself.

Conclusion
Sofas can tend to suffer a lot of wear, especially if they are located in busy areas of a home, an office building, a hotel, or some other location. Eventually, the sofa will develop small holes, possibly near the seams, as well as threadbare patches, dirt spots, stains, and other signs of wear. When this kind of damage becomes noticeable, users should look into either recovering their old sofa or purchasing a new one. In either case, they will want sturdy fabric that can withstand heavy wear for at least a few years. Fabrics such as denim, wool, and vinyl often serve well, but some of the best and most durable upholstery materials are leather, faux leather, and microfiber. With some advance research and careful consideration of their needs, buyers should be able to select a new sofa or a sofa covering that will not only look good in the room that they are furnishing, but will also be both comfortable and durable.