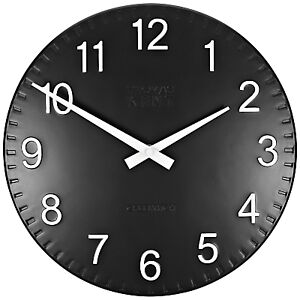 Clocks have been around for a long time, ever since ancient man started seeking a way to measure time. Sundials are considered to be the first clocks, and the earliest of these are estimated to be from Egypt, as far back as 4,000 years ago. These, and other primitive time-telling devices, paved the way for today's modern clocks. Today, there are many types of clocks in the world, with various methods of measuring and telling time. This guide talks about these different types of clocks and what makes each one unique.

How Modern Clocks Work
Before modern mechanical clocks, people throughout history pretty much used whatever they had around to mark the passage of time. They used the sun, moon, and stars. They also used candles, water clocks, incense sticks, as well as sand to make hourglasses. Later on, there were astronomical clocks, spring-driven clocks, and weight-driven clocks. However, these methods were not only inaccurate, they were often difficult to use. Most of them did not even tell the time, but rather marked the passage of time, usually with bells. The problem with old clocks is that they only used continuous processes, like the movement of the sun. It was not until oscillatory processes, such as the movement of a pendulum or vibrations, were used in clocks that it was possible for them to be more accurate.
Modern clocks pretty much work in the same way. They need three basic parts, namely, a power source, a timebase, and a display. A power source, as the name implies, keeps the clock moving, whether it is a spring in mechanical clocks or a battery in electronic clocks. A timebase is also known as the oscillator. The timebase needs to move continuously at a steady frequency. This keeps the accuracy of the clock, ensuring it measures seconds, minutes, and hours the same way all the time. A quartz crystal and a pendulum are examples of common timebases. Finally, a clock needs a display with which the reader can interpret time.

Classifying Clocks
Timekeeping is such a complex subject that its study has its own name. Horology is the study of measuring time, and the instruments used for timekeeping are just one part of this entire body of knowledge. Clocks are classified in different ways, but commonly, they are classified according to their display or mechanism.
Types of Clocks According to Display
The first way clocks can be classified is according to the style by which time is displayed to the reader, or the display type.
Analog
Perhaps the type of clock most people are familiar with are analog clocks. They use a clock face with numbers and hands to tell the time. The hands move around the clock face, indicating the hours and minutes. Aside from the popular 12-hour format, analog clocks can come in the 24-hour format, which is used to tell military time.
Digital
Digital clocks are also a popular type of clock display today. These clocks use two sets of numbers, separated by a colon to indicate the hour and minute. The time is projected using a display technology, such as LCD or LED. Early digital clocks had hard small plastic cards that would flip to the next number as time progressed. Most digital clocks are set for a 12-hour format, but some do come in a 24-hour format.
Braille Clocks
Braille clocks are specifically used for people who have impaired vision. These clocks display the time through various raised dots on the dial.
Talking Clocks
Talking clocks can also be used by people with low vision, but are often used in telecommunications and public spaces, such as airports or train stations. These clocks are also popular for entertainment purposes. For example, there are various novelty clocks in the shape of various movie and TV characters.
Types of Clocks According to Collectibility
Clocks are quite popular today, for both collecting and home decorating purposes. There are many types of collectible clocks, but the most common types are longcase clocks, mantel clocks, cuckoo clocks, and lantern clocks.
Longcase Clocks
These clocks are also popularly known as grandfather, grandmother, or granddaughter clocks. Grandfather clocks are 6 feet long or more in size, while grandmother clocks are between 5 and 6 feet long. Anything below 5 feet is considered to be a granddaughter clock. These clocks use enclosed pendulums and three weights on chains. They also signal the hour by ringing chimes, striking bells, or playing a tune. The most valuable antique longcase clocks are those made by William Dutton, John Knibb, Thomas Mudge, and Thomas Thompion.
Mantel Clocks
As the name implies, mantel clocks were designed to fit on top of the fireplace mantel. In the U.S., they are also known as shelf clocks. These clocks have spring mechanisms, though some variants have four balls rotating around the column, protected underneath a glass dome. An interesting fact to note is that as mantels became less important in the home, they became smaller, and so did the mantel clocks. These clocks were popular in the 1700s, and were made in England. However, they became fashionable in France and Germany, and were produced in great numbers in these countries. As they were produced in greater quantities, the quality degraded, and so today, the most sought after clocks are those made early on and produced in smaller quantities.
Cuckoo Clocks
Cuckoo clocks use weight and pendulums, similar to grandfather clocks, to measure time, but what makes them unique is the way they chime the hour. Every hour, or half-hour in some clocks, a little door on the face of the clock opens and a little bird comes out. This bird usually calls the hour, such as five "cuckoos" for five o'clock, or it can play a melody. The first ever cuckoo clock was made in Germany in 1630 in the Black Forest region. These clocks became the rage, and many clocks were fashioned with different materials and the most intricate of designs. Even today, they are quite in demand and brand new cuckoo clocks from Germany can still fetch a high price.
Lantern Clocks
Lantern clocks are named for their shape, similar to the lanterns in the 1600s, and because they were hung on the wall like a lantern. The earliest lantern clocks still used weights and balance wheels, and only had one hand to tell the hour because they were not very precise. Later on, these clocks took on the more precise weight and pendulum mechanism, but eventually became obsolete and replaced with other types of clocks.

Types of Clocks According to Mechanism
Clocks can also be classified according to how they run, or their mechanism.
Electric Clocks
Electric clocks can actually mean two things. First, they can use electricity as its main power source, or use an electrical current as its oscillator. This electrical current comes from the AC electric power grid. Aside from being a power source, AC power has a constant frequency that provides the constant, precise vibrations for the timebase.
Mechanical Clocks
Mechanical clocks rely on a balance wheel or pendulum to provide the constant motion, and use gears to move the hands of the clock or change the display. The clock measures time according to the resonations, such as the swinging of the pendulum. Many antique clocks, grandfather clocks, and cuckoo clocks are mechanical clocks, and the gears and wheels inside them can be fairly complex. Some people consider this an art form, and real mechanical clocks can fetch a high price in collectors' markets.
Crystal Clocks
Quartz crystal clocks are some of the most accurate and efficient types of watches today. They use quartz crystal oscillators, which resonate at a constant 32,768 Hz. Unlike most other compounds, the quartz is stable and it does not change frequencies when the temperature changes, making it an ideal resonator for clocks and watches.
Atomic Clocks
Atomic clocks are the most precise of all the types of clocks available today, and are usually the standard by which other clocks are set. The United States, for example, uses the U.S. Naval Observatory Master Clock. Atoms are constantly switching between positive and negative energy levels. The atomic clock measures how long this change takes, as well as the frequency of this change, as its timebase.
Radio Clocks
Radio clocks receive time information from a transmitter, which can be many miles away. The clock is actually a radio receiver with a display. There is a source atomic clock that sends out a signal to all radio clocks in the area. In the United States, for example, this signal is broadcast by the NIST radio station WWVB in Colorado. The radio clock receives the signal and then adjusts the time on its face according to the information sent.

What to Look for When Buying Collectible Clocks
It is important to do research, have knowledge of, and perhaps some sort of enthusiasm for, collecting clocks, especially when buying collectible clocks on online sites like eBay. Whether buying online or at a brick-and-mortar store, collectors should do their research in order to find authentic collectible clocks.

| Factor | Consideration |
| --- | --- |
| Historical Price | To ensure that the asking price is fair, know how much a piece is worth and how much other people have paid for it. |
| Condition | Regardless of age, it is still a functional piece, so it should be in good working condition. Obviously, pieces which are in better shape will have higher prices, and will increase their value over time as long as they are in good condition. |
| Labels or Signature | Reputable clockmakers will have some sort of label or signature on a clock so that it is easily identifiable. It is also a good way to tell if an item is fake or the real deal. |
| Certificates of Authenticity | Verify the authenticity of a collectible clock though reputable appraisers, who will conduct a thorough inspection and investigation on the piece. |
| Pedigree | Clocks that were owned by someone famous, or located where an historical event took place, have more value. Such clocks should have a certificate of authenticity to validate this status. |

Historical price, condition, signature, certificate of authenticity, and pedigree all play a role in the value of a collectible clock.
Clocks for Decoration
While clocks are definitely functional, some users may be looking for a particular style of clock that works best with their home decor. Shopper must decide on such aesthetics as size, surface, and finish among other features to determine how best to use a clock as decoration. A clock with metal accents may work best in a home decorated in more of a modern look. A wooden clock may work best in a den or studio space. For something fun and playful in the kids' room, a retro design may look best. A vintage clock can add a touch of luxury to a formal sitting room.
Finding Collectible Clocks Online
Buying Clocks on eBay
For most people, buying clocks takes 10 seconds after they walk into the store. They pick something in a color they like, or one with an easily readable face. However, there are some things that one must consider when one wants to buy a quality clock or different types of clocks for various purposes.
Conclusion
There are many types of clocks available on the market today. For the most part, clocks are functional. They allow people to be more productive, plan out their days, and be on time for their appointments, whether it is an important board meeting or picking the kids up from school. When purchasing clocks, for whatever purpose, one should do the necessary research and the legwork to ensure that the price is fair for the value of the piece. For high-value items, hiring an authentication and grading company may be wise, and while an added expense, it could well be worth it in the long run to find the true value of any piece.