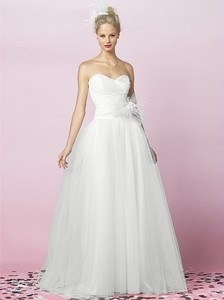 Buying a wedding dress is a highly significant event in many women's lives. While various elements help make a wedding special, what the bride wears is one detail she'll always remember. The right wedding dress expresses a woman's unique personality and lets her shine. However, finding the perfect dress takes planning, research, and sometimes a little bit of compromise.
Beginnings of the Traditional Wedding Dress
Mention wedding dresses in Western culture, and people will conjure relatively similar images. The various styles, fabrics, and enhancements all make distinct fashion statements, yet there is a relatively common and even collective idea of traditional wedding dresses.
The image that Western culture accepts as a traditional gown, however, dates back only to 1840. That's when Queen Victoria wore a white satin dress with lace, and the style soon became a tradition. Prior to the queen's wedding, women typically wore their best existing dress, which might have been any color, including black. This allowed women to wear the same dress for multiple occasions. As interest in emulating Queen Victoria quickly grew, white wedding dresses became very popular.
Wedding dresses tend to follow fashion trends, and what is popular in one decade doesn't hold most women's interest in later ones. Each decade has added its own stamp, from the Flapper styles of the 1920s to the occasionally shorter dresses of the 1950s and the strapless styles of the early 2010s, but the traditional Victorian ideal still holds its place. Today, brides have the freedom to choose from current trends, vintage styles, or custom designs made specifically for them. Still, choosing a wedding dress always starts with the shape or silhouette.
Wedding Dress Silhouettes
Whatever necklines, sleeves, fabrics, or embellishments a wedding dress may have, the silhouette is the most basic consideration. The bodice, which covers the chest and waist area, combines with the skirt to create this overall shape. There can be many variations within each silhouette style, and there may also be a few crossover elements, but the silhouette forms the foundation of a wedding dress.
A-Line or Princess Wedding Dress
The A-line or Princess wedding dress graces more brides than any other style. It consists of a fitted bodice that flares gradually into a wider skirt, forming the shape of a capital letter A or an inverted V. The bodice style accentuates the bust and waistline while creating a flowing look in the skirt. A Princess dress may be differentiated from a standard A-line dress by the presence of three front, vertical panels that run the length of the dress. This very versatile dress style can form a wide range of looks.
Ball Gown, Ballerina, or Duchess Style Wedding Dress
Whatever name this dress carries, the Ball Gown is easily recognized by its large skirt, which may be supported by hoops. The fitted bodice gives way to a very big, bell-shaped skirt that brings to mind fairytale gowns, such as in Cinderella; in fact, Fairytale is yet another name for this type of dress. The dress may be in one or two pieces, meaning that the bodice may be separate from the gown. Various necklines can enhance and modify the appearance of the wide skirt on this dress, fulfilling an ideal image.
Column or Sheath Style Wedding Dress
The Column dress most closely resembles a non-wedding evening gown. It hangs straight down from neckline to hem and is narrow in cut. The skirt may flare slightly near the hem, although the name implies a completely straight silhouette. Despite the simplicity of this style, it supports a variety of looks. A flowing Grecian-style gown with a single shoulder strap is one example of a Column wedding dress. A close-fitting Sheath dress that fits the full length of the body, ending in the straight skirt, is another type. As with most silhouettes, different necklines enhance and vary the look.
Empire Style Wedding Dress
The key element in an Empire style gown is the raised waistline, which sits just below the bust line. The skirt may be straight in style, like a Column dress, or it may have a slight flare. The skirt can also be slightly fitted; the defining characteristic of this dress is the high waistline. Empire style dresses typically have square necklines, although other designs are possible, including V-neck or halter styles.
Mermaid or Trumpet Style Wedding Dress
The dramatic Mermaid style goes even further than a Sheath dress in terms of close fit, tightly hugging every curve down past the hips. Yet while a Sheath dress usually ends in a narrow, straight skirt, a Mermaid dress flares widely beginning at the mid-thighs, the knees, or possibly lower. The flare may be simple or dramatic, containing proportioned shaping, gathered fabric in front, or wider flares in back. It may have plain fabric, or the flare may be embellished with various details in contrast to the rest of the dress, such as beads, feathers, or lace.
Basque or Corset Wedding Dress
This style has a fitted corset for a bodice that often ends in a V shape in the front. A Basque dress accentuates the curves of the upper body while elongating and slimming the waist. The skirt is wide below the bodice, though not as wide as a Ball Gown, and it often flares over the hips. The skirt may be plain, layered, gathered, or any variety of styles.
Edwardian Wedding Dress
An Edwardian dress contains gathered material and pleats in the back that give the hip area volume; however, these details are not as large as a bustle. The gathered material may drape forward over the hips, or it may remain mostly in back, giving the front more of a Sheath appearance. The Edwardian style is an older type that can be modernized with different neckline and sleeve choices or remain quite traditional.
Formality of Wedding Dress Styles
The style of dress a woman chooses often takes into consideration the type of wedding she will have. Although most silhouettes are adaptable, a very simple dress style would not match well with an elegant and formal wedding, and a fancy, voluminous dress would seem out of place in a backyard affair. The table below matches gown styles to wedding types.
| | |
| --- | --- |
| A-Line or Princess | This versatile dress can fit any style of wedding from informal to formal. Various detailing, such as neckline, sleeves, fabric, or lace, creates the level of simplicity or elegance. |
| Ball Gown or Fairytale | These are very formal dresses that suit elegant, formal weddings. |
| Column or Sheath | This style also fits most wedding plans based on the detailing of the dress and the fabric selection. |
| Empire | Here is another dress that fits well with many wedding styles. It may not be the ideal choice for highly elegant or formal weddings, however. |
| Mermaid or Trumpet | The dramatic nature of this dress calls for formality. While extreme elegance isn't required, this dress style might be out of place for a small or informal gathering. |
| Basque or Corset | Also a bit more formal in style with its large skirt, these dresses might fit a simpler wedding if they have simpler fabric and detailing; however, they can also be designed to be quite elegant. |
| Edwardian | The old-fashioned and elaborate detail of this dress style cries out for a formal or elegant wedding. |
Wedding Dress Styles for Various Body Types
Certain dress silhouettes will naturally flatter each woman's body type. What looks good on a curvy figure may not suit a very slender person, and the best choice for a more statuesque woman wouldn't be the ideal choice for someone of petite height. The following table outlines styles that enhance or conceal various figure features.
| | |
| --- | --- |
| A-Line or Princess | This dress style flatters most body types. It enhances the upper body, somewhat conceals the lower body, slims the waist, and highlights an ample bust. It generally makes anyone look slimmer and taller. |
| Ball Gown or Fairytale | This style flatters many body types although women of petite height can look lost in the volume of the dress. It accentuates and slims the waistline, and it also gives a curvier look to smaller hips. Very small-busted or very large-busted women may find themselves lost or over-accentuated, respectively, in this style. |
| Column or Sheath | The close-fitting nature of this dress best suits slimmer or at least well-proportioned figures of any height; it can create a taller look for petite women. |
| Empire | The drape of this dress can conceal fuller waistlines and add an illusion of height for petite women. However, it can also accentuate bulges and over emphasize very large busts. |
| Mermaid or Trumpet | Curvy figures are made for this dress, but since every bulge will show in the tight-fitting form, balanced curves are essential. Straight, generally round, or disproportionately top- or bottom-heavy figures may not look their best in this style. |
| Basque or Corset | This dress accentuates the upper body in the close-fitting corset while the full skirt adds curves to slim hips. The V-accent in the bodice slims the waist, and the full skirt adds to that effect. |
| Edwardian | The gathered styling enhances the hips, giving a more rounded appearance. Conversely, it will over emphasize those with wider hips. This silhouette suits taller women best, but if the gathered fabric isn't too expansive, it may also work for petite heights. |
Wedding Dress Styles Available on eBay
Women can find an extensive range of wedding dresses on eBay. Begin a general search using the term "wedding dresses" in the home page search field. Alternatively, combine the term with additional details, such as a particular dress designer's name.
After searching generally for wedding dresses, select Weddings and Formal Occasions from the list on the left, and then click Wedding Dresses in the left column. Browse through the listings or use the many options on the left side of the results page to refine the search. To find various silhouette styles, click "Choose more" under Size Type, and then click Silhouette in the list on the right side of the new window. Make your selections and click Go.
Finding a Perfect Wedding Dress
Purchasing a wedding dress may happen only once in a lifetime, and it can be an emotional and exciting experience. Taking the time to research different styles, consider how a dress fits an overall wedding style, and whether or not that beautiful dress suits the bride's particular body shape can save a lot of frustration and disappointment. Whether purchasing online or from a brick-and-mortar store, advanced planning can help save the day.