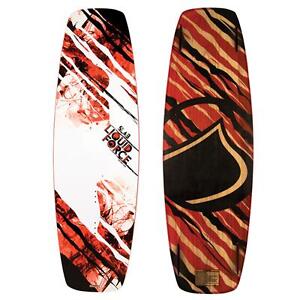 Fulfill your water sport fantasies with a new wakeboard, water skis, kneeboard, boating tube, or other towable. You'll find all the wakeboarding and water skiing gear you need, from the biggest names in the game, including Hyperlite, CWB, O'Brien, Jobe, Gator, Liquid Force, Blindside, and SeaDoo, on eBay.
Safety is a top concern when engaging in any water sport. Consult safety information provided by the manufacturers of these products before using them.
Choose Your Wakeboard
Wakeboards come in a wide variety of shapes and colors, and can even have slick graphics. Since performance matters more than looks, carefully consider features and choose a wakeboard based on your skill level and wakeboarding style.
Wakeboard rails: The edges on a wakeboard, also called rails, determine speed. Beginners should look for squared edges that provide control and stability. More advanced riders should choose a wakeboard with rounded edges to achieve faster speeds and get a quicker lift for tricks.
Wakeboard tips: The ends of your wakeboard determine which direction it can travel. Single-tip wakeboards pointed at one end and squared off at the other allow you to ride in one direction, like skiing. Twin-tip wakeboards with a rounded front and back will help you switch directions and land tricks. Get one if you have snowboarding and skateboarding experience.
Wakeboard length: Wakeboard length averages between 120 centimeters to 150 centimeters. Beginners should look for longer boards that offer more stability in starts and turns.
Wakeboard rocker: "Rocker" refers to the bottom curves of a wakeboard. Wakeboards usually have rockers of 5 centimeters to 6 centimeters. A higher, or more rounded, rocker makes for easier, softer landings on jumps, while a lower, or flatter, rocker can give you better control and faster acceleration.
Wakeboard fins: The fins on the bottom of the wakeboard help steer the board. Get a few sets of fins for greater versatility. Smaller, thinner fins work well in smooth water. Wider and deeper fins increase stability in rougher water conditions.
Wakeboard bindings: Get snug-fitting but comfortable wakeboard bindings for a good balance of control and safety. Overlays, the part of the bindings that hold your feet down, often have adjustable straps, laces, or buckles. Underlays, the parts of the bindings that contact the top of your foot, vary in stiffness. Opt for a stiffer underlay for increased support.
Stock up on wakeboarding supplies
Keep yourself safe and comfortable while you wakeboard.
Wakeboard rope: To help you perform tricks on a wakeboard, get stiff wakeboard rope made from spectra rather than a general-purpose rope used for water skiing. Most wakeboard ropes are 60 feet or 70 feet in length and often provide adjustment loops.
Wakeboard handles: Get a wide (13-inch to 15-inch) wakeboard handle to make your tricks and aerial maneuvers easier. Also wear wakeboard gloves or general water sports gloves to protect your hands and get a better grip.
Wakeboarding apparel: Wear a full wet suit to keep warm in chilly water or just protect yourself from rash and sunburn with a wet shirt.
Also outfit your motorboat with a wakeboard tower—if it doesn't have one already. Wakeboard towers free up space inside the boat, provide a place to put wakeboard racks, speakers, and a tower light bar. It also raises the wakeboard rope to give you more hang time to execute tricks. Remember to also buy a wakeboard bag or dry storage bag to keep your wakeboard in good condition when you're not using it on the water.
Select Your Water Skis or Slalom Ski
Water skiers need to choose between combination pairs of water skis, also called combo pairs, or a single slalom ski. Combo pairs make it easier to learn how to water ski. They have wide tips that provide control and one of the skis has a double binding that lets you slalom ski—after you've nailed the basics.
Your weight and the speed you want to travel determine the length of your combination skis or slalom ski. Buy longer skis if you plan to travel at slower speeds. For example, kids and small adults who weight between 80 and 110 pounds should choose 62- to 64-inch skis for any speed. However, people who weigh more than 195 pounds need a 72-inch ski to travel at speeds up to 30 mph, and can buy 69-inch or 70-inch skis for greater maneuverability at faster speeds. Other weight/speed guidelines include:
When shopping for a slalom ski, you'll need to consider which features will help you handle sharp turns and higher speeds.
Water ski bindings: Adjustable bindings give you the most flexibility and allow you to get a tight, yet comfortable fit. Get a double high wrap for enhanced control. If multiple skiers with different-size feet will use the ski, go with a front high wrap with a rear toe plate or adjustable bindings
Water ski bevel: Bevels, the side profile of the water ski, affect your ride. Get a sharp lower bevel for a higher ride. Get a rounded lower bevel to minimize lift.
Bottom design: The concave water ski bottom, particularly the width of the tunnel, affects your performance. Narrow tunnels are best for skiers who stand up straight, while concave tunnels can provide better maneuverability to skiers who push their weight forward.
Water ski flex: Ski flex, the stiffness of a slalom water ski, varies from end to end and is an important performance factor. Stiff, low-flex skis allow you to go faster, but are more difficult to turn. Higher-flex skis make it easier to turn, but you will ski at a slower rate when you go straight ahead.
Water ski rocker: Rocker, the curvature of the nose and tail, influences your turn radius. Increased rocker gives you tighter turns, but too much rocker makes water skiing more difficult.
Water ski width: Look for a wider water ski for more stability or a narrow tail to increase your ability to dig into the water and angle across the wake.
Water ski profile: A thin profile (the thickness of the water ski) keeps your ski deep in the water, while a wide profile keeps your ski on the surface, preventing it from sinking in turns.
Buy a trick slalom water ski or combination trick water skis for tricks, jumps, and twists. Trick skis are short, wide, and have no fins, so you can turn and slide easily. Get a jump water ski or jump water skis if you want to try jumping off of ramps. Whatever type of water ski or water skis you choose, keep them safe with a water ski bag or dry storage bag. Remember to keep yourself safe by reviewing safety information provided by the original manufacturers of these products prior to use.
As with wakeboarding, wear a personal flotation device (PFD) such as a life vest or life jacket when you water ski. You should also protect yourself from chilly water, hot sun, and rashes with a wet suit or wet shirt, and keep your hands protected with ski gloves or general water sports gloves.
Find Wakeboards & Waterskiing Equipment on eBay
Once you know what type of water sports equipment you want, go to the Sporting Goods portal, click Wakeboarding, Waterskiing, and start searching for items on eBay. Remember to also pick up inflatable water toys for some serious fun.
Categories: The Categories list on the left side of each page will help you narrow down your listings by item type. You'll find links for Wakeboarding, Kneeboarding, Water Skiing, Tubing & Towables, and more. As you dig deeper into the site you'll also be able to narrow down your choice by item type and brand.
Keyword search: Search eBay listing titles for specific words. For example, if you want to find a slalom water ski, type "slalom water ski" (without quotation marks) into the Search box. Click "Search title and description" to expand your results. Visit eBay's Search Tips page for more tips on searching with keywords.
If you can't find exactly what you want, try shopping eBay Stores, tell the eBay Community what you want by creating a post on Want It Now, or save a search on My eBay and eBay will email you when a match becomes available.
Buy Wakeboards & Waterskis Equipment With Confidence
Before making your purchase, make sure you know exactly what you're buying, research your seller, and understand how eBay and PayPal protect you.
Know your purchase
Carefully read the details in item listings.
Figure delivery costs into your final price. If you spend a lot of money, make sure the seller will insure the item when it ships.
If you want more information, ask by clicking the "Ask seller a question" link under the seller's profile.
Always make sure to complete your transaction on eBay (with a bid, Buy It Now, or Best Offer). Transactions conducted outside of eBay are not covered by eBay protection programs.
Never pay for your eBay item using instant cash wire transfer services through Western Union or MoneyGram. These payment methods are unsafe when paying someone you do not know.
Know your seller
Research your seller so you feel positive and secure about every transaction.
What is the seller's Feedback rating? How many transactions have they completed? What percentage of positive responses do they have?
What do buyers say in their Feedback? Did the seller receive praise?
Most top eBay sellers operate like retail stores and have return policies. Do they offer a money-back guarantee? What are the terms and conditions?
Buyer protection
In the unlikely event that you don't receive your item or it is not as described, eBay Buyer Protection will cover your purchase price plus original shipping. Learn more.