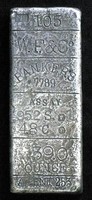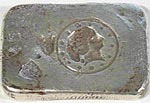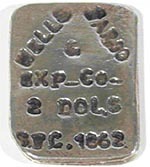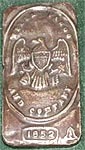 Here is an excerpt from the official Wells Fargo website concerning silver bars.
11. I have a silver bar stamped with Wells Fargo and dollar amount. Is it real or a souvenir?

These small bars are recently made souvenirs, and not made by or for Wells Fargo. Wells Fargo & Co. did ship large 100+ pound bars of silver from western mining regions. The bars, though, were marked with the mining outfit's name, if they were marked at all.

They may not even be real silver, and yet they still bring $100 + even now.
And on the slim chance that it is actually silver - that is alot of money for a piece of scrap with no historical value at all.
7/2008 - a fake Wells Fargo silver bar sold for $230 !!! Sellers policy said NO REFUNDS.
10/2009 THE SILVER BAR SHOWN ABOVE RECENTLY SOLD FOR $400 !!! TO AN UNWARY BIDDER.

MARCH 6TH, 2010, _______Galleries OTEGO, NY
Fake Wells Fargo & Co "Silver Bar" Marked : 105 / WF & Co / Bankers #7789 / Assay 95.2 S. 4.8 C / 39.0 Ounce / Agent 253" SELLS FOR OVER $6000 to an Arizona phone bidder !!!!!!! (And it may not even be real silver )
Bar shown Top Left
BEWARE
http://www.wellsfargohistory.com/resources/faqs.htm#silver