Several formats are available to suit your specific needs. Few items are more personal and more useful to you on a daily basis than your wallet. In addition to your watch and keys, you are probably going to carry your wallet with you everywhere that you go. And like your watch, it says something about you (to yourself and to others).
NOTE: If this guide is helpful to you, please click the yes in the blue block at the bottom of the page
BASIC REQUIREMENTS FOR YOUR WALLET:

Your wallet needs to be:
1) FUNCTIONAL in safely holding all the items that you deem critical,
2) PRACTICAL in size, shape, comfort in carrying, and in it's relative cost over its useful life
3) STYLISH as an indication of your sense of style.
Wallets are available in almost every material, and in every kind of leather imaginable. Although 95% of mens wallets are made from cow or calf leather, the most prized wallets are those in alligator, crocodile or another exotic leather wallets. While initially more expensive, these exotic leather wallets have significant advantages over all other wallets. Those advantages include increased functionality, durability and prestige well beyond wallets in common leather. For these reasons, alligator and crocodile wallets make excellent, long-remembered gifts.
STYLES / FORMATS OF WALLETS:
There are four basic styles for mens wallets:
1) Standard / Hipster (a.k.a. "US-style" ) Horizontal Format :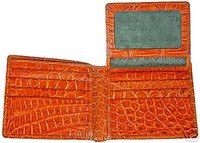 By far the most common type of wallet in the USA. Named "Hipster" because it is most often carried in a man's hip-pocket, or the back pocket in a pair of pants. Available in a range of sizes, including the most common 6 or 8 pocket bilfold/billfold/bi-fold (referring to credit card pockets; some larger versions hold 10 or 12 credit cards) It is generally the size and shape of a US Dollar Bill.

Variations include various flip-up/flip-out sections, ID windows, and due to increased need to show your ID, a "Pass Case" version that has a removable section to hold your ID and maybe a credit card and some cash.
Another variation is the tri-fold (which could also be classified in the Vertical format below); these are for guys that can't quite crap enough stuff into a regular wallet. You probably know or have seen someone with an >2" thick wallet with all of their "essentials" in it . Since no one can actually sit all day on a wallet like this, most tri-folds often are carried around by hand like a purse.

2) Vertical Format, "a.k.a. Hong Kong -style":

Is taller than it is wide. While it is wide enough to hold an unfolded US Dollar Bill, it is designed to hold some of the much taller foreign currencies as well. Like the standard format (above) these Vertical Format wallets have variations that include various flip-up/flip-out sections and ID windows.
3) Front-Pocket Wallet :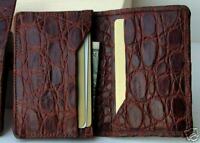 An increasingly popular design as more men recognize that they have relatively few items that are so essential, as to be on your person at all times. While a US Dollar Bill must be folded (in half or thirds) to fit inside, these smaller format wallets have plenty of room for your drivers' license, 2 to 4 credit cards and several business cards or the equivalent.

Users of these wallets often use a money clip to hold the smaller dollar denominations, which has the benefit of being able to keep your wallet in your pocket while paying for most items/activities.

The added advantages of this format is that your wallet is more secure from pick-pockets, and that you can avoid the potential health issues in nerve damage from sitting on a larger wallet all day.

4) Breast-Coat Pocket (aka "Long" Wallet, or Lapel Wallet):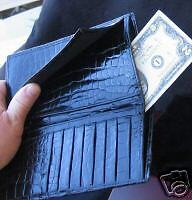 Associated with a more sophisticated European look (this is the kind of wallet that James Bond carries in his dinner jacket), this format is the most elegant, and in today's less formal world, the least practical. Well-suited for special occasions and for traveling, these large wallets can be expensive, especially when made in alligator. For all of these reasons, most men who use this format also have a primary day to day wallet.

If you have any questions, please contact us at XBelts@gmail.com (XBelts is short for Executive Belts)
You May Find Our Other eBay Guides of Interest:
Buying and Caring for Alligator, Crocodile and Other Exotic Leathers:
BELTS:

WALLETS:
Through our premier "Esotico " line of custom-made belts (in Genuine Alligator, Crocodile and other fine leathers), we represent the largest producer of premium quality Alligator, Ostrich and Lizard belts in the USA. Buy direct form us and save up to 40% on belts identical (made by the same leather artisans, using the same ultra premium quality alligator skins), to Cole Haan , Alligator Belts , Trafalgar and Orvis .



.