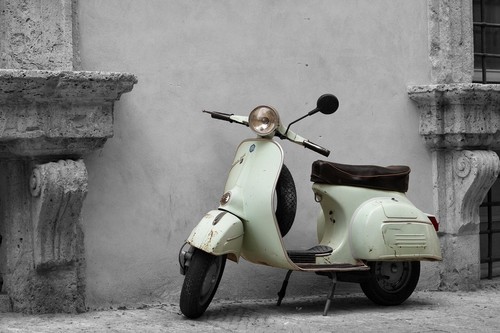 Piaggio started manufacturing the Vespa in 1946 at the end of the Second World War as part of Italy's rebuilding program. The Vespa went on to become an iconic scooter, popular throughout the world with many imitators. There is only one scooter worth owning if you are a connoisseur of vintage scooters, the vintage Vespa .
Vespa's Vintage Beginnings
The early Piaggio Vespas ran on single cylinder engines covered in the famous pressed steel and had a uni-body with a flat running board to keep your feet out of harm's way. Encasing the engine made the scooter cleaner and less likely for riders to get covered in grease and dirt with the front cowling giving extra protection from the elements.
Inspiration for the Vespa came from Lincoln's Cushman scooter so design similarities can be seen in the Piaggio Ape, a three wheeled scooter. The lightweight, pastel colored vehicle started selling slowly with only 2,500 units in the first year. However, its appeal soon started to catch on and sales for the Vespa really took off when it was featured in the classic film "Roman Holiday" in 1952.
By 1960, 2 million Vespa scooters had been sold, rising to 10 million units a decade later. Over time, improvements to the design were made to the scooters, such as rear suspension, larger engines, and a handlebar mounted headlight.
Reasons for Buying a Vespa Scooter
The rise in the cost of transport, lack of affordable parking, and the Vespa's economical running has once more seen an increase in the popularity of scooters. When considering a reliable, nippy runaround, Piaggio's Vespa is still a favored choice. This has led to an increase in the sales of vintage Vespa scooters, as these fabulous machines are sold in ever increasing numbers.
In total, throughout the history of the Vespa, there have been 34 different models built. These have been both short and long framed with engines from 50cc up to 280cc and can comfortably take a passenger, although in some countries with lax safety laws, the sight of five people on the back of a scooter is not uncommon.
Considerations When Buying a Vespa
While the Vespa was conceived as a clean alternative to greasy, oily motorbikes, there is still a certain amount of getting your hands dirty when maintaining vintage scooters. Buyers need to decide whether they are looking for a classic show bike, a weekend cruiser, or a daily ride.
The P-series from the late 1970s are good serviceable vintage bikes, retaining much of the original shape and are good for regular driving. More modern styling comes with the PX-series or the Stella bikes. These are still in production today and are not exactly vintage.
Vespa Engine Size
When looking at Vespa bikes, there are a number of different engine sizes so asking yourself which is the best size to buy is an important consideration? This is ultimately decided by what you intend using the scooter for.
50cc – These are the smallest engines. They do lack serious power, but they make ideal little bikes for running around town and going to the shops. Their underpowered engines may make it difficult to take passengers.
80–100cc – They are slightly more powerful than the 50cc machines, but still only worthwhile as a little runaround.
125cc – These are more useful if you intend having a daily commute with regular travel of 5 to 10 miles per day. These have better power, handling, and braking; making them more performance orientated. They are available in both small and large frames.
150cc – Until the late sixties, these were the most powerful of the Vespas, performing marginally better than the larger framed 125cc bikes. The 150cc scooter's size made it better equipped for longer journeys and touring.
180–200cc – These are the largest, most powerful of the Vespa scooters. They are ideal for longer distance commutes, taking a passenger behind, and quite capable of keeping up with the traffic. The bigger scooters are more expensive, but you also gain from the better fuel economy and good resale values.
Runner verses Restoration
Is your desirable machine going to be a runner or a restoration project? Original, running classic scooters are automatically going to cost more than a restoration buy. Runners need a careful inspection, as the level of workmanship varies from workshops from pristine and gifted to dangerous botched jobs and crash bang chrome work.
There is a strong market for restoration projects with many support networks and second tier parts suppliers. Fixer uppers can vary between a simple clean out, brush down, and a fresh tank of gasoline to those bikes that need completely new engines built and a lot of bodywork restoration before they are fit to ride.
Vespa Models
Vespa's come in three frame types, wide, small, and large. The wide frames are typical of the earlier scooters and are a rare find. The smaller frames are the most common ones and date back to the first machines. These are found everywhere so it is easy to source spare and repair parts for them. Larger frames were brought in to carry the more powerful 125cc and higher engines.
Older Models
Model

Engine Size and Features

Vespa GS 1955 – 1962

150cc

Vespa GL150 1956 – 1965

150cc, 4 speed transmission, "faired" handlebar headlamp

Vespa 125 1959 – 1961

125cc, 3-speed transmission

Vespa 150 Super 1966 – 1979

150cc

Vespa V90 1964 – 1978

90cc

Vespa 125 Super 1966 – 1979

125cc, featured new frame, suspension, and engine, was known as the "New 125"

Vespa V100 1978 – 1984

100cc

Vespa P-series 1978 – 1974

P125X, PX125E, P150X, PX200E

Ignition switch, large detachable panel, indicators, spare wheel, later models had oil injection, 12v battery

PK50/125 Automatica 1983 – 1984

Electric start, handle mounted cable brakes, unique Automatica Ducati CDi engine

Vespa PK80S 1982 – 1986

As the PK series, slight internal crankshaft with modifications

PK-series 1982 – 1987

PK50S, PK50ES, PK80, PK100, PK125

Two piece handlebars, round headlamp, and speedo, steering column lock, inside leg shield Toolbox, indicators, spare wheel under left-hand panel

Primavera 125 1966 – 1978

125cc, round headlamp, almond shaped speedo, 6v battery

Vespa 100 Sport 1976 – 1982

Like the Vespa 100, but with ignition switch on the handlebars, indicators, side and brake lights, daylight running headlamp, 12v battery

Vespa 90 and 100 1964 – 1983

Round headlamp, small round speedo, horn cover pressed as part of the front cowling, small right side panel door, 6v battery

Vespa 50 Special 1978 – 1983

Rectangular headlamp and speedo, detachable horn cover, small right side panel door
Buying Second Hand
There are some important considerations to take note of when buying a second hand Vespa. Depending on the age, usage, and care, a second hand Vespa scooter can either be a dream or a bottomless money pit. There are some precautions you can take when buying a second hand Vespa to make sure you get the best deal.
A Vespa bike stands up quite well to punishment and the odd dent and bump can easily be repaired, but significant amount of surface damage, cracks, and leakage can be a sign of problems to come.
Ideally, visit the seller and listen to the engine sound since excessive chugging or spluttering can be an indication of an engine on its way out. Also, take the scooter for a test drive to see how it handles over a variety of ground conditions. Ask about reasons for selling and the scooter's service history since this tells you how well it has been cared for.
Vespa Scooters on eBay
There is always a broad selection of vintage Vespa scooters for sale on eBay. Remember that sometimes these scooters are quite old machines so by not knowing the seller, you will be relying entirely on the photographs and description.
Carefully look at the pictures for signs of damage and to see if there are any rust spots or oil splashes. In what condition is the chrome, how worn are the running boards, and does the paint work look smart are a few of the questions to ask yourself? If you feel the need for additional pictures, ask the seller to send you further information.
The best way to check out a scooter for sale on eBay is to visit the seller and see it firsthand. Take it out for a ride to hear the sound of the engine, to feel the response of the brakes, and to examine the paintwork. Although this is not always possible, it helps you make an informed decision if you can see the bike before committing yourself. eBay also offers a selection ofchic sunglasses and beautiful scarves to helmets to look ultra chic in your vintage Vespa.
Conclusion
There are thousands of classic second-hand Vespas on the market on any single day on eBay. The Vespa is still acknowledged as an iconic brand and a respected name. Picking up a good, reasonably priced Vespa need not take luck since patience is key, especially when buying second hand scooter.
When looking at buying a vintage scooter, take into account the amount of work necessary and the availability of replacement parts. It takes longer and costs more to source parts for older models, but then you are paying for that classic look. Newer Vespas come better equipped, have superior fuel economy, and stylish modern lines. eBay has both vintage and new Vespas to select from.