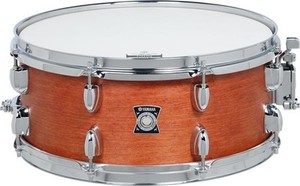 People have listened to David Bowie's "Ziggy Stardust," or John Lennon's "Imagine," and wondered what it is that makes these classics so amazing. Listen carefully next time, and one might notice that much of the magic actually lies in the drums. Vintage drums dating from the 1920s to the 1970s have a warm, woody tone that modern drums simply can't replicate. Listeners will notice a certain compact dryness to the drums on early recordings, which many producers since then has tried to achieve.
A good way to start, rather than trying to emulate the past using modern digital drum software, is to actually acquire a drum set from those golden days. Whether, for recording or nostalgia's sake, a musician will want older vintage drums. Some of the most coveted are vintage Gretsch drums, vintage Pearl drums, and vintage Rogers drums. There are also collectible vintage Slingerland drums and vintage Ludwig Black Beauty re-issues from the 1970s. Musicians will find a large selection of vintage drums in the open market. When considering a purchase of a vintage drum a buyer must consider the feel of the drum, the value of the drum, and how to find and buy the drum.

Get a Feel for Vintage Drums
Drums and rhythm form the backbone of most musical genres, including rock, jazz, country, pop, funk, and any imaginable sub-genre. The human affinity for rhythm is, research suggests, fundamental and, in a sense, instinctive. No wonder, then, that many of our most cherished musical gems from the past, to a large extent, revolve around an easily recognizable beat or characteristic drum sound. Just listen to the early recordings of Gene Krupa and Buddy Rich, or, as mentioned, the acoustic intimacy of the drums in early rock classics. What is it that differentiates vintage drums from modern drums, and what is it that makes them so special?
Simplicity of Vintage Drums
Underlying the strong fascination for vintage drums is probably an intense desire to "get back to the roots". Living in a world of music characterized by extremely complex and sophisticated technology, it sometimes difficult to distinguish real instruments from computer emulations. It is only natural for enthusiasts to want to recreate the past.
In the digital era, people sometimes forget that most of our rock and pop classics, such as The Beatles, The Rolling Stones, The Who, Sex Pistols, and so on and forth, emerged and blossomed during a time when there were no computers to produce music.
The fascination for vintage music in general, and vintage drums in particular, is closely related to an interest in the pure and simple. Yesterday's drum sets were, compared to today's elaborate sets, indeed simple and small. They typically included, depending on the genre and era, only three or four pieces. Still, in all their modesty, they provided the backbone for songs that have become part of our collective musical memory.
Originality of Vintage Drums
Related to the point above is the originality - some would even say "soul" - that characterizes vintage drums. Over time, the production of musical instruments has, including drums and percussion, developed into a large-scale standardized industry, in which the originality that often marked vintage drums has perhaps been sacrificed for more economically driven production methods.
There is something charming about the fact that workers in Slingerland factories used to make use of left-overs from officially discontinued production lines in the construction process. Therefore, almost all Slingerland drum sets that were produced before 1970 contain odd parts, adding to their originality. And what large-scale modern drum manufacturer would, under the strict efficiency standards that mark today's production, afford to put as much originality into a shell surface finish as Ludwig did with its characteristic pearl wraps? The Ludwig Oyster Black Pearl finish from 1960 is sought-after among collectors for that reason.
History of Vintage Drums
To collectors of vintage drums it is not necessarily so much the physical drum itself that holds the strongest appeal. As important as the hardware, is the history behind it. Any ambitious collector would be willing to walk through fire to get his or her hands on a dented vintage snare drum if it is known to once have been played on by, let's say, Paul Cook of the Sex Pistols. And what serious jazz enthusiast would not want to own a scratched ride-cymbal that was once lucky enough to have been struck by Buddy Rich? In short, the individual history behind vintage drums can be as important as, if not more than, the snare, hi-hat, ride, or tom itself.
Rarity of Vintage Drums
When you begin searching for vintage drums, you will discover that it is easier to come across individual pieces and components than an entire drum set in its original make-up. The reason for this is, of course, that time has had its way since the drums were delivered to their first owner. More important, however, is the integral part that drums play in forming the sound of a song, band, recording, and/or performance. Drummers need to tweak and adjust their instrument to suit the music they play, which means that the components of an original vintage set have almost invariably been replaced since the kit was built. Single vintage snare drums, vintage bass drums, and vintage toms are, therefore, easier to find than complete vintage drum sets. This is what makes vintage drums such a fascinating field. A collector might spend years trying to assemble a classic Rogers drum set, piece by piece as they become available.

Value Vintage Drums
Before you go ahead and buy a vintage drum or drum set, be sure to learn how to evaluate key drum features. Perhaps you have a more or less vague idea of what you are after in terms of era, manufacturer, or edition, and value is, of course, to some extent a subjective matter. Nevertheless, here are a few tips on how to determine the value of vintage drums:
Do your homework: A good way to get an idea of what is reasonable to pay for specific brands, models, and woods is to read up on the subject. Vintage maple drums, vintage birch drums, vintage mahogany drums, vintage beech drums, and vintage rosewood drums can vary in price and availability. Buyers need try to gather as much background information as possible about factors such as material, quality, and the brand's reputation. A great source of information is the Internet, where a musician will find endless number of forums and discussion boards on the topic. eBay, for instance, has a Music & Musicians Discussion Boardwhere enthusiasts can connect with each other to share and increase their knowledge.
Look for original vintage drums: Originality, as mentioned above, plays a large role in determining the value of vintage drums. For ambitious collectors, all-original condition is a non-negotiable feature. Modifications, whether to a part or to the whole drum, can decrease the value of an item.
Examine vintage drum colors: Vintage drums come in unique and striking colors that help define their aesthetic appeal. Colors can run the gamut, but favorites like "Black Oyster" and "Champagne Sparkle" may fetch a higher price. Likewise, vintage drum finishes such as "marine white pearl" add to the visual attraction and desirability of vintage drums.
Assess the overall condition of vintage drums: Whether you want to collect vintage drums or just want a particular sound or look, scrutinize the overall condition before you buy. Look for signs of wear and tear such as scratches, scuffs, gouges, cracks, or stains. You also want to be clear if anything needs repair, doesn't work properly, or has missing parts. As is the case with all collectibles, scratches and stains can in some cases add value to a vintage drum, for instance if they are the result of Gene Krupa's incessant pounding.
Get your vintage drums appraised: If you plan to resell your vintage drums once you get them home, have them appraised by a local drum dealer. Certain services also estimate value by mail or over the Internet. Musicians should be prepared to supply information about the drums, including the manufacturer, age, model, shell depth and width, condition, defects, and alterations. They should also be ready to provide photos.

Find Vintage Drums on eBay
Once you know what type of vintage drums you want, you can begin shopping. A great place to get an overview of the large market for vintage drums, and to find the item you are looking for, is an online marketplace. eBay, for instance, has a category portal dedicated specifically to Musical Instruments.
Search For Vintage Drums on eBay
To search for vintage drums, go to eBay's main page and locate the Musical Instruments category. Navigate to the section called Percussion and click the link that leads to the Drums sub-category. From here, type the word "vintage" (without quotation marks) into the Search box.
eBay offers several useful tools to facilitate your search. For instance, check the Search Title and Description box to expand your search. Or, use the Categories list on the left side of the page to narrow down listings by drum type. You will find links for Sets, Mixed Lots, Snare, Toms, Bass, World, and Other. As you dig deeper into the site, you will be able to narrow your choices further by brand.
If you can't find exactly what you want, try shopping eBay Stores,, tell the eBay Community what you want by creating a post on Want It Now,, or save a search on My eBay and eBay will email you when a match becomes available.

Buy Vintage Drums on eBay With Confidence
Before making your purchase, make sure you know exactly what you are buying, research your seller, and understand how eBay and PayPal protect you. Here are a few points to keep in mind:
Know Your Purchase
Carefully read the details in item listings and examine accompanying photos to determine what comes with a vintage drum set. Some vintage drum sets only include drums, while others come with everything you need to play.
Be prepared to buy items separately. These may include vintage ride cymbals, vintage crash cymbals, vintage hi-hat cymbals, vintage cymbal stands (straight and boom), vintage hi-hat stands, vintage drum stands, vintage drum thrones, vintage drum pedals, vintage drum rims, and vintage drum mounts.
Figure delivery costs into your final price.
If you spend a lot of money, make sure the seller will insure the item when it ships.
If you want more information, ask by clicking the Contact Member link in the seller's profile.
Always make sure to complete your transaction on eBay (with a Bid, Buy It Now, or Best Offer). Transactions conducted outside of eBay are not covered by eBay protection programs.
Never pay for your eBay item using instant cash wire transfer services through Western Union or MoneyGram. These payment methods are unsafe when paying someone you do not know.
Know Your Seller
Research your seller so you feel positive and secure about every transaction.
What is the seller's feedback rating?
How many transactions have they completed?
What percentage of positive responses do they have?
What do buyers say in their feedback? Did the seller receive praise?
Most top eBay sellers operate like retail stores and have return policies. Do they offer a money-back guarantee? What are the terms and conditions?
Buyer Protection
In the unlikely event that you do not receive your item, or it is not as described by the seller, eBay Buyer Protection will cover your purchase price plus original shipping.

Conclusion
Next time you find yourself tapping along to the spellbinding rhythm of "Stayin' Alive" by the Bee Gees, or captivated by the drumming in the intro to "Jailhouse Rock," notice how the distinctive sound of these songs emanates from the pulsating heart of the drums. Vintage drums have a warmth and purity to them that modern drums, often digital and computer programmed, simply do not. Perhaps you play in a band looking to find that sincerity, the very roots, that characterized the golden era of rock 'n' roll? Or maybe you are fascinated by the aesthetics of vintage drums, and want to spice up your living room with a cool Ludwig Vistalite set? Regardless, you will discover an enormous world of vintage drums, populated by enthusiasts like yourself, in which you have a great chance of finding the vintage drum you are looking for.